Headed cross-country, I peer out the window. The plane bounces, lofts high above Vegas, where I'd taken her and G'ma to celebrate her twenty-first. Now, two years later, I'm on my way to L.A. to visit my daughter's new home, anxious to see how she's doing, if I'll like her new boyfriend. She'd booked the hotel, planned the itinerary, recommended the restaurants we'd try. I, the visitor. She, the guide. A role reversal I looked forward to playing.
LAX. 2:30 p.m. I cab it to the Palihotel on Melrose in West Hollywood, my daughter's new neighborhood, a few blocks from her apartment. It looks cool, she'd said. She wants me to stay there. I'm game. The cabbie drops me at a long, lean two-story building, lit with thick marine glass lamps with emerald green bulbs, wrapped in dark brown clapboards, organic like a tree. Neat pots of pigment-saturated geraniums line the windows. "Palihotel" in movie marquee bulbs, a porch, a patio invite me in. A gent in a piping-trimmed, navy blue blazer monogrammed with a P. greets me with charm, makes me feel at home. A couple of high profile travel magazines had recently mentioned the Palihotel as one of the best new hotels in the country. I expect some pretension, but receive warmth, friendliness.
Isabel wants to have dinner that night at The Hart and the Hunter, the hotel's popular restaurant and local hangout, but they don't take reservations. I inquire. We'd be put at the head of the line as hotel guests, the charming front desk gent says. Lovely.
I retire to my first floor room, far from Melrose. A bank of windows above a half-wall of glass blocks faces the hotel's courtyard. Twin beds. My daughter planned to stay. Yippee. I flick on the antique desk lamp with a white porcelain base, a toggle switch. The clear orange bulb, a gizmo, illuminates the cozy forest green room, envelopes me with warmth. I turn down the neatly tucked wool blanket on one of the twin beds like at summer camp. I nap like a camper, wait for my daughter to get off work.
A knock on the door. Dressed for dinner in a lime green shift, a scarf, navy patent pumps, I jump up, rush to the door. Five months since Christmas -- I'm so happy to see her, I squeeze the life out of her. "Mam!" she squeals. Leggings, a cute top, flats, her bag -- a graduation present -- slung over her shoulder. I see the layers: high school, college, young working woman.
The Hart and the Hunter welcomes us, crowded but lively, with a kitschy 1940's style vibe: hexagonal white and sea green tiles, vintage floral linens, antique sconces, quirky paintings. To start we order the homemade biscuits that come with Southern condiments: pimento cheese, honey butter, blackberry compote. We smile, smack our lips, so happy with the food, with each other. The kale salad is loaded with apples, dates, pecans, sheep's cheese. Yum. We slurp barbequed oysters, greedy for more.
Elated my only child launched herself in the world, even if it's a world away from Boston, I listen to her describe her new agency job representing screenwriters and directors, her new life. She thinks I'll like her new boyfriend. I'm eager to meet him, for him to allay my fears. Is he good enough for her? Good to her? Hard working?
We tuck into the homey room, watch TV, yak, fall asleep. Next morning we breakfast outside on the porch -- home-made granola and bread from The Hart and the Hunter. A food truck called "The Egg Slut" idles by the porch, ready to serve the hot stuff.
I drive Isabel to work for a half-day Friday. Memorial Day weekend! She suggests I spend the morning exploring the Farmers' Market at 3rd and Fairfax 'til she's done. I wander around, enchanted at the bounty, the kiosks of mom and pop restaurants, not a chain establishment in sight. I ponder my second breakfast, a mid-morning snack, scout the place for the perfect thing. Bingo. Bob's Coffee & Doughnuts. I buy my treat, sit at one of the old-fashioned ice cream parlor-style tables under the canopy of trees that shelter the market. I cup the warm caramel-colored doughnut in my hand. I sniff its homemade aroma. I bite--crunch into the pillowy, yeasty center. An Indian mom and grandmother instruct two young boys to sit still, to wait for their doughnuts. I spy, fascinated by their attention to the details of proper behavior. The boys can't help it. They squirm, wiggle with excitement. The father delivers a box from Bob's, a stack of coffees. Restrained delirium.
I pick Isabel up at one. Work done! We explore The Grove, the outdoor mall next to the Farmers' Market. A lush garden, a gurgling geyser of a fountain, a bridge, copper statues of children sucking oranges, doing a jig with joy. Yesteryear's orange grove recreated. The shopping is strictly chain store, but seems tons better in the delightful setting. I buy her a bunch of stuff at fresh. "I love products, Mam!" We dine outside, order cocktails, watch for celebrities. Amused, we spot an old guy escorting a Playboy bunny, we assume. Ah, L.A.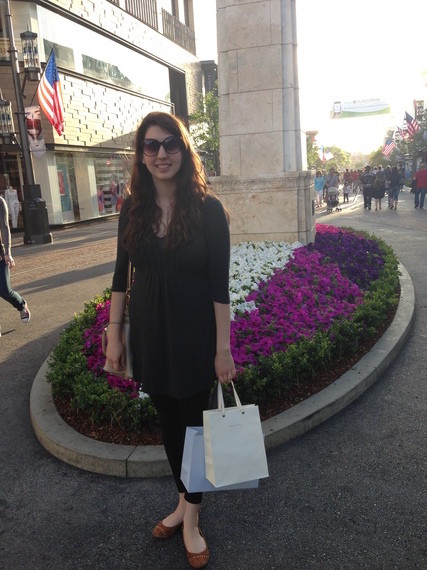 Isabel at The Grove
The next morning we drive to Silver Lake for brunch at LAMILL Coffee, a spot my daughter says she and her friends love. "Mom, there's a lot of hipsters, but the food's great." I want to try the food, see the hipsters. I enjoy discovering what life's like these days for the young. LAMILL: all the world's a stage. A chandelier, turquoise lounge chairs, Victorian paintings, sleek white countertops. The kids mill around, eat, laugh, living their lives, eating homemade doughnuts dipped in a vanilla cream, sipping organic coffees. All seems well.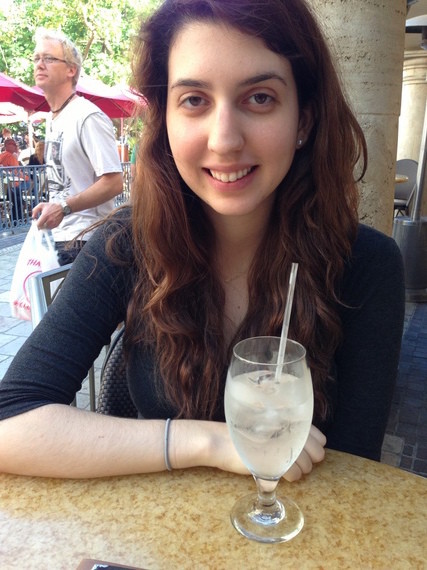 L.A. Break
After brunch we hit the ArcLight Hollywood to see "Frances Ha," a film about a young woman launching herself in the world. Frances is so inept I have to look away from the screen, down at the light strip in the aisle. ("Mam, what's wrong"?) In the end Frances endears, endures. But I don't recommend this film for my generation. Too painful to watch the trials of being young, the trials of your younger self.
We've killed enough time. Finally. Time to meet her boyfriend at The Mercantile Wine Bar on Sunset. We order a selection of California cheeses: Red Hawk and Mt. Tam from the Cowgirl Creamery, Humbolt Fog from the Cypress Grove Creamery. Pinot Noirs. The woody restaurant with its bentwood bar stools and seating, a throw-back to the sixties. A blast from the past. Like we're groovin' in the Cali sun, like the Beach Boys might walk in. Her boyfriend's vibe: happy, friendly, polite, interested in asking me questions. I'm diggin' it.
I don't remember as much from the bittersweet last day of my visit. I'm sad to be leaving. Sad my daughter lives so far away. We visit one last place for a treat. Aptly named Simplethings. They specialize in sandwiches made from meats roasted in-house, salads, pies, adorable mini pies for one, so many kinds. We order sandwiches, thinking of the pies. We visit the bakery case, pick out two minis apiece. They box 'em up to go.
Back at the Palihotel, we're excited to watch the HBO special about Liberace, "Behind the Candelabara," starring Michael Douglas as Liberace and Matt Damon as his lover. We open the box of petite pies. Key Lime. Chocolate Peanut Butter. A perfect night. I try not to notice I have to leave first thing in the morning. Back to Boston.