Even with my Russian training, I know better than to have more than two shots of vodka at any one time. Give me a third, and inevitably a headache descends. But I swear I didn't have any vodka over the last few days, so why the pounding headache? Could it be the result of running all over town and inhaling much too much good art? To discover one or two really good exhibitions makes me happy, but to run to half a dozen in one weekend, could that be the cause of my hangover?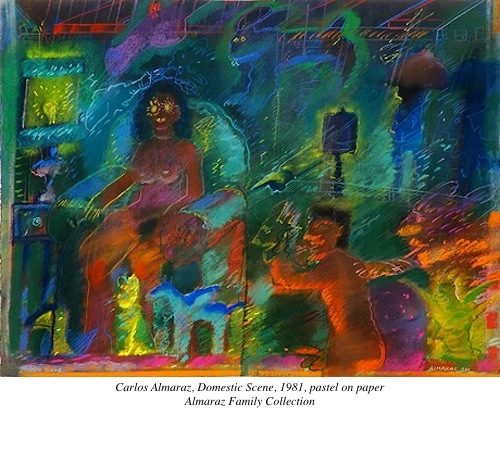 I was especially eager to see a retrospective exhibition of late Chicano artist Carlos Almaraz (1941-1989), presented by the Vincent Price Art Museum. So I drove to East Los Angeles College in Monterey Park to see the exhibition that pays tribute to one of the most intriguing and original artists I ever had the pleasure to get to know. His phantasmagorical images of car crashes on LA freeways and mythological creatures crawling through our city, sizzle with pungent colors, unique to his palette. This medium-sized retrospective is also rich with photographs, personal letters and Almaraz's journals. I wouldn't be surprised if, in the near future, one of the leading Southern California Museums decides to mount a full-scale retrospective dedicated to the life and art of Carlos Almaraz.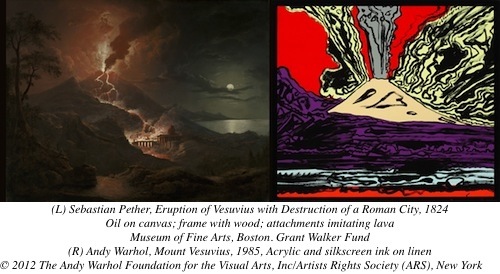 Want more excitement? Here it goes. Last night the Getty Villa celebrated the opening of the adventurous exhibition The Last Days of Pompeii: Decadence, Apocalypse, Resurrection. There are relatively few ancient objects on display -- most of the paintings and sculptures are from the last three centuries, when the destruction of Pompeii became a popular allegory of the Apocalypse.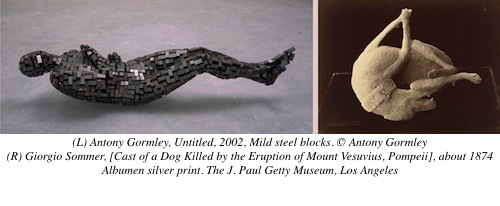 I was amused, and even slightly perplexed, encountering a couple of especially moody canvases by Mark Rothko and then discovering a rather cocky eruption of Vesuvius by Warhol. It seems that a serious exhibition these days is simply inconceivable without the ubiquitous Andy. Seeing the cast of a dog killed in Pompeii and then a metal sculpture by British artist Antony Gormley mimicking the dead body of one of the victims will put you in a very philosophical mood.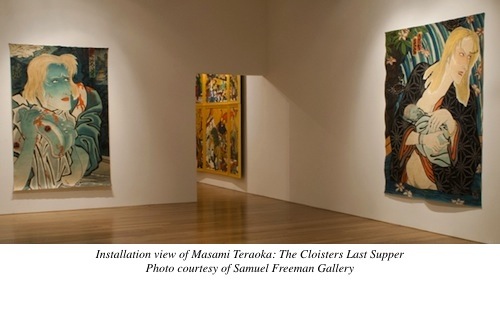 After closing his gallery at Bergamot Station, Los Angeles dealer Samuel Freeman inaugurated his architecturally ambitious new space in Culver City with an impressive solo exhibition by Masami Teraoka, spanning forty years of the artist's career. The artist built a strong reputation thanks to his works inspired by Japanese woodblock prints of the Edo period, but in a dramatic departure over the last few years he has started to look to Renaissance religious art for inspiration. The result is rather perplexing but I respect the artist's courage in tackling such a difficult subject.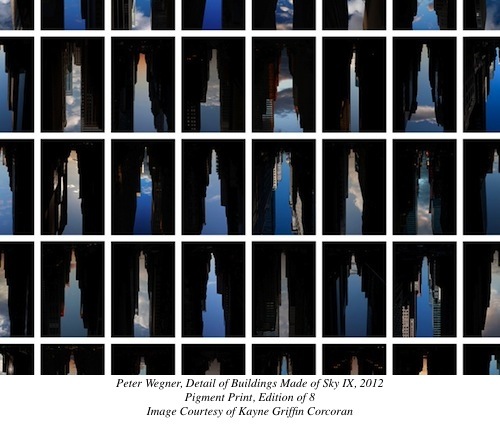 I want to believe that the photographs by Peter Wegner at Kayne Griffin Corcoran, depicting the slices of blue sky between Manhattan skyscrapers, are not meant as a tribute to 9/11. But today, looking at his large photographic grids consisting of dozens of upside down views of Manhattan, it is difficult to separate my admiration for his conceptually demanding art from the pain and sorrow caused by the void of Ground Zero.
My colleague Hunter Drohojowska-Philp already spoke highly of Japanese artist Motoi Yamamoto at the Laband Art Gallery at Loyola Marymount University a couple of weeks ago, during the meticulous and lengthy installation of his latest Saltworks project Return to the Sea. I went to see it on Sunday, when the project was finally complete and the exhibition officially open. The finished piece is beautiful, poetic and deeply meditative.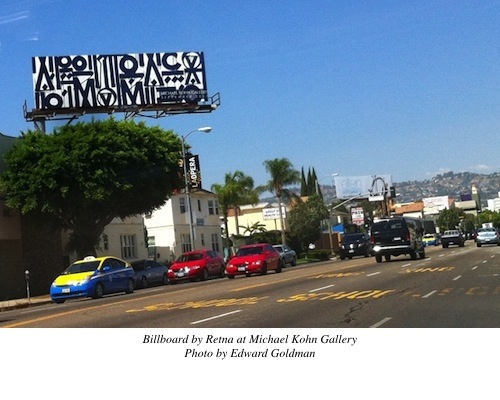 Driving along La Cienega Boulevard towards Hollywood I was delighted to discover a billboard with the trademark calligraphy of Los Angeles artist Retna. Since discovering his work at the MOCA exhibition Art in the Streets, which presented him as one of the most talented graffiti artists, I have followed his adventurous career. Today a large mural of his decorates a wall of the West Hollywood Library and another can be glimpsed in a commercial building across the street from LACMA. The billboard along La Cienega announces a Retna exhibition at Michael Kohn Gallery. Eager to see it, I rushed to the gallery only to discover that the opening is actually scheduled for this coming Saturday, September 15. So Mr. Critic, have patience...
Edward Goldman is an art critic and the host of Art Talk, a program on art and culture for NPR affiliate KCRW 89.9 FM. To listen to the complete show and hear Edward's charming Russian accent, click here.
Banner Image: Carlos Almaraz, Detail of Night Theater, 1984, pastel on paper, Almaraz Family Collection
Calling all HuffPost superfans!
Sign up for membership to become a founding member and help shape HuffPost's next chapter