Approaching the mighty Los Angeles Convention Center in the heart of the downtown business district can be a humbling experience, particularly from a pedestrian's perspective, looking up at this massive but handsomely designed façade holding its own with the soaring 54-story Ritz-Carlton hotel next door and the Staples Center sports complex across the street. Clearly, this intersection of art and commerce is where the action is: I arrived at the convention center for the LA Art Show the day before the exclusive opening night premiere party to check things out and get an early start on investigating acres of temporary urban art jungle, featuring thirty percent more galleries than last year's fair and including almost fifty international galleries from around the globe. Looking down from the second floor press office windows onto the expansive white wall grids that separate the variety of booths that that will soon come alive with a remarkable display of creative diversity, the gigantic interior space is buzzing like a beehive with workers and hard hat soldiers maneuvering large custom made crates on forklifts zooming in all directions.
It's clear the LA Art Show, now in its 19th year, is no ordinary art fair, which in the last few years has drawn the attention and participation from major, celebrated galleries like Ace Gallery. Once inside the exhibition area, it's necessary to have a pathway map to guide you intelligently and efficiently to the areas you want to explore. This year, the LA Art Show is divided into three distinct categories, which helps to zero in on what you want to see: a modern & contemporary section; a historic & traditional section; and the International Fine Print Dealers Association (IFPDA)-sponsored Los Angeles Fine Print Fair. Toss in an ambitious speakers program (that I also participated in) titled Dialogs LA, ongoing special events and receptions and the adjoining Los Angeles Jewelry Antique & Design Show that sponsored a museum quality exhibition in conjunction with the La Ruta Maya Foundation, which showcases more than 159 superb cultural treasures from the classic period of Mayan civilization, and you've got one helluva exciting opportunity to have a great experience.
I was impressed with the overall quality of the LA Art Show exhibitors, and as an art collector myself, would have been happy to wrap up at least 25 paintings and objects and ship them off to my home in West Palm Beach had my budget allowed it. All it takes is money and there was plenty of that being exchanged, judging by the number of red dots that decorated many of the booth walls. There's certainly something for everyone at the show, but here's a check list of some of my personal favorites:
Craig Alan's curious method of depicting famous faces such as Elvis or Marilyn Monroe utilizes a small army of congregated people carefully painted onto wide open spaces, stopped at just the right moment in time to offer a recognizable and dramatic portrait, like a cloud passing by that's sure to dissolve into thin air at any moment. Alan often experiments by looking down upon real people in a courtyard, watching them mill about until a good image inspiration strikes him for a painterly aerial view, which later can be delicately transferred into deceptively complicated compositions. Guarisco Gallery: www.guariscogallery.com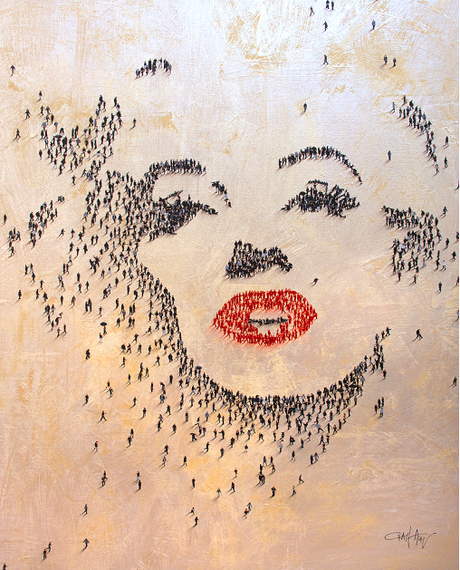 Craig Alan, Marilyn Demure (on iridescent background), 2013, oil on canvas, 48 x 60 in. framed. Courtesy Guarisco Gallery.
Abby M. Taylor Fine Art exhibited a splendid work by the late abstractionist Robert Arthur Goodnough, whose intricate compositions of small triangular forms are reminiscent of flags, a flock of birds or designs of falling leaves. Celebrated art critics like Clement Greenberg and Harold Rosenberg had a tough time trying to pigeonhole this fine artist into an abstract expressionist fraternity; a permanent label couldn't stick as the artist never allowed his work to be constrained to the limits of any movement. Grey, Pink with Colors is one of the finest examples of Goodnough's best years. Abby M. Taylor Fine Art: www.amtfineart.com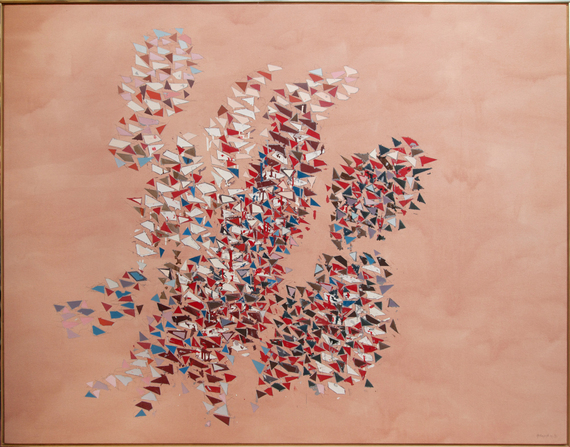 Robert Arthur Goodnough, Grey, Pink with Colors, 1991-92, acrylic and oil on canvas, 56 x 72 in. (framed: 57 ½ x 73 ½ in.). Courtesy Abby M. Taylor Fine Art.
The Paul Fisher Gallery showcased the collage-based work of William Moloney, featuring a series of handsome, large-scale ink transfer compositions that were among the most interesting findings at the fair. In one remarkable work titled The End of the Left/Right Paradigm, Moloney builds an imaginary stage set that depicts an elephant on the right (no coincidence) and a donkey on the left, who are spinning on a black and white turnstile as a puppeteer's gloved hands manipulate their political directions. The audience of lambs in the front row are sheepishly mesmerized by the performance as the art house starts to collapse. Paul Fisher Gallery: www.paulfishergallery.com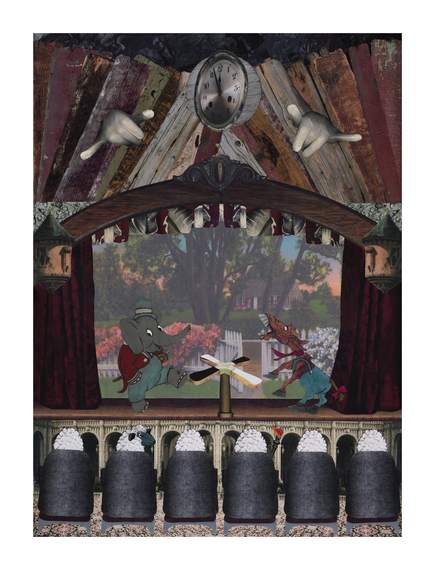 William Moloney, The End of the Left/Right Paradigm, 2013, archival ink on canvas, 1 of 3, 53 3/8 x 70 ¾ in. Courtesy Paul Fisher Gallery.
From a distance, the celebrated and historic Ace Gallery looked as though it might be a target range for the nearsighted, as a work portraying giant concentric circles seemed to vibrate with a curious magnetic field stimulated by rows of harmonious color combinations. Gary Lang's work seems to be a transference of humanity, which takes you into a self-made vortex that the artist has meticulously hand-painted. These towering works are almost extraterrestrial, as they completely overwhelm the viewer in a meditative concert of reverberating rings that start to play tricks on the mind. As a star of the so-called light and space movement, these are simply remarkable examples of creating a hypnotic spirit that's hard to forget. Ace Gallery: www.acegallery.net
Michael Borghi Fine Art presented sexy, pop, collaged canvases by hotshot Tom Dash, who experienced a sold out show during the recent Art Basel Miami Beach, and it's easy to see why. The images are singularly provocative and now are becoming iconic. Dash's strongest influence comes from his activities as the lead assistant to Richard Prince (2005-2011). With significant life experiences that were unusually exceptional added to his formal training, including that received at RISD, he now masterfully utilizes techniques to illustrate social issues, music and popular culture themes. Michael Borghi Fine Art: www.michaelborghifineart.com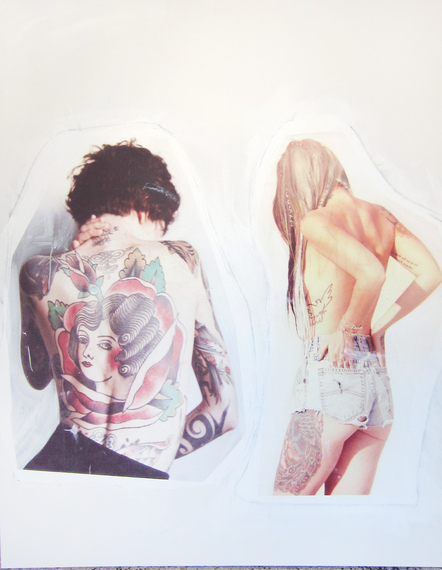 Tom Dash, Stay Gold, 2013, acrylic and collage on canvas, 72 x 60 in. Courtesy Michael Borghi Fine Art.
Louise Nevelson was considered a legend in her own lifetime by way of her wooden assemblages painted in flat black that have a mysterious, charismatic presence that no one could deny. She was the first artist to live and work in an industrial loft in the Cast Iron neighborhood called SoHo, which offered her an endless supply of raw materials that eventually were cemented together to create her distinctive sculpture. Timothy Yarger Fine Art seems to have cornered the market on Nevelson's pieces, including on view a superb collection of collages from the same period. Classic and hauntingly beautiful, these works are timeless. Timothy Yarger Fine Art: www.yargerfinearts.com

Louise Nevelson, Untitled, 1963, cardboard, foil, paper collage on board, 36 x 24 in. Courtesy Timothy Yarger Fine Art.

The Spanish artist Jordi Alcaraz amazed fair-goers with his surprisingly elegant act of courage and invention that deals with reflection, transparency, space, process and absolute abstraction, and are evocatively poetic. As a visual alchemist, he defies optics by poking and punching away at sacred concepts, turning things upside down. In the hands of a lesser artist, these works could fall into banality. If Antoni Tàpies was the master of walls and doors, Alcaraz is the artist who allows us to travel through them into an eternal dimension. Jack Rutberg Fine Arts: www.jackrutbergfinearts.com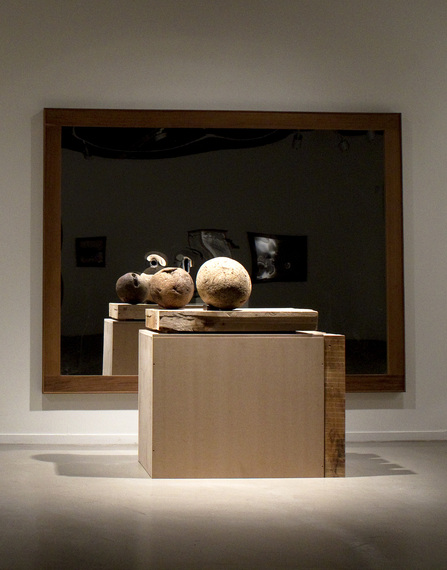 Jordi Alcaraz, Historia (History), 2013, installation, sculpture with antique wood , balls, metal, glass, mirror and wood, 67 3/8 x 87 in. (mirror), 42 ½ x 37 5/8 x 19 5/8 in.(still life). Courtesy Jack Rutberg Fine Arts.
The Valentine Ryabov Gallery from Moscow, Russia presented an sophisticated display of riveting new works by Sergey Fedotov, who has somehow mastered the impossible homemade recipe of combining abstract expressionism with distinctly narrative components. Fedotov's painting titled Uglich City is a charming illustration of a creative work of art on several intellectual levels that might have not seemed possible until now. Other works that offer a glimpse at flower arrangements, portraits and country landscapes also are consistently inventive and powerfully dramatic. Valentine Ryabov Gallery: www.ryabovexpo.com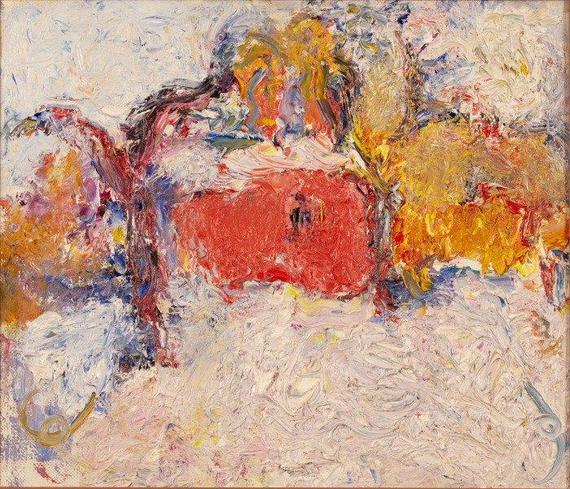 Sergey Fedotov, Uglich City, 2006, oil on canvas, 23.6 x 27.5 in. Courtesy Valentine Ryabov Gallery.
Surely one of the most striking images in the fair was an Incan ceremonial mantle made of fine, hand-spun cotton threads (1400-1532 AD), which was unearthed in the Atacama Desert in Peru in almost pristine condition, hermetically sealed in a ceramic container, and then later mounted on board. It's not only the stark, minimal inherent beauty of this piece that makes it purely radiant, but its ironic strength and longevity has a clear unintended connection to the contemporary proportions and design of vintage works by artists like Kenneth Noland and Jasper Johns. Even without the obvious references, this work is simply one of the most handsome on display in the fair. William Siegal Gallery: www.williamsiegal.com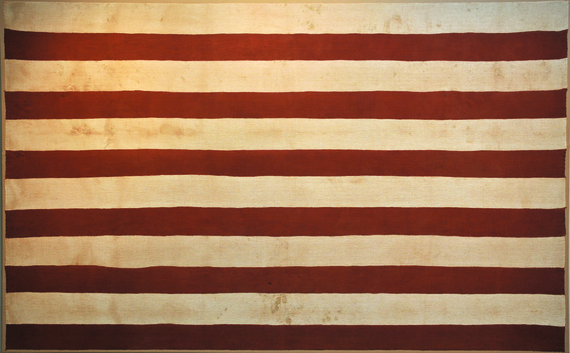 Striped Ceremonial Mantle, 1400-1532 AD, Inca Culture - Peru, natural cotton, 67 x 108 in. Courtesy William Siegal Gallery.
A delightful discovery was the collection of galleries selected by Noah Antieau of Red Truck Gallery for the special section titled Littletopia, where a common denominator of outsider energy and eccentric paintings and sculpture produced obvious enthusiasm from the crowds of folks who stopped to talk with some of the artists and their dealers. Sloan Fine Art presented Brad Woodfin of Montreal, who paints with a secret passion and obsession for wildlife and offers a realistic reminder of how we are losing an increasing variety of species. In this salon style installation of different shapes, the artist infuses some humanity with old fashioned and skillfully articulated portraits of creatures who are in danger of extinction. Others of interest in this collection are Susan Siegel, a vegetarian who repositions animals in Victorian wedding gear at a solemn garden party, and Jessicka Addams, who could be related to the real Addams Family and creates self-portraits that reference near death personal experiences with a witty, macabre slant. "Hey buddy, got an artful match?" might be a question to Jason D'Aquino regarding his remarkable miniature drawing on the inside of a real matchbook. This curious object qualified for a nomination to "Ripey's Believe it or Not" and was simply striking! Red Truck Gallery stole the show with an amazing variety of folkish carvings and imagery worthy of great sideshow banners. Red Truck Gallery: www.redtruckgallery.com Sloan Fine Art: www.sloanfineart.com
Altamira Fine Art, in Scottsdale, Arizona and Jackson, Wyoming, not surprisingly had a distinct western slant with works by Bill Schenck of a double-crossed, gun-toting, modern cowboy and Fritz Scholder, who is highly respected for his contemporary interpretations of western themes, especially abstract portraits of Native Americans. A pleasant surprise was encountering Scholder's simple, painted black-line rendition of a giant desert flower that took on the character of an expressionist master, complete with a generous helping of strategic drips. His classic signature at the bottom is the best looking in the business! Altamira Fine Art: www.altamiraart.com
William A. Karges Fine Art presented an exceptionally handsome selection of turn-of-the-century paintings that were rich in traditionally educated talent and reminiscent of the best period for sophisticated compositions. My favorite was Thomas Anshutz's Portrait of Rebecca Whelan (c. 1908), where the artist makes magic with reflected light on a charming Victorian woman accented by a nearly black background. The pose is delightful and so is the outfit, with a stunning feathered hat and a striking bright orange pattern on her dress. This is the classic kind of image that may have influenced John Currin to take the next step with a dash of erotic spice. The picture also reminds me of my dear friend Irina, whose love of rare parrots also is reflected in this romantic little cameo image. William A. Karges Fine Art: www.kargesfineart.com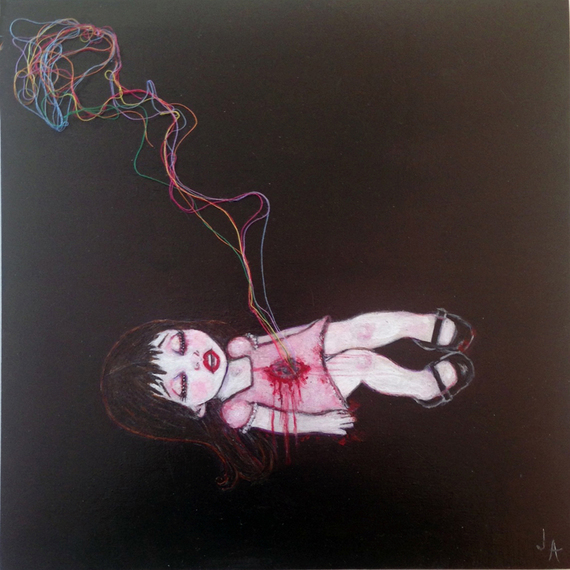 Jessicka Addams, Ecstasy, 2014, mixed media (thread, acrylic on panel), 12 x12 in. Courtesy Sloan Fine Art.
With over 18,000 items on display from over 135 dealers, it's impossible to cover even a small sampling of images, but suffice to say the best way to get an accurate perspective is to get on the road and see for yourself. On opening night about 7,000 guests, including Barbra Streisand, made the opening one of the most memorable and lucrative in recent memory. Naturally, the show draws a huge segment of the nearby Hollywood community, which is unique to any art fair on the planet and adds an extra dimension to the crowd and big business to the dealers. Bring a comfortable pair of snappy shoes and get ready for a visual adventure. On my way out of the convention center mid-afternoon Friday, the crowds had temporarily thinned, and I spotted the new "Wolf of Wall Street," Leonardo DiCaprio, discreetly entering the fair with a show catalog and a smile. As an art collector I'm sure he'll not go home empty-handed. The LA Art Show (www.laartshow.com) closes Sunday, January 19 at 5:00pm. For more information on all of the Palm Beach Show Group's art, jewelry, antique and design fairs: www.palmbeachshowgroup.com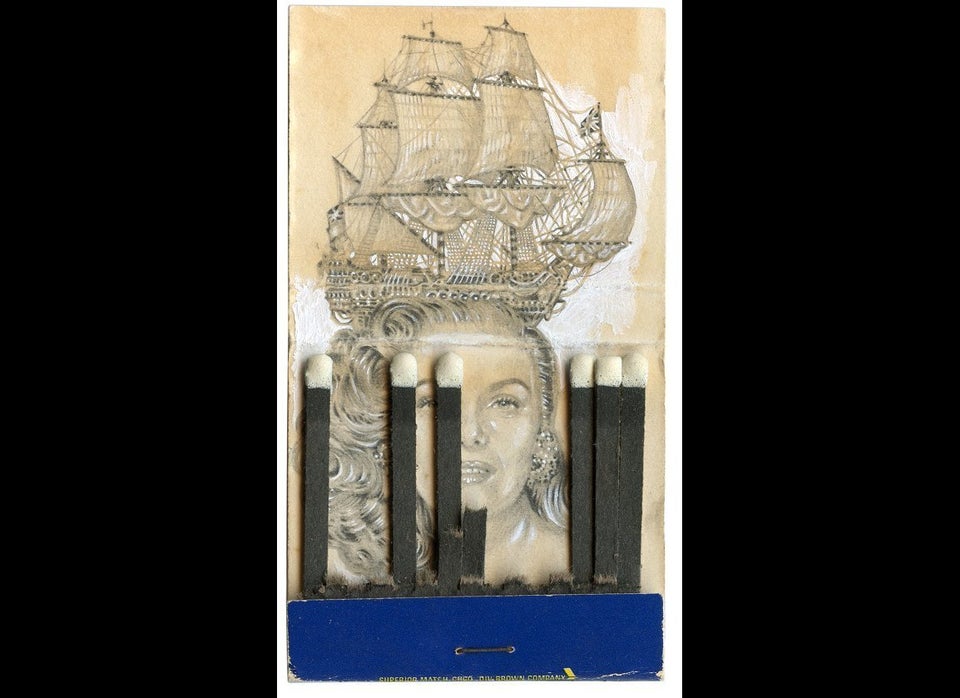 Related
Popular in the Community