Today I want to tell you a story that should make all of us Angelenos proud. I'm talking about two major Los Angeles artists whose works were recently unveiled in Europe on a grand scale: Bill Viola in London and Betye Saar in Milan.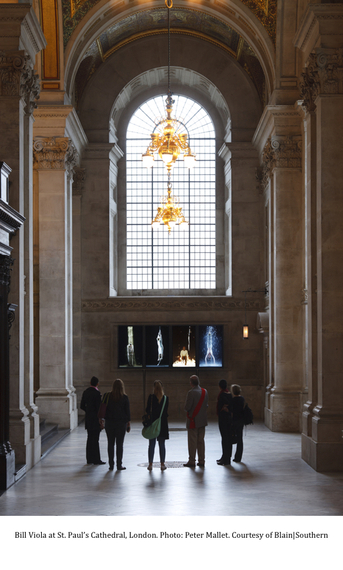 I have to confess that until seeing Bill Viola's retrospective here at LACMA in 1998, I was not particularly interested or impressed by video as a form of art. Bill Viola's exhibition made me stare at the screens and forget for a moment where I was. His videos transported me to another time and another place.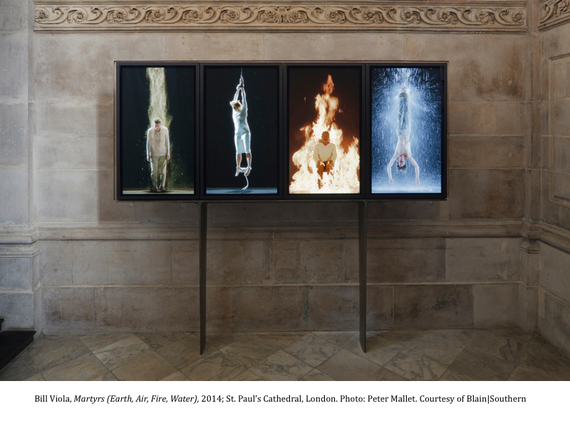 Since then, his art has been shown all around the world. Two years ago, his four screen video Martyrs (Earth, Air, Fire, Water) was unveiled at St. Paul's Cathedral in London -- "the first permanent video installation [ever] commissioned for a cathedral or church in Britain". There are four human figures on four parallel plasma screens, and each of the individuals is undergoing an ordeal through the raging elements: earth, air, fire, and water.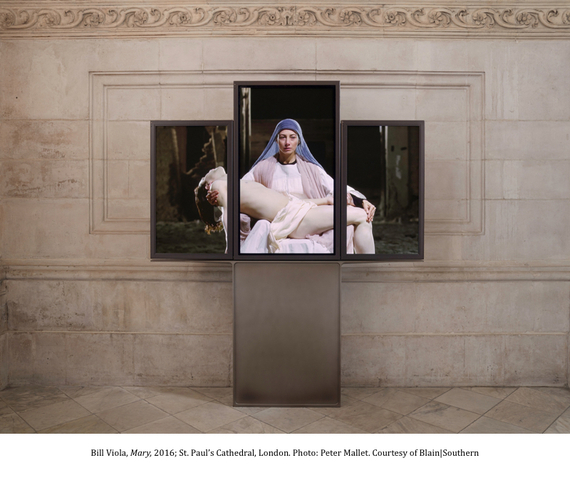 A few weeks ago, another video by Bill Viola, Mary, was installed at St. Paul's Cathedral. Looking at the profound and timeless image of Mary holding her son, it's difficult not to think of Michelangelo's Pietà. But Bill Viola's Mary is mysteriously connected to our time and to our place -- the City of Angels. Behind Mary shimmers the cityscape of Los Angeles with its skyscrapers and lights of passing cars. I wonder if Cathedral of Our Lady of Angels might consider commissioning Bill Viola and his wife and long-time collaborator Kira Perov to create a special video for us Angelenos (and thus add to the Cathedral's already impressive collection of works by various L.A. artists.)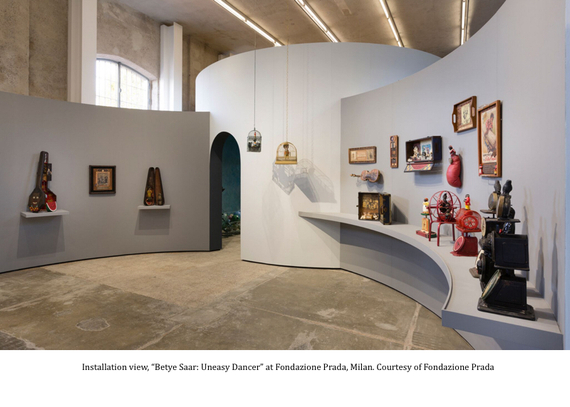 Here's another story for you, my fellow art friends. If in the next few months you're lucky enough to travel to Italy, you must go to Milan, to the Prada Foundation (Fondazione Prada) to see Betye Saar's exhibition Uneasy Dancer. It's her first exhibition in Italy and it "brings together 80 works including installations, assemblages, collages, and sculptures produced between 1966 and 2016".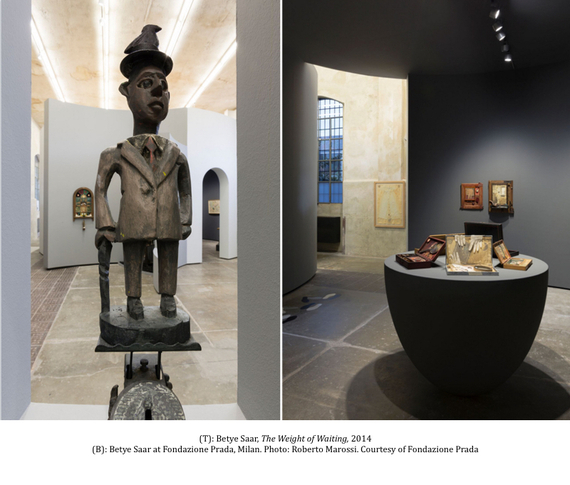 It's amazing to see that Betye Saar at her young age of 90 continues to tell powerful and poetic stories reflecting on African American identity, spirituality, and the connectedness between different cultures. When one looks at Saar's work, mostly composed from everyday objects, one starts not only to see, but almost hear personal stories about death and rebirth, race and gender. To quote Saar, her work "was really about evolution rather than revolution, about evolving the consciousness in another way and seeing black people as human beings instead of the caricatures or the derogatory images."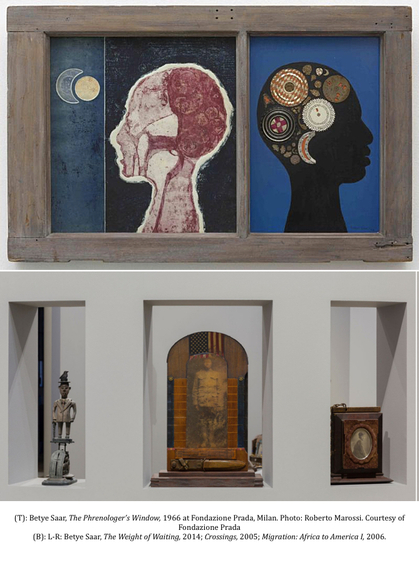 For those of us who cannot make it to Milan, here's some good news: a small and delightful exhibition of Betye Saar's work is currently on display at Roberts & Tilton in Culver City. Go see it, and let me know your thoughts.
To learn about Edward's Fine Art of Art Collecting Classes, please visit his website. You can also read The New York Times article about his classes here, or an Artillery Magazine article about Edward and his classes here.
Edward Goldman is an art critic and the host of Art Talk, a program on art and culture for NPR affiliate KCRW 89.9 FM. To listen to the complete show and hear Edward's charming Russian accent, click here.
REAL LIFE. REAL NEWS. REAL VOICES.
Help us tell more of the stories that matter from voices that too often remain unheard.