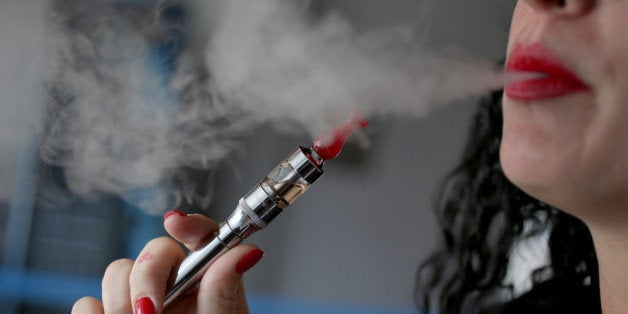 It took a decades-long public health effort to push cigarette use to the margins in the United States. But measures to restrict electronic cigarettes -- sales of which have increased 100-fold in just the last few years -- seem to be moving a bit faster, with another major city moving to ban use of the devices in public places.
Los Angeles is the latest to restrict the use of e-cigarettes in public places, with the LA City Council voting 12-0 on Tuesday to ban the use of the devices in restaurants, workplaces and parks (places where smoking is already banned by law). The ban is expected to be signed into law by Mayor Eric Garcetti in a few days, reports Reuters. Los Angeles follows in the footsteps of New York City, Washington D.C., Chicago, and Boston, as well as five states, that have restricted vaping in some way.
LA's ban, however, will allow people to use e-cigarettes in vapor lounges, vapor stores and theatrical performances.
Electronic cigarettes are battery-operated and contain no tobacco, but they do still contain some harmful chemicals and nicotine. The nicotine is heated in the device and "vaped."
The Los Angeles Times reports that the debate before the vote was both personal and emotional, with several councilmembers opening up about their personal struggle with cigarette addiction. Councilman Mitch O'Farrell, a co-sponsor of the ordinance, talked about being forced to breathe secondhand smoke when he worked as a waiter in a restaurant, while Councilwoman Nury Martinez revealed that her husband has not been able to quit his cigarette habit.
LA Council President Herb Wesson was arguably the strongest advocate for the ban. The 62-year-old councilman admitted that he had started smoking when he was 20 years old to look "cool," and that he was now "the council's No. 1 smoker," reports the Times. More of Wesson's comments, from the LA Times:
"I'm telling you, the high percentage of kids that smoke, smoke because it's cool. And when you're 15 you want to be cool," he said. "I will not support anything -- anything -- that might attract one new smoker."
The U.S. Food and Drug Administration has yet to regulate the e-cigarette industry, and advocates say that vaping isn't as harmful as smoking -- and can in fact even help people quit tobacco cigarettes. But Legacy, a research non-profit focusing on the effects of tobacco use, says important questions about e-cigarette use among minors and smokers' "dual use" of tobacco cigarettes and e-cigarettes have yet to be answered.
It's clear that in the face of scientific ambiguity, LA's City Council members would rather be safe than sorry.
"It's important that until we can establish that e-cigarette use is safe, we must err on the on the side of caution," said LA City Attorney Mike Feuer, who also collaborated on crafting LA's vaping ordinance.
The ban enjoyed support from the Public Health Officer for the County of Los Angeles, the Los Angeles Unified School District, the American Lung Association, the American Heart Association, and the American Cancer Society, according to a release from O'Farrell's office.