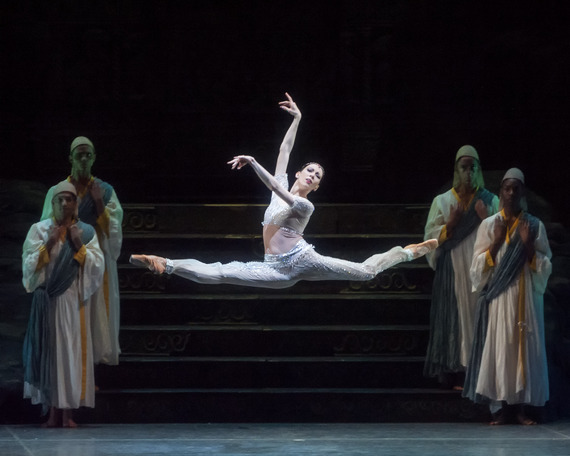 The glittering La Bayadère - conceived by French ballet master extraordinaire Marius Petipa and set in an improbable Indian kingdom - premiered in St. Petersburg in 1877, at a time of official Russian backlash against the importation of popular Italian stars, known as the "Italian invasion." Homegrown Ekaterina Vazem danced the titular role of the Indian temple dancer to great acclaim, ushering in a new wave of Russian dominance.
Today, a "Russian invasion" of American Ballet Theatre has some home team fans grumbling. Russian transplants are found in the ranks of most American companies but, oddly, the Russians seem to sell more tickets when they swan in for the occasional guest turn. Once they make their home here, their star power slightly dims. Opera house audiences seem to be a fickle lot, preferring the extramarital fling with a glamorous foreign star than a recurring roll in the hay with an equally glamorous spouse.
This week Ballet to the People settled into the Met for three back-to-back performances by a beloved ABT veteran, a 22-year-old Bolshoi sensation, and an established star of the Mariinsky Ballet.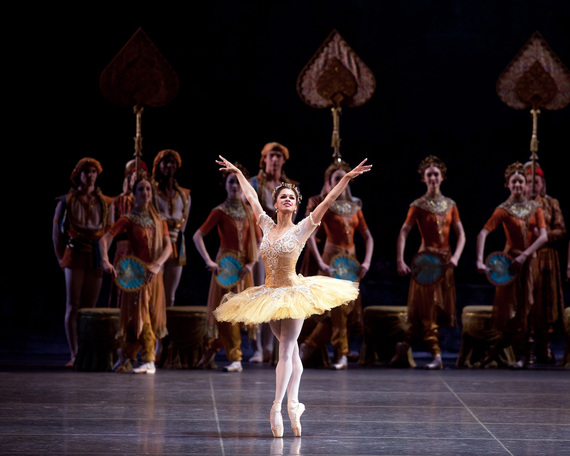 Compounding the excitement was the ballerina face-off at each performance between the humble temple dancer Nikiya and the diabolic Princess Gamzatti. Paloma Herrera met her match in the splendid Misty Copeland, Viktoria Tereshkina wrestled dramatically with the fierce Isabella Boylston, while there was simply no contest between Olga Smirnova and the refined but far too timid Hee Seo.
Manticipation ran high as well. James Whiteside, who has had a meteoric rise at ABT, made an unconvincing Solor: his execution of the mandatory warrior bag of tricks was spot on, but he appeared far too gaunt and grim, apart from a campy swagger when he showed up at the Rajah's palace. He partnered Herrera adeptly and tenderly, but lacked the noble fire of Vadim Muntagirov (Smirnova's partner, from the English National Ballet) or Vladimir Shklyarov (Tereshkina's, also from the Mariinsky). Muntagirov played Solor with boyish elan, while Shklyarov attacked the role with a thrilling ferocity.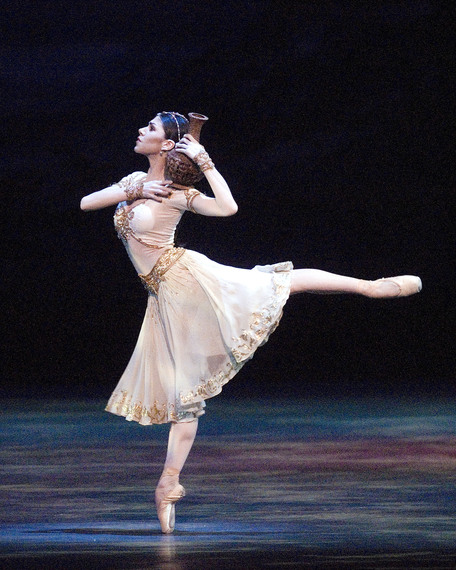 The stark difference between the three interpretations of Nikiya was driven home in the first ten seconds of their appearance on stage. Summoned by the Head Brahmin, Nikiya appears at the threshold of the temple, her face veiled, then has to negotiate three steps before making her way downstage to him. Because we cannot see her face, Nikiya first makes herself known to us through a vital ballerina signature: her arched instep.
Herrera understands the importance of this moment, and leisurely lowers one gloriously articulated foot to the first step. Her advance downstage is modest and hesitant, her delicate steps communicating volumes.
Tereshkina gets it too, though she takes that first step a hair faster than Herrera.
Smirnova can't wait to plant herself downstage center so she hustles down the steps, barely bothering to point her beautiful feet.
Herrera and Tereshkina modulate their performances exquisitely, particularly in that first important context-setting scene in which Nikiya discovers she is the object of the High Brahmin's unholy lust, and we first learn of her attachment to the heralded warrior Solor. Smirnova treats the scene like a Hollywood red carpet moment, flinging herself around wildly, hardly the naïve, bewildered maiden. Nonetheless, there is much to admire in her ravishingly supple physique and the way she milks every spiral of the torso, every exultant arabesque, and the poetic flowing of her unusually long arms.
Tereshkina possesses an equally gorgeous tensile spine, honed like Smirnova's at the Mariinsky's Vaganova School (though Smirnova decamped for the rival Bolshoi after graduation). Where Smirnova's Nikiya is melodramatic, and Herrera's wistful and sorrowful, Tereshkina's is deeply mysterious. She and Shklyarov are seasoned partners, evident in the confidence with which they wrapped themselves around each other, and with which he spun her and tossed her skyward. Both showed off their astounding allegro technique, writing big, bold shapes in the air. But the technique was always in service to the acting, their faces and gestures communicating as much as their whirlwind pirouettes. In one unforgettable moment, Tereshkina sank into an ecstatic backbend while Shklyarov pressed his face to her breast, and we watched her hand descend slowly and delicately to caress his head.
All three Nikiyas held the audience rapt with their legendary death scene. Smirnova chose to play her as completely hysterical and crazed, her sinuous histrionics very effective here.
Herrera was more soulful and grief-stricken; when she melted repeatedly from a tight 5th position balance on pointe into a deep arabesque penchée, her sorrow seemed to run like a stream in the direction of the hapless Solor, imprisoned on an ottoman next to his affianced princess, the disdainful Gamzatti.
Tereshkina didn't even come down from pointe when she released her back leg into penchée, as if trying to stake a final heroic claim to Solor's heart - before Gamzatti FTD's her a flower basket into which she's stashed a poisonous snake.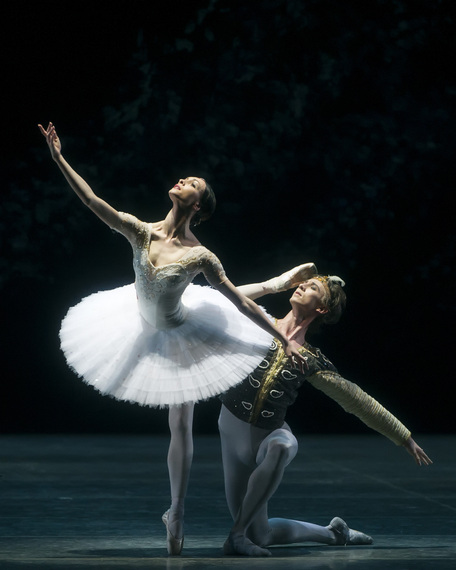 In the Act II Shades scene, Nikiya returns as a ghost to haunt Solor in a fevered opium-induced dream, 24 carbon copies of herself in tow. Ballet to the People's favorite moments in this act are those bourrées in place that cause 24 tutus to quiver ever so slightly at the hips. With the Shades arrayed in their precise columns, the tutus resemble a layer of cloud hovering over the Himalayas. Slight wobbles evident in the slow, hypnotic procession down the mountainside disappeared during the caffeinated portion of this Act, the ensemble and soloists marvelously energized as they dissolved in and out of their formations like magic.
For La Bayadère to rise above kitsch and soap opera requires refinement, clarity of purpose, and precision of execution - evident throughout this brilliant and sensitive staging, but most especially in these moments - and absolute faith on the part of the dancers in the symbolism of their roles. It is in the second and third Acts of La Bayadère that the timeless appeal of this ballet emerges, with a remarkably modern message about the iniquities of caste, the wages of betrayal, and the power of ordinary women to prevail against oppression if they stand united. (The only Princess among the lot is crushed to death by large rocks, punishment for her meanness.)
Examples of female daring abound in Bayadère. Standouts among the Shade soloists from all three nights were the radiant Sarah Lane in the first, quicksilver variation, and the elegant Stella Abrera in the third, expansive variation.
In one of several heart-stopping moments, Nikiya whirls off stage like a force of nature, in a series of lightning-fast piqué turns: Herrera is a breathtaking blur, Tereshkina just a trifle slower, whereas Smirnova cautiously applies the brakes just before she flies off stage.

Despite her villainous streak, Gamzatti is no caricature. Manipulated by her father, the Rajah, she has ample opportunity to express her world view, and her ardor, in several lovely and virtuosic variations. Copeland, Seo and Boylston all nailed the final heart-rending Act III solo, just before the wedding ceremony, in which Gamzatti tries to convince herself and Solor (who is unnerved by repeated apparitions of Nikiya) that they have a happy future ahead of them, her arms spiraling up to the sky as her pointes stake out the vast territory under her sovereignty.
Politics aside, this Bayadère is packed with eye-candy. Joseph Gorak, Arron Scott, and Zhiyao Zhang - Mr. January, February and March, respectively, in a popular calendar of this ancient Indian kingdom - deliver superb Bronze Idol variations, clean and thrilling under that gold body paint. Christine Shevchenko and Isadora Loyola bring proper Russian brio to the scarf-wielding D'Jampe dancers, and many svelte midriffs are bared in the stunning costumes by Theoni Aldredge.
Conductors David LaMarche, Ormsby Wilkins and Charles Barker kept a firm lid on the excessive flourishes that can push this breezy, delectable score by Minkus over to the wrong side of music hall, and the painterly set designs and dreamy lighting by Pierluigi Samaritani and Toshiro Ogawa, respectively, make this evocation of an India that never was as real and enchanting as Natalia Makarova's clear-eyed updating of this 19th century classic.
Photos courtesy American Ballet Theatre:
1. Viktoria Tereshkina as Nikiya in American Ballet Theatre's production of La Bayadère (Photo: Gene Schiavone)
2. Misty Copeland as Gamzatti in American Ballet Theatre's production of La Bayadère (Photo: Rosalie O'Connor)
3. Paloma Herrera as Nikiya in American Ballet Theatre's production of La Bayadère (Photo: Gene Schiavone)
4. Olga Smirnova and Vadim Muntagirov as Nikiya and Solor in American Ballet Theatre's production of La Bayadère (Photo: Gene Schiavone)
Calling all HuffPost superfans!
Sign up for membership to become a founding member and help shape HuffPost's next chapter