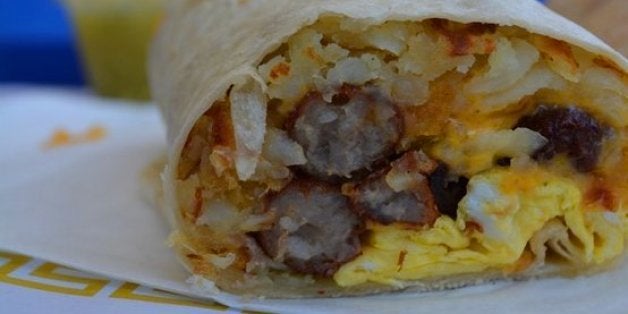 There's something very satisfying about a warm, hearty meal to start your day off right, especially if you ended your evening on a particularly boozy note. In Los Angeles, that can often mean one thing: breakfast burritos.
Breakfast burritos are a divisive topic. Some folks can't even agree on the essential ingredients for a breakfast burrito -- egg, tortilla, maybe breakfast meat, maybe potato, maybe cheese -- let alone where to find the finest version. Luckily, Angelenos are spoiled for choice, so a decent breakfast burrito of some kind is never far away.
But what about the great breakfast burritos? The one you see when your eyelids close for the night; the one your mouth waters for when you wake up. Here are 10 of the best -- from Atwater Village to Reseda -- that will make you a true believer in the greasy, eggy, deliciously mystical ways of breakfast burritos.
10. Taqueria El Tapatio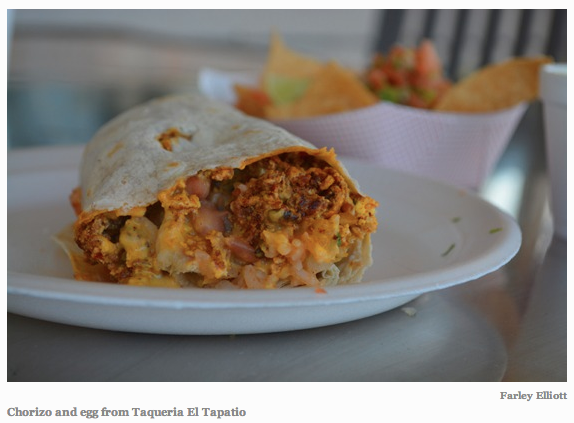 There is perhaps no sloppier breakfast burrito than at El Tapatio, the small Glendale taqueria that serves a chorizo-and-egg concoction all day long. It's a cheesy, slightly wet, greasy sort of thing, perfect for soaking up last night's booze. The chorizo is salty but won't knock you over with spice; most of the flavor here comes from some griddled char and lots of melty, Velveeta-esque cheese. It's not overwhelmingly goopy and it doesn't taste like plastic, but the orange dairy-like cheddar product that El Tapatio uses certainly makes its presence felt. Taste deeper and you'll find perfect beans, a toss of rice instead of undercooked potatoes and warm, satisfying eggs, all wrapped in a tortilla that's seen some time on the grill as well. 1266 S. Glendale Ave., Glendale; 818-549-4167.
9. Modern Eats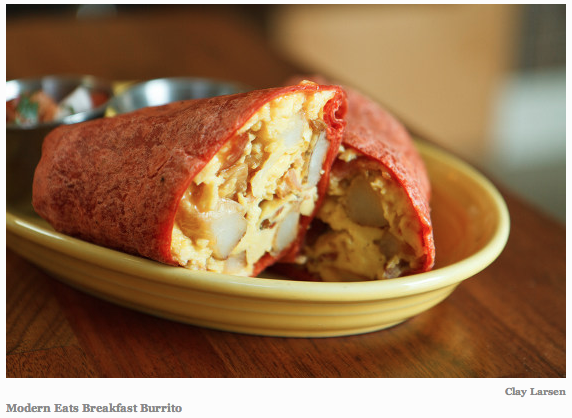 This Silver Lake coffee spot trends a bit upscale, but the greasy morning-after food you're looking for doesn't suffer much as a result. Yes, the tortilla is one of those colorful tomato-infused wraps, and yes, there are starchy red potatoes. But the eggs are plenty fluffy and there are nice flecks of bacon mixed in well. The addition of sharp cheddar helps to cut through all of that density while adding a little bit of fat, especially when the weak pico de gallo on the side just isn't getting the job done. Hefty eaters could level up to the $12 steak eggs burrito, which swaps the pork for six ounces of sirloin. Now that's a breakfast plate wrapped in a tortilla if ever there was one. 2590 Glendale Blvd., Los Angeles; 323-665-1008.
8. Athenian Grill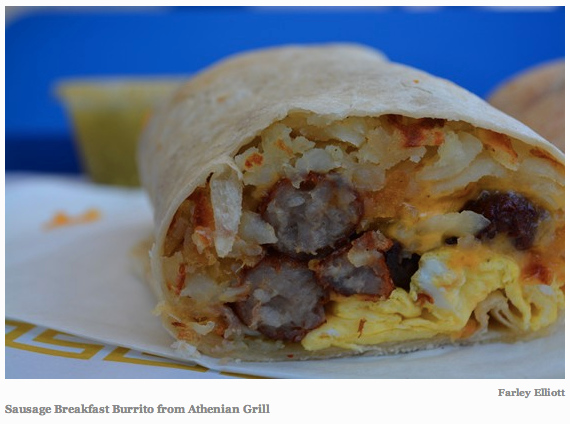 For generations, the Greeks have known how to run a diner -- and put together one hell of a breakfast. It's certainly true for the Athenian Grill in Reseda, which sports a $2 budget breakfast that comes with eggs AND pancakes. For the breakfast burrito, things get a little fancier: a layer of slightly crispy hash browns, two hard-fried scrambled eggs and the requisite shredded cheddar. After that, it's up to you to toss in sausage, bacon, ham, avocado or all of the above, but there's really no need to go extravagant. The snappy, grilled breakfast sausage is already a winner, so why ruin this delicate burrito balance with too much meat or creamy avocado? Like we said: The Greeks know what they're doing. 7042 Reseda Blvd., Reseda; 818-345-8445.
7. Lucky Boy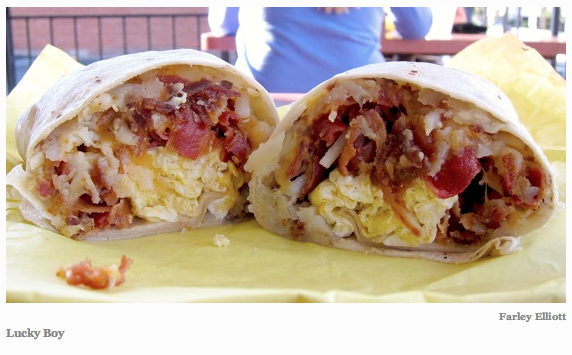 Any conversation about breakfast burritos in the greater L.A. area is incomplete without at least a passing mention of Lucky Boy Drive-In, the Pasadena burger shop that's been pumping out enormous burritos for years. Yes, there are a lot -- A LOT -- of soft potato bites hiding inside that overstuffed tortilla, but there's a lot of everything going on at Lucky Boy. A lot of softly scrambled eggs, a lot of salty, chewy bacon, a whole lot of cheddar cheese and, on the weekends, a lot of people in line by the time you show up. 640 S. Arroyo Parkway, Pasadena; 626-793-0120.
6. Frank's Charbroiler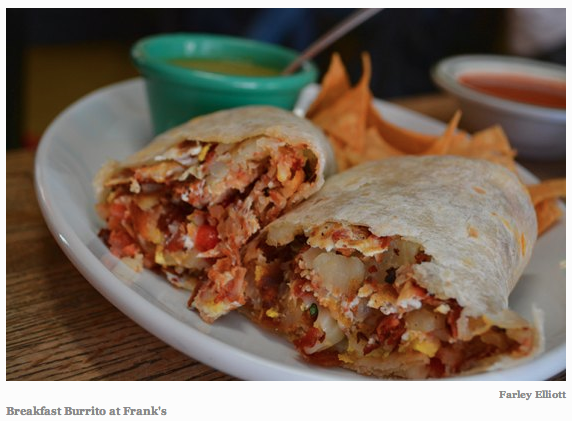 Frank's on Fairfax is a local haunt, the place that folks from the neighborhood flock to when they want a solid plate of eggs or a passable carne asada burrito, and don't feel like getting in their cars. The prices are just right, too, considering the upscale neighbors (Sheddy's notwithstanding) that operate nearby. As it so happens, lots of locals tend to order the breakfast burrito, which comes tucked with crispy hash brown shreds, pico de gallo, salty cheese and your choice of meat fried right into the egg scramble. It's not a pretty sight when it reaches your table, but that's exactly what you'd expect here. Be warned, though: They're closed on Sundays. 363 S. Fairfax Ave., Los Angeles; 323-655-5277.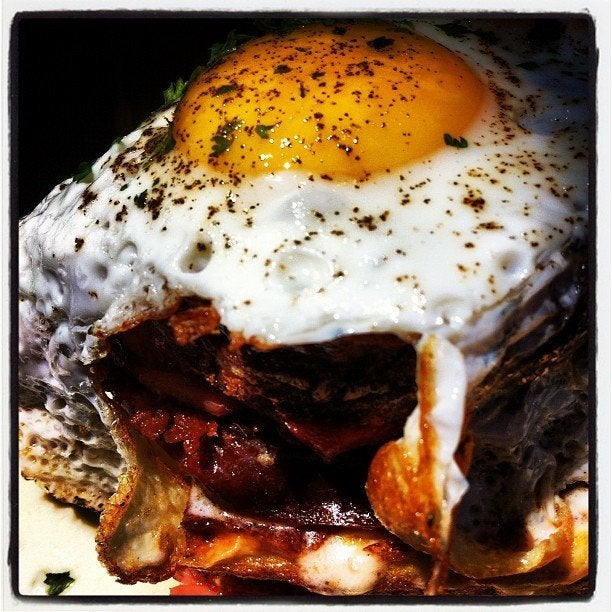 LA's Best Hungover Brunch