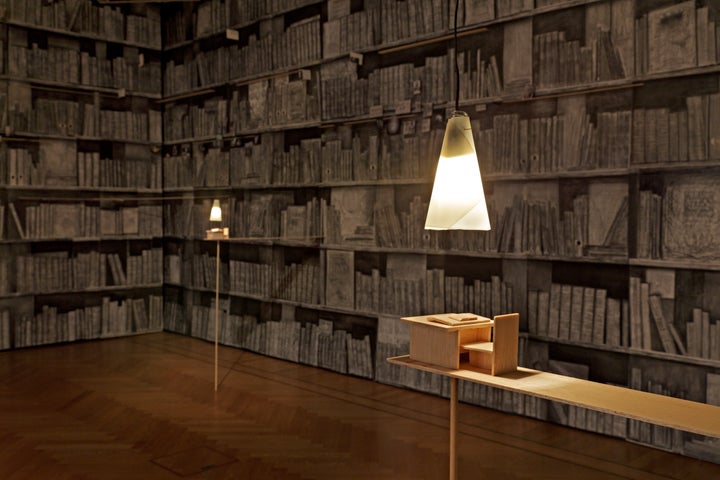 French artist Eric Fonteneau's new installation ("La Bibliotheque," at the French Institute Alliance Francaise, or FIAF) is a haunting mirage of places the artist has visited.
Fonteneau traveled Europe and North America with graphite and charcoal. The artist goes to libraries and rubs them on book bindings, taking with him a facsimile of the offerings of the particular branch. At first, Fonteneau rented a warehouse in Nantes for his collection, but has since taken them on tour, showing internationally.
A press release for the installation described "La Bibliotheque" as "playing with the idea of real versus imagined and memory versus record," and the images below offer a promising peak into what's sure to be a haunting experience. The "books" are carefully arranged, and the rubbed bindings are legible. Diminutive lights illuminate the space and provide an eerie scale to the room, interrupted only by spare wood furniture which suggest a hidden, important library where one is never seen, but always caught.
"Rubbing" is a technique which is primarily used to document gravestones which are in danger of disappearing due to decay. The obvious parallel, of course, is to the death of print and libraries in general.
Another installation by Fonteneau will also be on view at New York's Sofitel from January 19th to Saturday, February 11th. For more information, please contact FIAF. Previous examples of Fonteneau's libraries are available at his website.
PHOTO GALLERY
La Bibliotheque
REAL LIFE. REAL NEWS. REAL VOICES.
Help us tell more of the stories that matter from voices that too often remain unheard.
BEFORE YOU GO