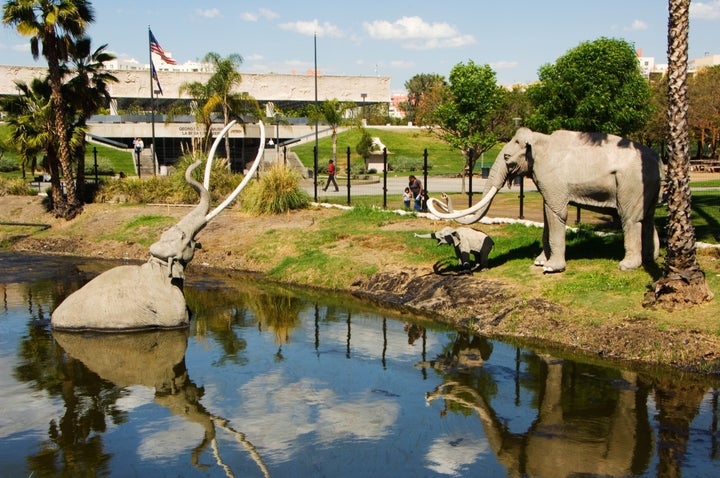 The La Brea Tar Pits, part of the Page Museum on Wilshire Boulevard's Miracle Mile, have been overflowing when it rains and releasing toxic runoff into the neighborhood's storm drains, eventually making its way to the Los Angeles County waterway and the ocean.
According to the Los Angeles Times, "residents living near Ballona Creek and environmentalists have complained of mysterious sheens of oil and grease in the Los Angeles County waterway." In response, earlier this month, the LA County Board of Supervisors passed a $2 million LA County Department of Public Works project to install an underground pipe to send the oil to be treated at the county's sewer system.
Kerjon Lee, public affairs manager of the LA County Department of Public Works, told the Huffington Post that the county and the Page Museum started realizing in 2006 that, typically during storm season, petroleum material was rising above the Lake Pit and occasionally seeping up from the ground in the area. He shared that some Hancock Park residents reported seeing oil seep up in their backyards.
As a temporary solution, in 2006, the county built an above-ground pipe that sent the captured oil to the county's sewer system. Before this temporary pipe was put into place, the Page Museum and Natural History Museum paid regional water regulators $15,000 in fines for releasing polluted water into storm drains in 2006 and $3,000 to a coastal cleanup project to settle a stormwater discharge violation in 2002.
Liz Crosson, executive director of Santa Monica Baykeeper, which has sued the county over the toxic runoff in the Los Angeles and San Gabriel rivers, told the LA Times that previous oil slicks have severely hurt birds and plants. Regarding the new pipeline solution, she said, "it's disappointing that it's taken five years or more for LA County to take action. But I'm glad to see they're putting in a more permanent solution."
Lee told HuffPost that any petroleum materials in groundwater since 2006 is likely from illegal dumping by businesses or individuals such as mechanics into storm drains. He encourages anyone who sees such dumping to report violations by calling the county's hotline, 888-CLEANLA.
Calling all HuffPost superfans!
Sign up for membership to become a founding member and help shape HuffPost's next chapter