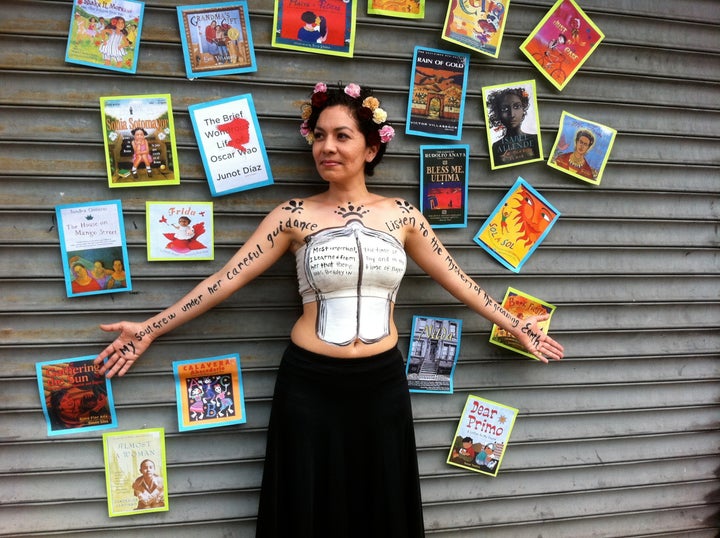 Don't tell Aurora Anaya-Cerda small bookshops are dying. Her mission: an independent Latino bookstore in the heart of East Harlem.
"It's a project I want to dedicate my life to," she said.
That dedication has her feverishly raising cash to open La Casa Azul Bookstore, a small business named after the Mexico City home of iconic painter Frida Kahlo. Plans are for La Casa Azul to sell new and used books, coffee, pastries, art, clothing and locally-made cards and gifts.

The digital age and popularity of online vendors such as Amazon.com have contributed to the demise many neighborhood bookshops around the country. In New York, that trend forced the closing of two popular Spanish-language bookstores. In 2007, Liberia Lectorum shut down after nearly half a century of business in Manhattan. One month later, Libreria Macondo, a few blocks away from Lectorum, closed its doors after 35 years in business.
Still, Anaya-Cerda remains hopeful. La Casa Azul, she believes, will be different.

"Bookstores have closed – and there's no denying that – but bookstores have also opened throughout the years, and many of them have become very successful," she said. "I'm looking to those for inspiration."

Anaya-Cerda was raised by her mother, who immigrated from Mexico and worked as a seamstress in East L.A. She said she learned the importance of reading early.
"My mom taught me how important reading and school was," she said. "She taught me to love reading... And I was the first person in my family to graduate from college. Out of 22 grand children, I was the first."
For Cerda, La Casa Azul is a means of promoting bi-culturalism through the written word in a community she believes desperately needs an influx of vibrant local businesses.
"I'm bi-cultural," she said. "I'm a first generation Chicana. I can read and speak in both languages, and I know the value of being part of both cultures. We'll be selling books for kids to read in both English and Spanish, and promoting the preservation of Latino language and culture."

Before Anaya-Cerda can open her store, however, she must raise $40,000. She launched a campaign to raise the money in 40 days. Now on day 38, she said, she needs $17,000 to meet her goal.
Fortunately, Anaya-Cerda said, a benefactor has promised to match every dollar donated with two dollars. "You give $40, they give $80!" Anaya-Cerda writes on her website.

If you'd like to contribute to the La Casa Azul Bookstore campaign, please visit her website.

Popular in the Community