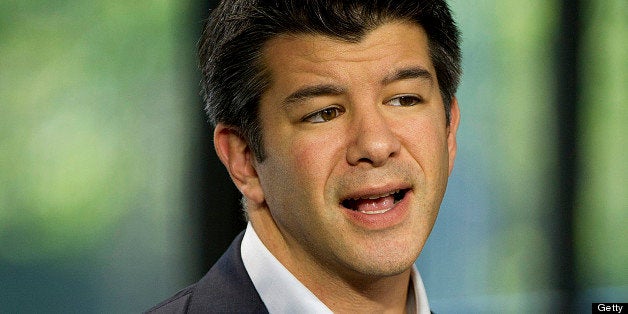 Despite a strongly worded cease-and-desist letter from the City of Los Angeles, Travis Kalanick, founder of the ride-sharing app Uber, said he has no plans to halt the service in LA.
"Anybody could send you a cease-and-desist letter," Kalanick told The Huffington Post in a phone interview Tuesday. "It may as well have been a cease-and-desist letter to Angelenos telling them to stop taking Amtrak. They have no jurisdiction."
Ride-sharing mobile apps Uber, Lyft and Sidecar claim authority to operate throughout California under an agreement with the state Public Utilities Commission, which regulates limousines and hired cars. All three responded to the cease-and-desist letters with tweets about the CPUC arrangement and vowed to continue operating in LA.
In LA's letter to Uber, obtained by HuffPost, the city called the company an "unlicensed commercial transportation service" and said drivers without a state charter party carrier permit must immediately stop picking up passengers or face arrest and vehicle impoundment.
For Uber, that would mean dismantling the UberX "community drivers" (those without state licenses), who operate much like Lyft or SideCar, which have their own criteria for determining which drivers may carry passengers.
"I need to make sure that our users understand what the situation is," Kalanick said about the threat of arrest. "But until the state of California has something to say, we will continue to operate in the state. If the city has beef with the state of California, then maybe those two entities should talk."
So which is it? Does a statewide agreement overrule municipal code, or does LA's Department of Transportation have authority over the city's service driver industry?
"I really don't know," said Andrew Kotch, a CPUC spokesman. "We've reached an agreement to operate with them under certain conditions" -- including adherence to local laws.
"If LA has something that they want to do or impose, it's up to them," said Kotch. "We regulate statewide."
While Kotch confirmed that the much-publicized statewide agreements with Uber, Lyft and Sidecar were still in effect, he emphasized that the deal was temporary until California comes up with permanent ways to regulate and license the tech transportation businesses.
An administrative law judge plans to propose statewide regulations for the ride-sharing apps by July 9, Kotch said. Because of a required public review period, CPUC commissioners can't consider the proposal until at least Aug. 15. That means California may still be months from deciding the fate of companies that have revolutionized the way many urbanites get around.
All three startup companies, based in San Francisco, have won a loyal and growing customer base of people who value the mobile apps for their clarity, responsiveness and low cost. Uber, for instance, keeps users' credit card numbers on file so no money is exchanged after the ride. Sidecar users can watch their pickups approach them in real time on their mobile phone map. And Lyft, known around town for the big pink mustaches on its cars, promises that users will be as comfortable as they would in a friend's car.
Since the services started in big cities like San Francisco and New York, they've encountered opposition from established taxicab companies that can't compete with their low fares and convenience.
LA's cease-and-desist letter is similar to San Francisco International Airport's decision to bar all "community driver"-based transportation services from its terminals in April. But because Uber also connects passengers with state-licensed commercial drivers, that service was allowed to remain at the airport.
Angelenos have already responded to the news that their beloved ride-sharing apps may be banished. Hours after news of the cease-and-desist letters hit, someone started a petition on Change.org directed at Thomas M. Drischler, the city taxicab administrator, and Eric Garcetti, LA mayor-elect, to repeal the order. As of Tuesday evening, it had more than 5,000 signatures.
Meanwhile, in a statement emailed to HuffPost, the LA Department of Transportation invited residents to use the city's nine legally franchised taxicab companies.
REAL LIFE. REAL NEWS. REAL VOICES.
Help us tell more of the stories that matter from voices that too often remain unheard.
BEFORE YOU GO
PHOTO GALLERY
The Sharing Economy