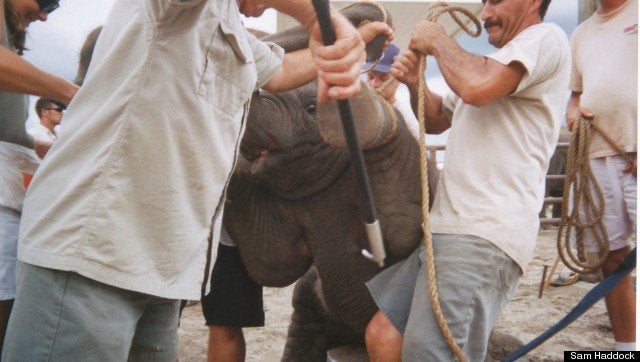 Families going to the circus in downtown Los Angeles Wednesday will have to walk past throngs of protesters, some with graphic photos of alleged animal abuse, before reaching the ticket counter.
"Ringling routinely shocks elephants with electric prods, gouges and beats them with bullhooks until they scream and chains them for hours and days on end," Delcianna Winders, PETA's director of captive animal law enforcement, told The Huffington Post. "Abuse is used on elephants when they are very young babies and on elephants just before they go on stage, for no apparent reason other than to remind them who's boss and what the repercussions will be if they don't comply."
"You cannot get elephants to do these unnatural and often painful tricks without negative enforcement," she said.
Stephan Payne, a spokesman for Ringling Bros., said to HuffPost that the abuse accusations are "completely untrue. We have dedicated professionals who spend 24 hours a day, 7 days a week doing nothing but providing the very best of care for all our animals."
"All the behaviors that people see in the show are based on natural behaviors. Elephants do stand on their heads and on three legs," Payne continued. "All of these behaviors we've watched since the elephants were young. They let us know if they're suitable for the circus. A majority of the elephants in our herd are not in the show."
Regarding training, Payne said it's done using a "system of repetition and reward, usually based on food."
Ringling has a Center for Elephant Conservation, located in central Florida, "dedicated to the conservation, breeding and understanding of these amazing animals," according to its website.
Payne said that Ringling has the largest herd of Asian elephants (50) in North America and is "dedicated to saving the endangered species for future generations" and allowing the public to "see them up close and learn about them in a way that no other place can offer."
In November, Ringling paid a $270,000 fine -- the largest paid by an animal exhibitor under the Animal Welfare Act -- to settle allegations that it violated federal animal-welfare laws in its handling of elephants, tigers, zebras and other exotic animals. Inspectors found that circus handlers made elephants perform when they were ill and used the same wheelbarrows to both feed meat to tigers and also haul away their waste, among other allegations.
Click through photos and videos from PETA of alleged abuse against circus elephants:
PHOTO GALLERY
PETA protests LA circus
REAL LIFE. REAL NEWS. REAL VOICES.
Help us tell more of the stories that matter from voices that too often remain unheard.