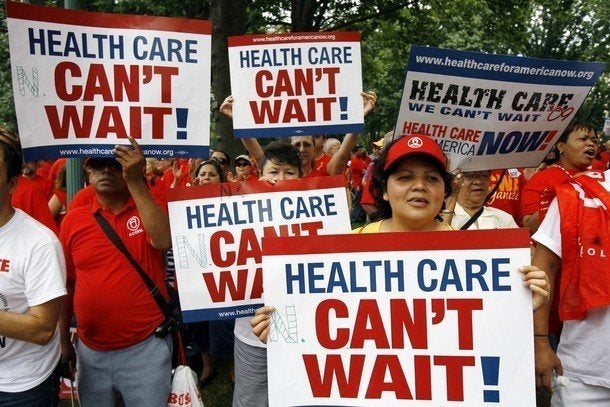 On Wednesday, LA City Council passed a resolution to support the president's health care reform initiative. Item 31-09-0002 S160, co-authored by Council members Garcetti, Hahn, Perry, and Huizar, lays out the city's support for the three major directives of health care reform proposed by the White House: reduce costs, ensure coverage for all Americans regardless of a pre-existing condition and guarantee choice of doctor and health care plan.
At the motion hearing, council members trumpeted their support for health care reform, citing statistics and unscrupulous practices of the health care industry as well as noting cuts to public safety and education budgets the city has been forced to make -- due in part to skyrocketing health care costs. Community activists called for a public option and lauded the council members on showing solidarity with the President to bring a national health care system to the United States. There were also calls from a member of the LA Alliance for a New Economy to demand Washington include illegal immigrants in the national health care plan.
Emotional testimony came from council member Hahn, who lost a a friend to breast cancer after she was denied coverage by her insurance company, and Jack Dannibale, whose father, an immigrant who worked his way from janitor to Chief of Staff at St. Vincent's Hospital in New York City, was diagnosed with cancer when Jack was just 15 years old. Doctor Dannibale sought chemotherapy that at the time was fairly new but now is commonly administered and was denied coverage by his insurance provider. Forced to pay for treatment to save his own life, Dr. Dannibale spent $24,500 per month for medical care. After 10 months, fearing he would not leave his sons anything for their education and future, Dr. Dannibale stopped his treatment and died seventeen days later. Faces around the room were clearly moved by Jack Dannibale's story, delivered in a voice that cracked at times.
The vote for the resolution passed unanimously. The Health Care Resolution is the first of its kind to be passed by a city government. More such resolutions are expected to be proposed throughout the state and around the country. Council member Garcetti from the 13th District is spearheading the effort to galvanize local government to support the national health care effort from the White House.
Calling all HuffPost superfans!
Sign up for membership to become a founding member and help shape HuffPost's next chapter