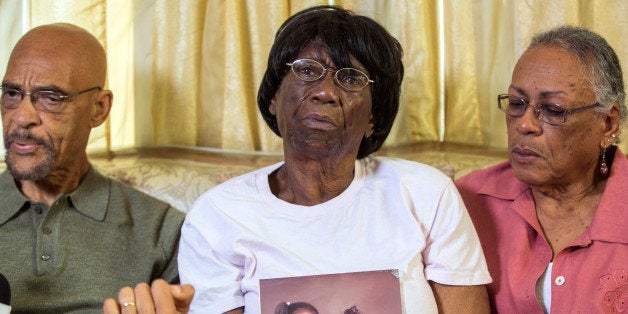 LOS ANGELES, June 1 (Reuters) - Attorneys offered closing arguments on Monday in the case of a white Los Angeles police officer accused of assaulting a black woman who died shortly after saying "I can't breathe" while being restrained in the back of a patrol car.
Prosecutor Shannon Presby showed the jury video of the July 2012 arrest he said proved Officer Mary O'Callaghan used excessive force when she shoved 35-year-old Alesia Thomas in the neck and repeatedly kicked her in the groin and chest.
O'Callaghan was charged with assault under color of authority and could face up to three years in prison if convicted.
She was not charged with Thomas's death, which the coroner's office determined was in large part due to "acute cocaine intoxication."
Presby, Los Angeles Assistant Head Deputy District Attorney, said Thomas was experiencing heart failure and in visible distress while O'Callaghan beat her.
Thomas could be heard saying in the video "I can't breathe" before losing consciousness minutes later.
"She's drowning in her own blood," Presby told jurors about the video.
The trial comes amid a national outcry over police violence against minorities, following the police killings of several unarmed black men in cities like Ferguson, Missouri and New York over the past year that sparked widespread unrest.
Defense attorney Robert Rico argued that O'Callaghan used a necessary amount of force in trying to get a large, combative woman who was under the influence of drugs into the back of a patrol car.
Rico pointed to audio O'Callaghan telling Thomas she just wanted to transport her "to get you some help."
O'Callaghan was not the arresting officer for this case, but responded after other officers requested backup in restraining Thomas, who was being arrested on suspicion of child abandonment.
Rico said the other officers merely stood back and watched as O'Callaghan struggled to retie a leg restraint on Thomas, who was kicking her legs in the back of the patrol car.
Presby however showed another section of video, where O'Callaghan could be heard laughing and smoking a cigarette after the arrest.
Rico waved her behavior off as a reaction to a stressful and dangerous job, and irrelevant to her use of force.
The jury will begin deliberating on Tuesday. (Editing by Curtis Skinner, Robert Birsel)
Calling all HuffPost superfans!
Sign up for membership to become a founding member and help shape HuffPost's next chapter
BEFORE YOU GO
PHOTO GALLERY
2014 Police Killings