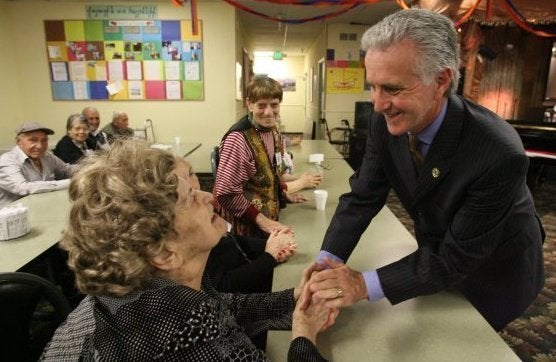 Los Angeles City Councilman Paul Krekorian apologized Tuesday for an incident involving a fake letter on his "Ask Paul" Patch column.
"Unfortunately, a member of my staff chose to write the question part of the column himself, based on what he believed was of interest to the public," Krekorian wrote in a letter to the editor sent to the Daily News.
"This clearly was an error in judgment and should not have happened. I regret and take responsibility for my office's error, and we have taken steps to ensure that nothing like this will occur again."
Krekorian also said Tuesday he was unaware that the question over digital billboards -- which came from "Tracy from Studio City" -- was fake.
The controversy started when Krekorian's communications chief Jeremy Oberstein acknowledged he crafted the Tracy letter based what he described as an aggregate of local opinions.
The column allowed Krekorian to address digital billboards, a hot button issue at City Hall, and defend himself against a negative Los Angeles Times editorial that criticized the councilman over his work with the billboard companies.
On Tuesday, Krekorian said the "error was not made maliciously or with any intent to mislead anyone. To the contrary, my staff and I work hard every day to inform the public with accurate and useful information about city government."
Following the incident, past "Ask Paul" columns were investigated by Patch editors.
The entire column is now being moved to the blog section of the Patch site, said Joe Wiggins, New York-based spokesman for the company.
The move essentially means Patch editors' are no longer responsible for the content.
"Patch found no other violations in the councilman's column since it started nine months ago," Wiggins wrote. "Still, we have decided that 'Ask Paul' will no longer be a column on Studio City Patch. It will be posted as a blog, with the councilman and his staff solely responsible for the veracity of its content."
Normally, a fake letter to a politician's column might not cause an uproar, but the query concerned digital billboards, an issue that frequently inflames some communities.
One anti-billboard group pounced on news of the fabrication over the weekend. Concerned Angelenos Promoting Progress, which has criticized Krekorian's stance on billboards, gleefully announced news of the fake letter, and included a link to instructions on how to recall a city official in their email blast.
But the group added a recall is not recommended, given that it is a "costly and time-consuming" process.
(c)2012 Daily News (Los Angeles)
Distributed by MCT Information Services
Calling all HuffPost superfans!
Sign up for membership to become a founding member and help shape HuffPost's next chapter
BEFORE YOU GO
PHOTO GALLERY
Below-The-Belt Political Attacks