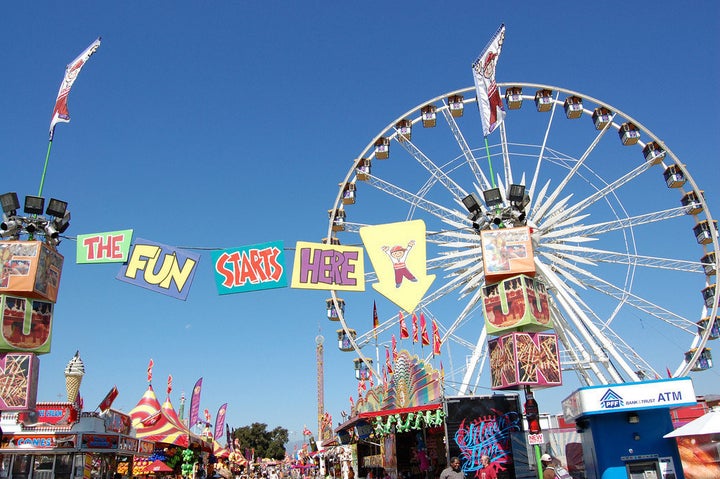 Animal Magnetism
Since its founding in the early '20s, the L.A. County Fair has been known for its horse racing, rodeo games and
, so fairgoers seeking animal-related events are in luck. Guests can watch -- and even participate in -- wild horse and pig races. The
exhibit at the fair typically houses more than a hundred barnyard animals and hosts a variety of related activities, such as sheep-shearing shows and a baby animal nursery.
Six Degrees Of Bacon
But the fair is about more than just livestock. The L.A. County Fair hosts a wide variety of
every year. Contestants from L.A. County and beyond display their best food, from dairy to beer and wine. And, like any fair that's worth visiting, the L.A. County Fair is home to countless fried foods, often conveniently placed on a stick. In 2010, the fair premiered its chocolate-dipped, bacon-wrapped Oreo. Other noteworthy foods include Chicken Charlie's iconic deep-fried peanut butter and jelly sandwich, as well as fried Klondike bars, frog legs and cheesecake on (what else?) a stick.
Global Village
Drawing on Southern California's rich ethnic makeup, the L.A. County Fair typically stages a variety of programming that highlights cultural diversity. Debuting in 2011, the
is a celebration of culture featuring concerts, folk dancing and crafts from throughout Latin America. The Chinese Circus of Beijing, featuring acrobats and martial-arts masters, performs every day throughout the festival. Music lovers should check out the annual battle of the bands event, which offers local groups the opportunity to perform and compete against each other. Performers interested in competing must
, as slots are limited.
Ride A Real Elephant
In terms of excitement, cultural thrills are just the beginning. The L.A. County Fair is home to an abundance of rides, ranging from the mild-mannered Ferris wheel to high-speed contraptions that drop and spin. For a low-tech thrill, you can ride an actual elephant. Children can also participate in dozens of activities, with many targeted specifically to them. For example, Farmer for a Day is a new interactive exhibit that has imitation cornfields and apple orchards for kids to harvest.
California Girls
Although the L.A. County Fair doesn't sponsor a beauty pageant, it does welcome the local Miss California title holders on stage every year for a performance. Guests can also meet and greet the lovely ladies.
The University of Southern California Trojans marching band and spirit squad perform at the L.A. County Fair.
Have you been to the L.A. County Fair? Tell us your best memory!