 "No new jails! No new jails!" These were the rallying cries of about two hundred protestors Tuesday as the LA Board of Supervisors met to consider expanding the county jail system.
As CBS reports, protestors demanded that the $1.5 billion that would go into Sherriff Lee Baca's plan to rebuild Men's Central Jail be spent instead on recidivism prevention, jobs, education and public safety.
Protester Mary Sutton said to CBS, "We need to prevent people from going into cages rather than building more cages." She continued, "Do not build a new prison. Because what I know is if you build them you'll fill them, and you'll overfill them."
Facing such opposition, the Board discussed alternative options to jail expansion at the meeting, Daily Breeze reports. The Supervisors plan to hire a contractor to study and report back alternatives by June 30.
David Chavez of Critical Resistance and the Youth Justice Coalition told CURB at the demonstration, "People are not going to back down from their demands that resources go toward reentry services, educating residents of this city, toward healthcare, toward jobs, not toward locking them up. We will certainly be back, and I am sure we will be back even stronger."
The LA County jail system has had a rough couple of years to say the least. First, in early 2011, the Supreme Court decided that inmates from California's overcrowded prisons should be moved to county jail--where there isn't much room either. LA County jails continue to be criticized for shortening sentences for inmates. And, just last week, the ACLU filed a lawsuit accusing Sheriff Lee Baca of condoning brutality by deputies in the jails.
Check out a few photos of the protest, which included prisoner costumes, orange "No New Jails" t-shirts and props: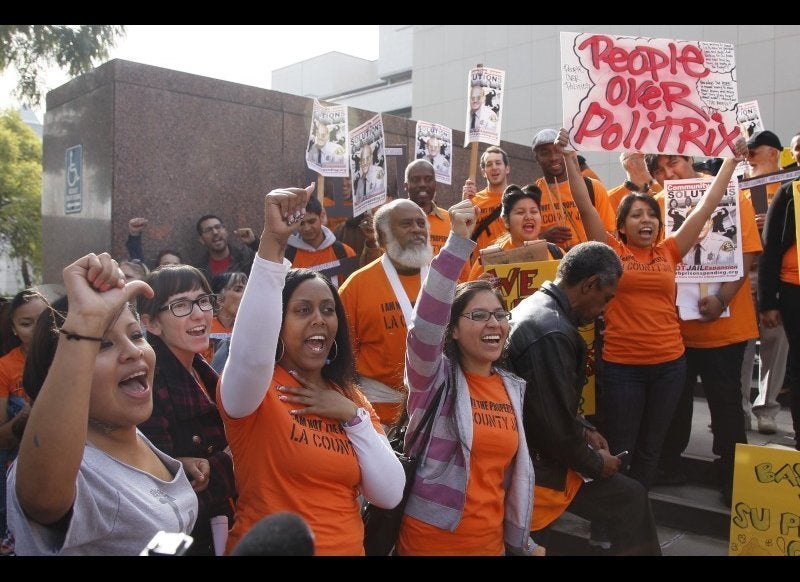 LA County Jail Protest
Related
Popular in the Community