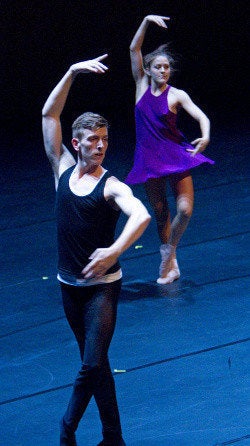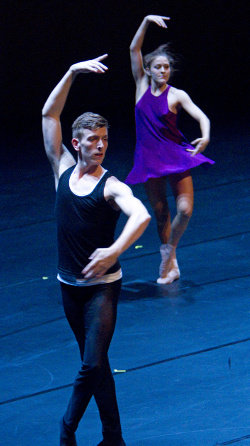 New kids on the block, L.A. Dance Project, in their highly anticipated company debut, took to the sacred space of Walt Disney Concert Hall in a well prepared and highly professional dance performance this weekend. On a stage where the Los Angeles Philharmonic orchestra normally resides, the boutique troupe of six dancers directed by Benjamin Millepied -- the entire gang newbies to Los Angeles -- fielded a solid and credible outing.
Millepied gave his audience a satisfying eyeful of contemporary choreography. The French-born New York City Ballet alum's smartly curated program included two respectful and historic restagings: one each by William Forsythe and Merce Cunningham. Only a third and final work featuring Millepied's own choreography left the evening anchorless and lacking in artistic direction. This can come later; the company's premiere was a huge first step.
A special feeling, truly one of joy, reigned in architect Frank Gehry's spectacular hall when dancers assumed their casual opening positions for Forsythe's "Quintett." This honey of an abstract contemporary ballet, a seminal work, dates from 1993.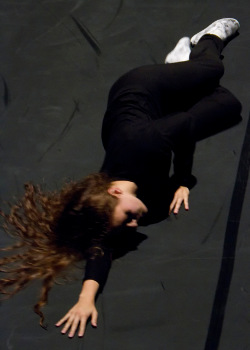 Of the company's pleasingly quirky individuals, Charlie Hodges, a compact former Twyla Tharp dancer on whose bald head perched a pair of black spectacles, grabbed the eye. Yes the guy danced in his glasses! This oddball detail immediately put L.A. Dance Project onto a droll cutting edge.
Forsythe's abstruse almost brutally thorny choreography poured forth to a stirring sound score, a cycling dirge by composer Gavin Bryars blending voice and harmonium with a slightly Celtic flavor. The deeply reverberating music gave "Quintett" its humanity. Adventurous, personal, kinetic, chockful of technically challenging solos, pairings and trios, "Quintett" stems from (and revisits) basic ballet positions. But Forsythe and his co-creators (the program lists five) burst free, stretching the body into a physical zone that left the dancers panting for breath. The half-hour-long work sailed swimmingly for a long time; then something in the dance's deep fiber detached, and Forsythe's taut tonality dissipated. I spied a fatal gap between the company's male contingent (with Hodges in the lead, Nathan Makolandra was a prime contributor) and its female members who did not chip in the same insouciant "Here I am!" attitude.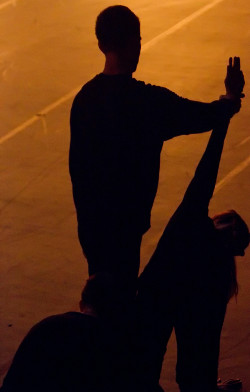 In Merce Cunningham's brilliant "Winterbranch" (1964) the cast went under the cover of Robert Rauschenberg's wickedly dark lighting scheme which was aptly reconstructed in Los Angeles by master lighting lady Beverly Emmons. Although flash-illuminated by the random yellow swatch, the stage's wintry palette made it tough going for the second balcony. Peanut-gallery people watched a black hole. One dissatisfied fellow bellowed, "It's an abomination!" before making his exit, to the perverse pleasure of Cunningham fans.
A work of staggering rigor, much of it taking place low to the ground, the blazingly slow "Winterbranch" draws stark contrast to Cunningham's much more active, mostly standing, later works. Creatures, not really dancers, clad in black costumes (the leader dons a cowl), drag and drop themselves and others, and pose in silence. The rare movement-burst erupts. A single arm gets thrust akimbo not as decoration but as though that simple action could contain infinite meaning (and for "Winterbranch's" brief lifespan it does). La Monte Young's ragingly annoying sound score of ragged industrial noise kicks in mid way. So glorious! Only sixteen minutes in length, the work is so disciplined, so lean and spare, so intense and spotted with kooky humor that at one point this viewer was not only moved to tears but also praying it would end; it was so great that it hurt. What risk-taking, what integrity, what rigor. Merce Cunningham, who died at very old age in 2009, was such a genius. Thank you, Mr. Millepied, for bringing "Winterbranch" to Los Angeles.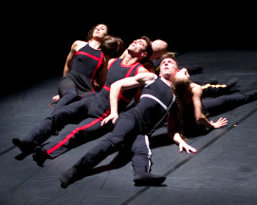 A triple header would offer further dance revelation. Not the case with Millepied's dully entitled "Moving Parts" set to Nico Muhly's score performed live on the Disney Hall pipe organ with violin and clarinet participation. "Parts" offered a slippery mish-mash, not really modern dance and certainly not ballet, which should be Millepied's forte. The Rodarte team's dated-looking dance wear (more black, after the Cunningham: why?) with colored stripes that screamed "Adidas," added little dimension. Falling short as well was Christopher Wool's "installation," a rambling trio of moveable canvases that wheeled around the Disney Hall stage like schoolroom blackboards. In an unfortunate echo of the dance's indistinct movement vocabulary, Wool's ugly placards featured jumbled alphabet letters.
It was fun seeing Millepied mix in with his audience during intermissions, but what was even better was glimpsing his lady friend Natalie Portman circulate the lobby oddly decked out in Oscar regalia, a princess-white ball gown. The L.A. dance community may till now have lacked a proper company, but we dress hip.
Photos courtesy L.A. Dance Project, credit: Eric Politzer

Debra Levine is a Los Angeles-based arts journalist blogging about dance, film, music and urban culture on arts•meme.
Related
Popular in the Community