LOS ANGELES, April 23 (Reuters) - Two ex-Los Angeles County Sheriff's deputies accused of planting guns at a marijuana dispensary to justify an arrest have been charged with conspiracy and perjury, prosecutors said on Wednesday.
The charges mark the latest blow to a sheriff's department that has been beset with allegations of civil rights violations and corruption as well as a federal investigation of its jails. Former Los Angeles County Sheriff Lee Baca retired earlier this year rather than seek re-election.
Prosecutors say former deputy Julio Cesar Martinez, 39, claimed in a report that he spotted a man make a drug deal in August 2011 while reaching for a gun in the front pocket of his shorts.
Martinez wrote that he followed the man, Antonio Rhodes, into a marijuana dispensary where he saw Rhodes throw the gun into a trash bin, and that he found a second firearm on a desk next to a bottle of ecstasy pills, according to a criminal complaint.
Martinez and his then partner, 32-year-old Anthony Manuel Paez, arrested Rhodes and a second man, Johnny Yang, at the dispensary, the complaint said.
But a video recording found there showed the two lawmen shutting off electricity in the room and disabling a video surveillance system before Paez is seen planting the guns at the scene, according to the complaint.
Internal investigators from the sheriff's department launched a probe of the case in 2012 after they discovered the video, which was inconsistent with the report filed by the deputies.
Prosecutors did not say why the pair, who face up to seven years in prison if convicted, would have wanted to frame Rhodes or Yang or why they were no longer employed as deputies.
Late last year, federal prosecutors accused 18 current or former sheriff's deputies of beating or wrongly detaining inmates, as well as visitors, at two downtown Los Angeles lockups and trying to cover up the abuses.
The recent arrests stemming from the probe of inmate abuse came more than a year after a commission blamed Baca for failing to halt what it determined was a persistent pattern of excessive force against inmates by his deputies, dating back years.
A separate report released by the American Civil Liberties Union in 2011 cited the department for a number of abuses, including a finding that some deputies had formed gangs that encouraged assaults against inmates. (Reporting by Dan Whitcomb; editing by G Crosse and Cynthia Johnston)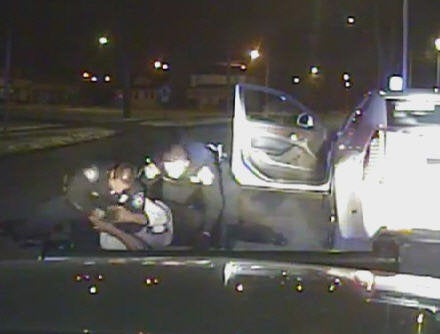 Police Brutality Incidents