What's in a name? A lot, actually. If I told you I was vacationing in, say, Oxnard or Lompoc or Irvine, you'd probably be sad for me. I'm not saying there's anything wrong with those cities, I'm sure they're perfectly lovely. But do those words excite your imagination? Now, how about if I said, "La Jolla." The words themselves evoke images of Pacific-facing mansions, 100-foot yachts and suntanned legs on tennis courts.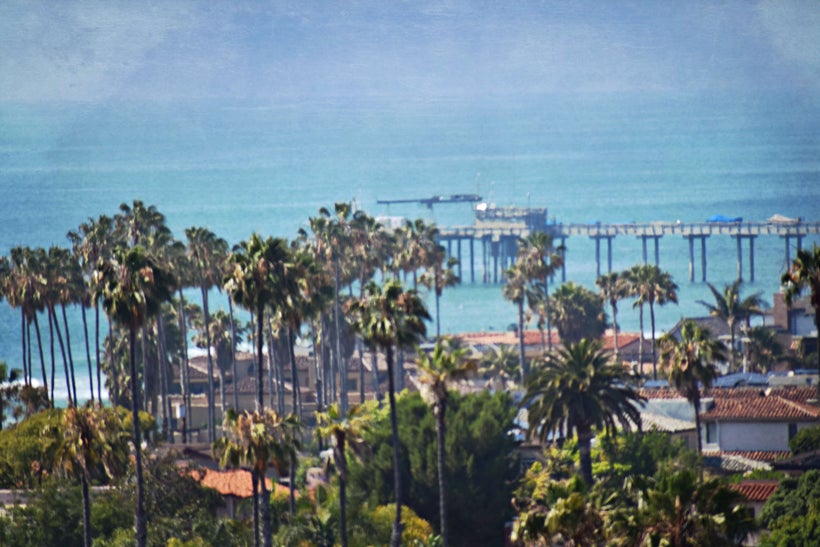 La Jolla is everything you want in a seaside resort village. Cool morning breezes slowly morph into warm afternoons, as big questions loom, such as, where to catch the sunset and where to enjoy a few glasses of wine over a memorable dinner. One place manages to answer both in a single word: Cusp. The 11th-floor Modern American joint atop the towering Hotel La Jolla has the most sweeping vista of the cove this side of Mitt Romney's place (and since nothing beats a 45-second walk home after dinner, this is naturally the place to stay).
The cocktails are great, with a nice mix of modern specialties and classics. Speaking of classics, they offer a Lobster Thermidor and flat-iron steak for the ultimate in surf 'n' turf. Exec Chef Ingrid Funes' menu is seasonal and loaded with seafood options. I highly recommend the pan-seared sea scallops, which are served in an habanero-coconut sauce that's blended with black rice and Fresno chiles for a very mild, sweet heat.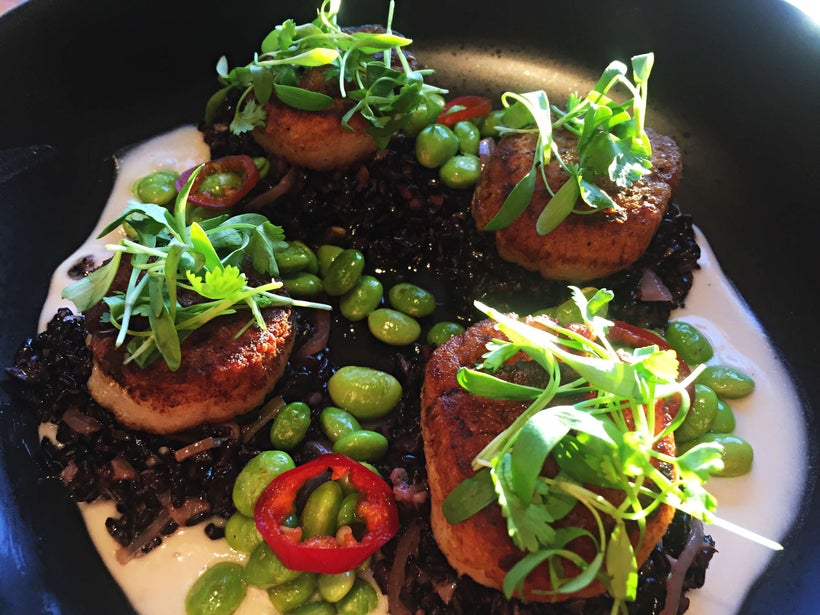 For more coastal-inspired dining, head into the heart of the village, up two flights of stairs, and into Catania. Italy may be halfway around the world, but you can taste it in every bite of Catania's authentic dishes. Highlights of the menu include a Wagyu beef tartare served in the hollow of a bone, the way you'd present marrow; duck liver mousse on country bread with seasonal garnishes; and baked oysters.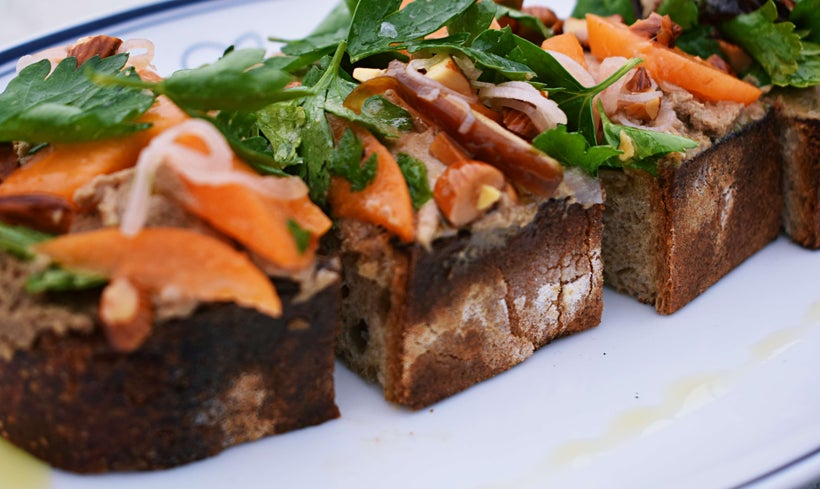 Entree favorites include a squid ink spaghetti and a duck sugo orecchiette that somehow gets even better with a few dashes of housemade chili oil. And don't miss the delicious Nutella semifreddo.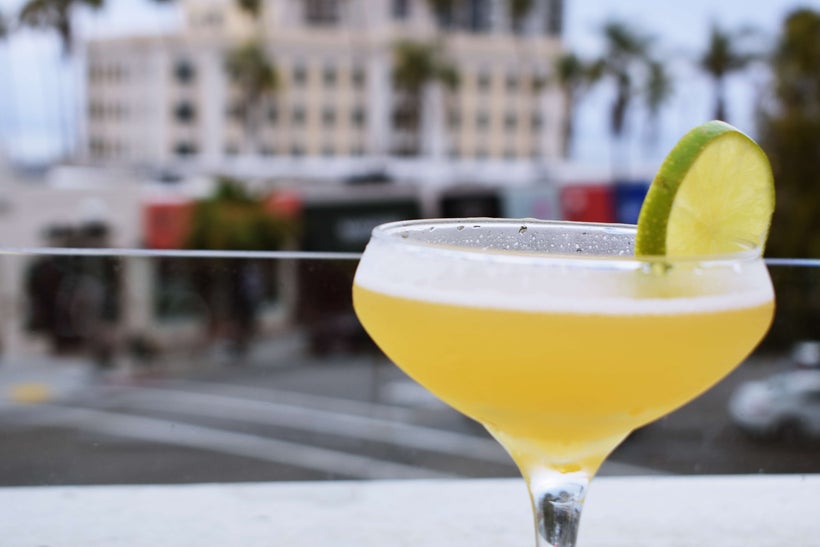 There are a lot of calories in those last couple paragraphs. And if you eat like I do, you're going to want to burn it off. In the waters of La Jolla, that could mean surfing or snorkeling; for me, it was kayaking. Now, I enjoy kayaking, hear me out, but let me warn you: If you're the type who gets sea sick, you're going to want to take some meds in advance. Everyday California will outfit you and get you out on the water in about 15 minutes, and in no time, you'll be crossing the bay toward the caves, listening to Rachel tell you stories about Dr. Seuss, who lived in the area. But while you're awaiting your turn to go inside those caves, you're going to be sitting idly on the choppy water, re-tasting the raw oysters you ate the night before. Easy, stomach…
So, if you're the type who might get sick, take precautions because this is an experience you're going to want to enjoy. The view of La Jolla from the bay is unparalleled, the shared communion of being on the water with others is a way of bonding, and the exercise of paddling your kayak is invigorating (and helpful when you eat as indulgently as I suggest).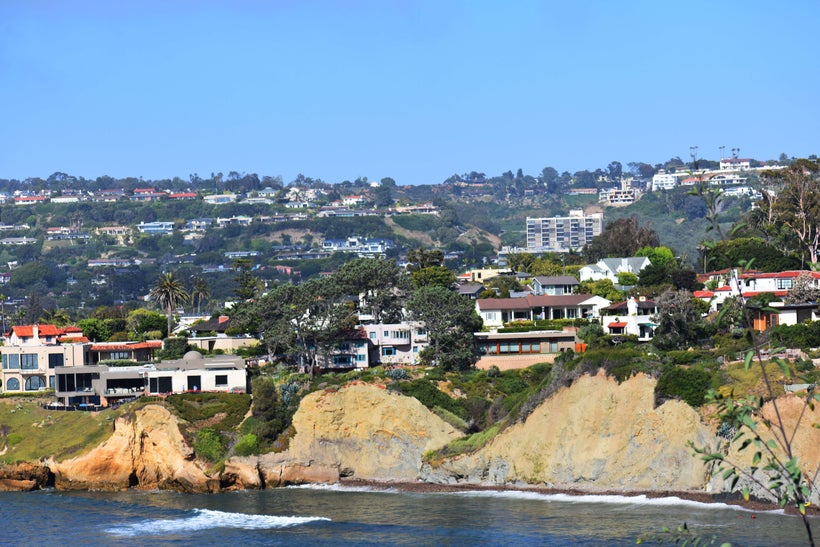 Now that you're hungry again… It's time for cheese. Ask about the best lunch spot in La Jolla Shores (the charming, sleepy area of the peninsula strewn with outfitters and casual dining joints) and you'll probably be told The Cheese Shop, and with good reason. The roast pork sandwich and the jalapeno cheese popper are both great. They also sell cheese and candies, and have a good soda pop collection.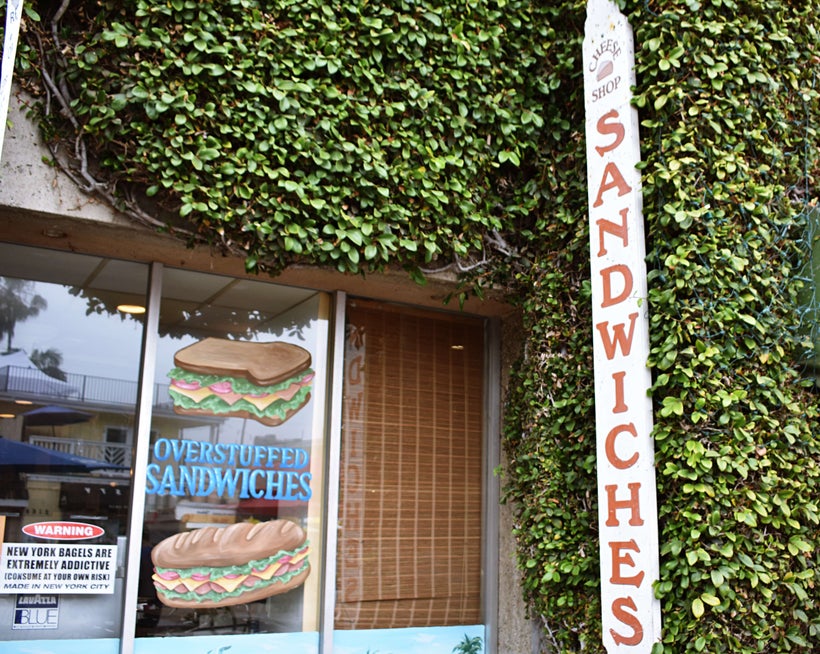 Nothing beats a good cup of coffee on a slow, cool morning, and La Jolla has some good ones. My favorite is Elixir, downstairs from Catania, which makes a killer panna cotta espresso. Brick and Bell is good, with a location in the shores and the village. The eggs are just so-so. The best looking place is Coffee Cup, which resembles a mid-century coffee shop. Their menu looked mouthwatering, and I confess that I didn't get around to trying the coffee (hey, I can only caffeinate just so much!).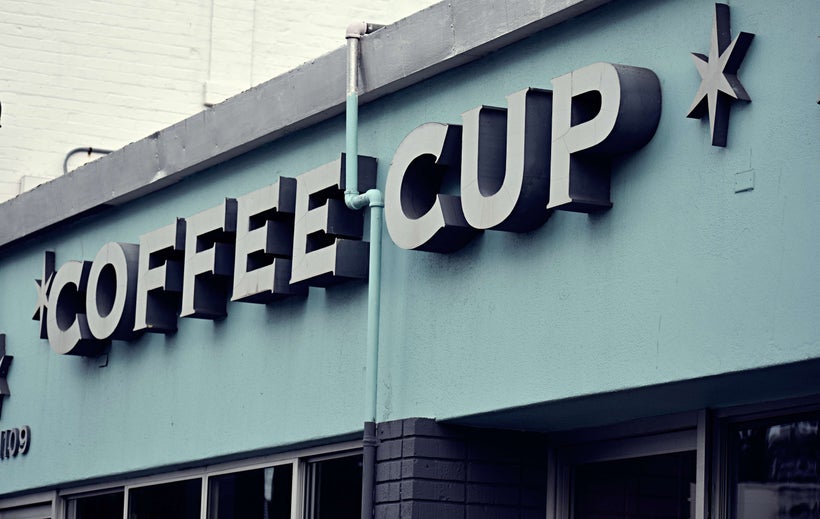 Finally, let me share with you one of my favorite locations to enjoy a cocktail: the historic La Valencia hotel's piano bar and lounge. The iconic pink stucco building is more than 90 years old, and you can feel the timelessness in the cool evening air that billows in from the bay windows as you sip a French 75, a Sidecar or some other elegant classic, while you sink into the cushy sofa cushions… and heavenly bliss. And now your imagination will instantly paint vivid pictures when you hear the words "La Jolla."
REAL LIFE. REAL NEWS. REAL VOICES.
Help us tell more of the stories that matter from voices that too often remain unheard.
This post was published on the now-closed HuffPost Contributor platform. Contributors control their own work and posted freely to our site. If you need to flag this entry as abusive,
send us an email
.