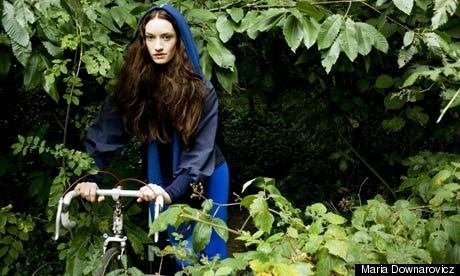 Wolfgang Puck and Ferrari drivers, take note: The Los Angeles you know and love is changing.
A serious foodie culture (I'm talking Kogi, not Kobe) has exploded in the five years since I moved to LA. I credit the LA Weekly's Pulitzer Prize-winning food columnist Jonathan Gold, the proliferation of food blogs, and a diversely ethnic population's scrumptious cooking that the city's gringos are finally beginning to notice, thanks in part to the former two. A serious biking culture has also sprung up, owing to the expanding green movement and a dismal economy forcing people to reconsider the bicycle as a method of everyday transportation. So what do you get when you combine these two emerging counter-cultures?
Pure marketing genius, says Josef Bray-Ali, co-owner of the Flying Pigeon bike shop in the Highland Park district of LA. Last year, he and his brother Adam started hosting group bike rides to various Chinese dumpling houses in the area as a way to showcase the shop's Chinese (and Dutch) commuter bikes. The Get Some Dim Sum ride, as it's now called, has since taken off like fried rice cakes -- as many as 50 people now show up for the gastronomical excursions, which take place on the third Sunday of every month.
Josef is quick to point out that the rides are more than a marketing ploy, however. He's passionate about sustainability, and envisions commuter biking as a serious component of LA's green future. "If [the city of LA] were to just focus on our streets, and move a greater percentage of people by rail and by bike -- not by mandate, but because they want to, because it's a comfortable, fun, nice thing to do, because the street is oriented for it -- we could massively reduce the needs we have for all kinds of resources," he says.
Comfortable and fun it is. The brothers were kind enough to let me test out one of their cruisers when I joined them on the dim sum ride, and I've got to say, this model was a welcome improvement over the converted mountain bike I use for errands around town. It's sturdy, you can sit upright (no hunching over the handlebars with these), and the seat is cushy -- heck, you could even wear a dress on one of these! I also managed to work up quite an appetite on the 10-mile ride, despite the leisurely pace.
Want to join Flying Pigeon on the next Get Some Dim Sum ride? All you need is a helmet, a bike (or reserve a rental for $10), and $15 per person to pay for the food. All ages and athletic abilities are welcome.
Popular in the Community