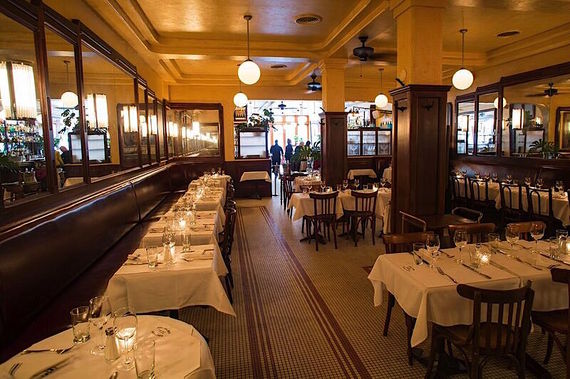 Though now thoroughly gentrified, the Bowery (left)was once synonymous with downtown grit. As the old song goes,
The Bow'ry, the Bow'ry!
They say such things,
And they do strange things
On the Bow'ry! The Bow'ry!
I'll never go there anymore!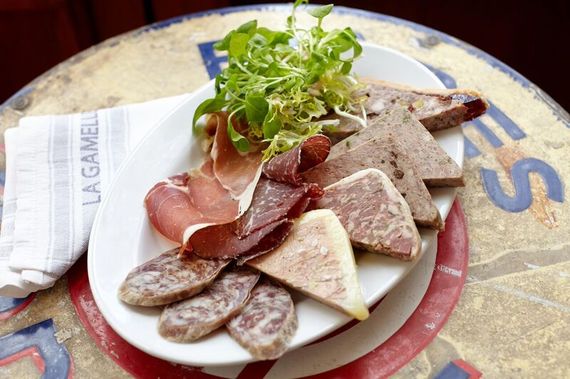 New restaurants are usually the first to venture onto once derelict streets like The Bowery, and now that the New Museum has become a draw there, with Daniel Boulud's poupualr DBGB next door, the lights are on everywhere, none more charmingly than at La Gamelle (French for a bowl or lunch pail). Open a little over a year, the pleasantly sized bar and two dining rooms have all the trappings you'd hope for in a Parisian-style bistro, from the tile floors and banquettes to the zinc bar and tables covered with both cloths and paper. Many of the furnishings were brought over from France, and the overhead lighting and ambient colors of the place makes it seems like it's been this way for decades.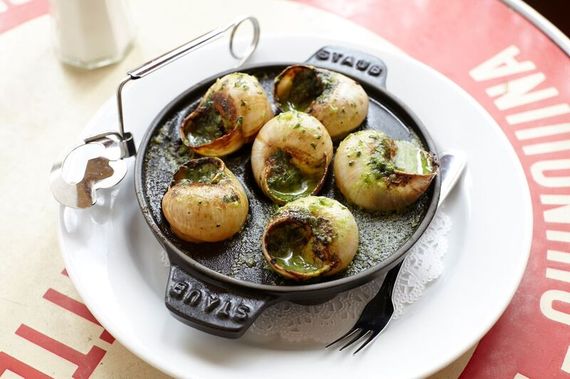 Initial reports on the food were muted, but a year later, La Gamelle has hit its stride now that owner Dimitri Vlahakis has brought in Chef Denis Kuc, who's worked at BLT Bar & Grill and BLT Fish, Dovetail, The Modern, and Artisanal, and consulting chef Michael Burbella, formerly of Gramercy Tavern and Gotham Bar & Grill--all among NYC's best kitchens. The menu is still solidly that of a French bistro of a kind no one can possibly tire of, with novel additions each night in the same style.
A new Master Sommelier, Harold Toussaint, founder of the restaurant's Wine School, has added measurably to the wine list, so it's well worth your while to consult him before ordering. He's got some rare bottlings back there at reasonable prices, although on the printed list wines by the glass are sky-high, like a Château La Grange Clinet 2009 that sells for about $12 a bottle in a store goes for a whopping $13 by the glass at La Gamelle and $48 for the bottle.
Our table ordered a generous platter of housemade charcuterie ($37) that included a hearty pȃté de champagne, creamy foie gras, pâté en croûte, saucisson sec, Serrano ham, and pâté musketeer, with two kinds of good bread and butter, which went well with a lovely summer's rosé wine. Carabiñero shrimp [market price] are grilled and nicely seared while the shrimps' texture remained velvety, drizzled with olive oil with frisée lettuce. Steaming hot escargots ($12/$22) had an assertive garlic-parsley butter, which, let's face it, is the whole reason to eat snails, while roasted octopus citronette ($18) took well to the lemon and olive oil dressing.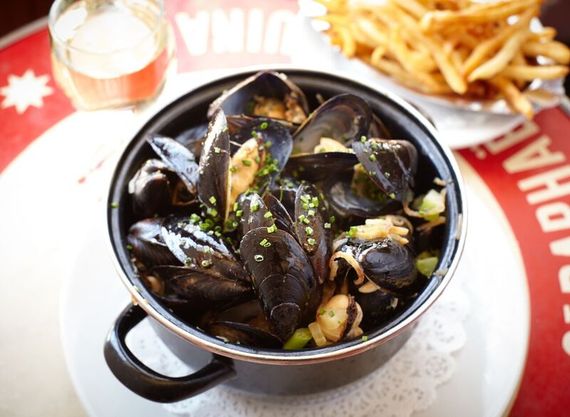 There is a selection of moules frites ($24), and we sampled a main course bowl of well-sized (meaning not too large) mussels in a white wine, saffron, celery, shallots, and garlic cream broth that was all right but should have had more depth. Onion soup gratinée ($12) had plenty of depth and the onions were well caramelized beneath the browned bubbly cheese.
There was a similar sweetness to a hefty platter of boneless short ribs ($34), braised for four hours and served with sautéed Swiss chard, beet and horseradish relish, and baby carrots, while the hanger steak ($28) had just the right chewiness that both characterizes and makes this French cut so delicious, served with a well-made bordelaise, rich bone marrow and perfectly wrought pommes frites. Terrified we might not have enough pommes frites, we ordered another batch ($9) for the table and left very few behind.
Duck confit is too easy to make and then leave hanging around in the refrigerator, but La Gamelle's was obviously made that day, with just enough cooking fat (without being greasy) suffused into the meaty duck meat ($24), served with buttery roesti potatoes done till tender in a skillet. Grilled asparagus ($9) were glazed with truffle essence and shaved Parmigiano.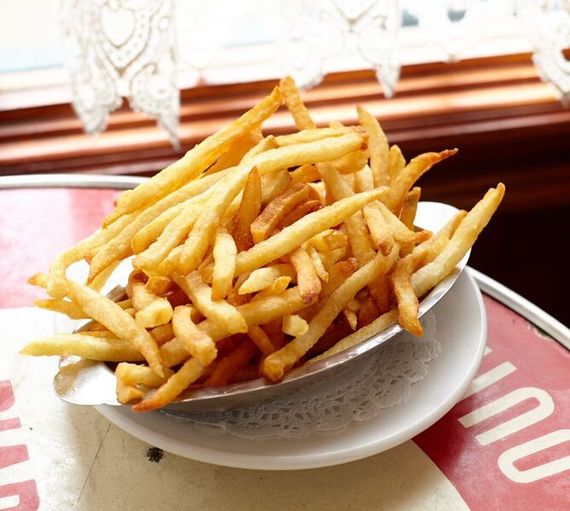 Pastry chef Richard Chirol stays with classic French desserts (all $10), including a nougat glacé meringue with crème fraîche frozen mousse, caramelized nuts, confit of fruit, and raspberry sauce; plump profiteroles in puff pastry with vanilla ice cream and warm chocolate sauce; even good old-fashioned île flotante of egg white meringues bobbing in crème anglaise. The tart Tatin of caramelized apples with crème fraîche was in need of more caramelization and surface brittle.
I must note that on Thursdays, Fridays and Saturdays La Gamelle has first-rate jazz with a Bossa Nova swing that never intrudes on dinner conversation. Then again, the group is so good, you'll probably stop talking and just listen.
The fact that La Gamelle has not chosen to go trendy, neither in its look or food, as so many neighboring restaurants have, is applaudable for all sorts of reasons, not least because Parisian bistros never go out of style as long as they go out of their way to please their guests.
Open nightly for dinner, Sat.&Sun. for brunch; $35 Gallerists' Menu, offered Mon.-Fri., 5pm-7pm, includes 3 three courses drawn from the complete menu (appetizer, main and dessert); for an additional $10, guests are treated to some of the finest wines on the list, not typically available by the glass.

La Gamelle
241 Bowery (near Prince Street)
212-388-0052
www.lagamellenyc.com