What happens when inner-city kids from low-income homes converge in non-school hours? Conventional wisdom suggests gang involvement, violence, petty theft, vandalism, and drug and alcohol use, for starters. Harmony Project, an LA-based non-profit is turning conventional wisdom on its head. Over the past eight years, thousands of the most vulnerable kids in Los Angeles have committed their non-school hours to learning to play a musical instrument in Harmony Project youth orchestras and jazz ensembles. Hundreds more fill waiting lists for a chance to receive an instrument and begin lessons. Harmony Project youth orchestras and jazz ensembles are "youth gangs" with a difference. They save lives.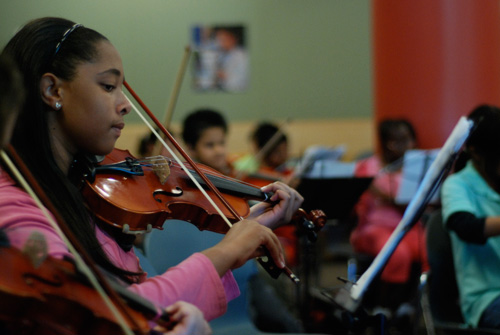 "If I wasn't involved in music I wouldn't be in the high school I am in now. I ... would seriously be in the streets and like gang banging or, you know, getting involved in stuff I shouldn't be getting involved in. And music is an amazing thing, because when I'm frustrated, or angry,... I play it and it really helps me."
-- Harmony Project Student
I founded the Harmony Project after I observed hard-core L.A. gang-bangers, wearing full gang regalia, stop at a sidewalk market in Hollywood to listen to a tiny little kid playing Dvorak and Brahms on a 1/10-sized violin. When, after 8 or 10 minutes, the gang members put their hands in their pockets and, without speaking to one another, gently placed their money in the little kid's violin case, I received the most powerful lesson I didn't learn in graduate school. Those gang members were teaching me that they would rather be doing what that little kid was doing, than what they were doing. But they never had the chance. I knew, in that moment, that making quality arts education accessible to every child had to become a big part of my public health work.
"When I'm stressed out, I just lie down with my violin and pluck it. It really calms me down."Harmony Project Student
I started Harmony Project in 2001 with 36 kids and a $9,000 check from the Rotary Club of Hollywood. Today the Harmony Project provides instruments and year-round music lessons to more than seven hundred children who rehearse in three full-time youth orchestras, three choirs, and several smaller ensembles. Two more youth orchestras will be formed this year. The program is tuition-free, based on family income. Partnerships with the Los Angeles Philharmonic Association, Los Angeles City College, and the Los Angeles Unified School District's 'Beyond the Bell' (after-school) branch help Harmony Project stretch donor dollars and reach more kids. Harmony Project students work with professional musicians and receive college credit for their youth orchestra and choir participation through L.A. City College - despite being elementary, middle-school and high school students. What's more, Harmony Project students don't drop out of school. School enrollment is required, and Harmony Project students turn in their school reports every semester. This matters to us because Los Angeles has a drop-out rate that hovers around 50% (and is even higher for the minority kids that make up most of Harmony Project's enrollment) - and the L.A. Times recently estimated that each student who drops out of school ends up costing the city at least $200,000!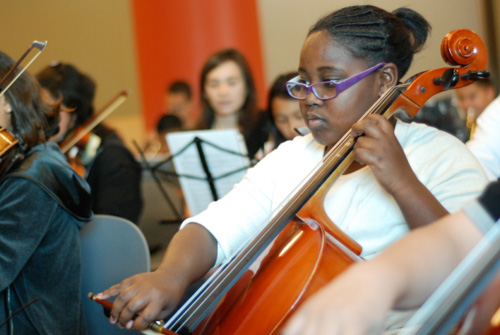 "You can't have an orchestra without a violin, or you can't have an orchestra without a cello. Like, every-body needs to take part. It sounds beautifully."
Harmony Project Student
So, what happens when inner-city kids from low-income homes converge in non-school hours? Harmony Project has shown that thousands would rather learn to make music together than make trouble - if they just had the chance. Named one of the 50-best arts-based non-profits in the nation by the National Endowment for the Arts and the National Endowment for the Humanities in both 2008 and 2009, Harmony Project needs additional support to sustain and grow its programs during this economic recession. We also need support to provide lessons to the hundreds of at-risk kids currently on Harmony Project waiting lists. Annual costs per student run about $1,000, and include the loan of a musical instrument and two 16-week semesters, an 8-week summer program, youth orchestra and/or choir participation, and parent support services. Compared with the cost of dropping out, or of arraigning and incarcerating one juvenile for a year - the discipline, accountability and task persistence that Harmony Project students develop, and the fact that Harmony Project's student-musicians become respected role models in their neighborhoods - make Harmony Project a high-value program worthy of the national acclaim it has garnered.
"Working in the orchestra helped me work better - and tolerate."
-- Harmony Project Student
I hope the Obama administration takes note. My dream is to help replicate the success of the Harmony Project in inner cities throughout the country.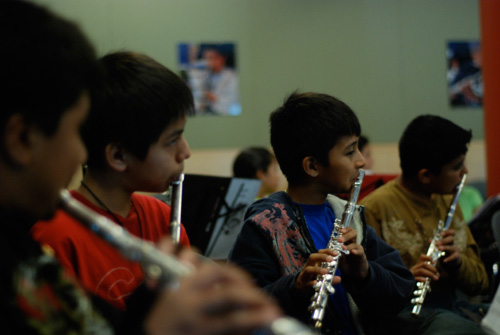 "When you practice an instrument, you have to do it consistently. You can't just do it once and then expect it to be perfect overnight. You have to keep doing it. Same thing with school. If you just study one night it's not going to help you get an A on that test next week."
-- Harmony Project Student
Tax-deductible donations can be made on-line at: www.harmony-project.org. Musical instruments are always welcomed and can be turned into tax deductions. Send instruments to: Harmony Project, 817 Vine Street, Suite 212, Los Angeles, CA 90038. To get involved or offer other kinds of support, please call: 323.462.4311 or send me an email at: margaret@harmony-project.org.