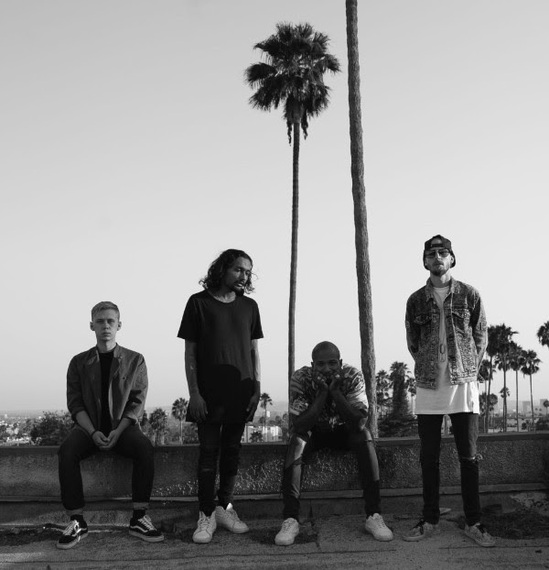 The mainstream music world is rife with banality. Though there are several artists who are standing out amidst the masses, only a handful are truly challenging their genres. Los Angeles-based alternative/hip hop collective, HUNTR, are driving more progressive sounds into the world of music. Comprised of Philadelphia natives Gilbere Forté and Raak, Berklee College of Music alumni and drummer Nick Audy, and Karaganda-born guitarist, Boris Likharev, HUNTR is an eclectic tribe of artists who are determined to smash the expectations of genre constraints.
Gilbere Forté is no stranger to the music industry having long been a producer, artist, and songwriter and having collaborated with the likes of Kanye West, Yeasayer, Active Child and Stromae. While Forté's work was praised by many, he fell victim to the record label racket in 2013 with Sony which brought his career to an extended pause. A common motif in many artist's stories, he did not give up after being bruised by the politics of the music industry. Instead, he used those two years to redefine his goals and create something truly unique. Thus, HUNTR was born, gathering four talented musicians together with a collective notion of bringing innovative sounds to the world of hip hop.
Forté's encounter with Rakib "Raak" Uddin at Philadelphia's Temple University in 2008 was one of game-changing serendipity. Musical chemistry cannot be faked nor manufactured; it is as organic as cellular mitosis and because of Uddin's musical contributions, Forté was able to realize his potential. After joining forces with Audy and Likharev, they tapped into a new, avant-garde sound that is as jarring as it is emotive, exciting as it is entrancing, and utterly one-of-a-kind.
Their first single, "Veins," opens the album with a hypnotic violin sample that winds the mind into the song through spiraling soundscapes. Then, Audy's pulsating drums grab the listener by the solar plexus as sultry lyrics begin to echo in and out of the track, weaving and spiraling like the haunting gypsy-violin. The song continues to transform, never prescribing to one single composition style. There are moments of sensual rhythms that quickly change into an emotional rock ballad. The varying sounds of four different minds all fuse together into this one progressive track.
While it seems like combining so many different musical sensibilities could turn into a sonic mess, HUNTR found a way to incorporate all of these different ideas under one cohesive umbrella. There is a unity within their diversity, a rhythm that each member respects without conforming to the frequencies expected by the mainstream.
Their second single "Kindness," while still avant-garde, follows a more modern hip hop structure in cadence and lyrical style. Layers of instrumentation that include drums, piano, possibly even a sitar, and more, add volume to the flowetry by supporting the message of "killing with kindness" through complex sounds. Right when my mind had formed a nice little stylistic image of their sound, I heard their third single, "Find Myself," which completely knocked over that image.
With an acoustic intro reminiscent of my musical taste in high school, I started to notice moments of the hardcore/emo scene of the late 1990s and early 2000s within several of their tracks. Even "Veins" has a scream-o moment that took me straight back to a time when I wore lots of black and had Sharpie'd Xs on my hands. "Find Myself" weaves in and out of this emo-hip hop style, keeping the listeners on their toes while still staying familiar. After listening to their entire album, though they completely shatter any concept of genre boundaries, hip hop remains the steady heartbeat that keeps this organism thumping.
Calling all HuffPost superfans!
Sign up for membership to become a founding member and help shape HuffPost's next chapter