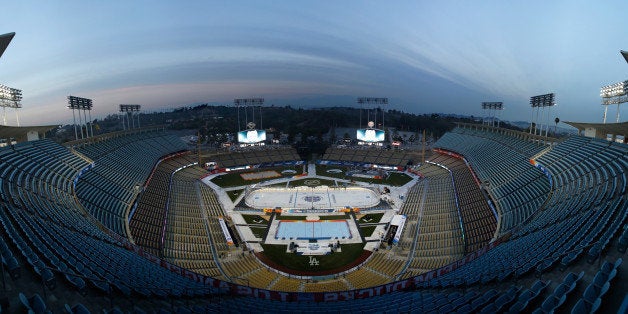 Dodger Stadium, as always, will be dressed in palm trees Saturday. The temperature is expected to hit 74 degrees.
At 7:15 p.m., the Los Angeles Kings and the Anaheim Ducks will face off on a rink straddling second base. The puck will drop.
When Luis Robles, Zamboni operator at the Channel Islands Ice Center in Oxnard, heard the news -- the first outdoor NHL regular season game west of the Mississippi -- he nearly flipped out.
"I almost lost it," said Robles, who has been at the rink for 14 years and is a huge Kings fan. "At first, I couldn't believe it. I thought they were messing with me."
He'll be there in a crowd of 55,000 people, perched in the nosebleed seats in a Kings jersey, a Dodgers cap and shorts. The band Kiss will rock from a stage in the right field corner and volleyballs will fly on the sand court in left field. Robles will be focused less on the spectacle and more on the hockey. He said it's a great idea but also expects to feel like, well, a SoCal dude on ice.
"It's going to be weird," he said. "It's kind of like an oxymoron. You're talking about a winter sport in a place where there technically isn't a winter."
Dan Craig doesn't really like to be called an ice guru, but he answers to the name. The gray-haired senior director of facilities operations for the National Hockey League stood at the edge of the outdoor rink Wednesday before an exhibition game featuring celebrities including Cuba Gooding Jr. and David Boreanaz.
He took questions from television reporters on skates, also putting up with the scribe who wanted to know about using 12,500 gallons of water in a state besieged by drought.
"I get told to come here, and I do that," he said.
He's a workaholic and a perfectionist who combines math, science and what he feels in his gut to lead a crew charged with stabilizing the rink's 1.5-inch-thick oval of ice at 22 degrees. It was a bit warmer, by design, on Wednesday -- "24.5 degrees," Craig said, then checking a mobile monitor. "24.4 degrees."
His is a delicate business, swayed by unexpected changes in humidity and the certainty that Saturday's peak temperature will fall before the sun-reflective tarp is yanked from the ice.
He relies on a 53-foot refrigeration unit housed in a trailer. It carries the same cooling capacity as the equipment used for Kings games at the Staples Center. It's used to pump 1,000 gallons of glycol coolant -- Craig compared it to antifreeze -- per minute into the aluminum trays under the ice.
A monitoring system called Eye on the Ice is used to gauge temperatures and to figure whether more coolant, maybe even a blast from the in-line heating system, is needed.
But even with the technology, the ice will feel different when the Kings and the Ducks hold their first practices Friday on the outdoor rink.
"Everything they're going to feel here on Friday is different," said Craig, noting that Saturday's game is a regular-season game between two rivals. It counts. He wants to make sure the ice doesn't affect play.
"I don't even want to hear that it's a determining factor," he said.
The coach from Slovakia, the hockey mom from Camarillo, almost anyone into the sport, seems to think outdoor hockey in bathing-suit weather is a good thing. They see it as a way to elevate the popularity of a sport already buoyed by the Stanley Cup hoisted by both the Kings and Ducks.
"In Montreal, it's a religion for us," said Luc Beausoleil, who played minor-league hockey for 14 years and laced up his skates in places ranging from France to Tulsa, Okla. Now, he's hockey director for the Iceoplex in Simi Valley. "You grow up as a hockey player. As soon as you can walk, you skate."
It's not like that here, but hockey leagues at area rinks are growing. More young players from Southern California are being drafted into the NHL.
"I almost doubled my adult league since I got here," said Beausoleil, who moved to Simi Valley 10 years ago. "It's just grown like crazy."
Outdoor hockey isn't new. The day after the Kings and Ducks play, the New York Rangers and the New Jersey Devils will face off in Yankee Stadium. Outdoor preseason games have been held as far as back as 1991 in Las Vegas. Larry Bruyere, who was at that game, said crews had to chip off the insects that froze to the ice.
"It was 90 degrees out," said Bruyere, general manager of the Channel Islands Ice Center. He worries about the sight lines at Dodger Stadium, suggesting people who sit higher will likely see better.
Alan and Debbie McKenzie went on their first date at a hockey game. Almost exactly a year later, he proposed to her at a Kings playoff game.
"He gave me a hockey puck that said, 'Will you marry me?' " she said. "I actually fell into my seat. Everybody else in the arena was clapping and screaming because the Kings had made their first goal of the night."
The McKenzies have been to the outdoor games in Vegas, too. They've stood in the Walk of Shame, the area where fans sometimes boo people wearing the other team's jerseys. There are no fights, no tension, just some good-natured back and forth.
"The fans are there to have a good time," she said.
The McKenzies, who run a mobile DJ business in Oxnard, will be at Saturday's game. And if Debbie McKenzie sees people in Ducks jerseys at a tailgate party before the game, she may let them know she's a Kings fan,
"I've been known to," she said with a laugh, predicting the game will be special. "All in all, I think it's just going to be one huge party."
Luc Robitaille, the former Kings left winger now in the Hall of Fame, stood outside the outdoor rink Wednesday, a few minutes after a spin on the ice. He said the Dodger Stadium game is a way to reward California NHL fans frustrated with all the attention foisted on the sport in the North and the East.
He took a spin on the ice, declared it in "great" shape. He said the primary worry was never how warm it would get because the game doesn't start until after sunset.
The bigger concern, he said, is an event the weather forecast says won't happen Saturday.
"Our biggest worry was it would rain," he said.
Tickets: The event is expected to sell out. Tickets are $49 to $279. Many of the lower-priced tickets are gone. Visit http://bit.ly/KNuRfk for tickets.
Parking: Game organizers are urging carpooling, and prepurchased parking passes to help with traffic flow. Visit www.nhlstadiumseriesparking.com. General parking is $20.
TV: NBCSN, 6:30 p.m. Saturday ___
(c)2014 Ventura County Star (Camarillo, Calif.)
Distributed by MCT Information Services
REAL LIFE. REAL NEWS. REAL VOICES.
Help us tell more of the stories that matter from voices that too often remain unheard.