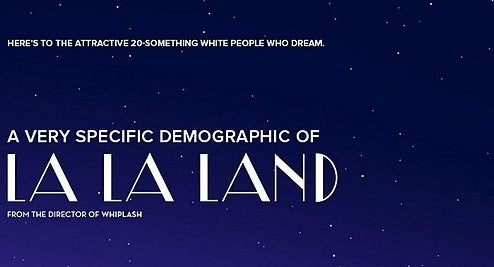 There are several things going for La La Land. The Academy is known for their love of self-referentialism, choosing films about Hollywood insiders like The Artist (2011), Argo (2012), and Birdman (2014) for "Best Picture." Early on, critics predicted that Academy voters will want to be "dazzled rather than depressed"—comparing La La Land's entertaining musical numbers to Moonlight's more serious tone. On a recent walk around West Hollywood, I noticed several Oscar campaign ads for La La Land, but none for its competitors. The marketing budget, like the film, is huuuge.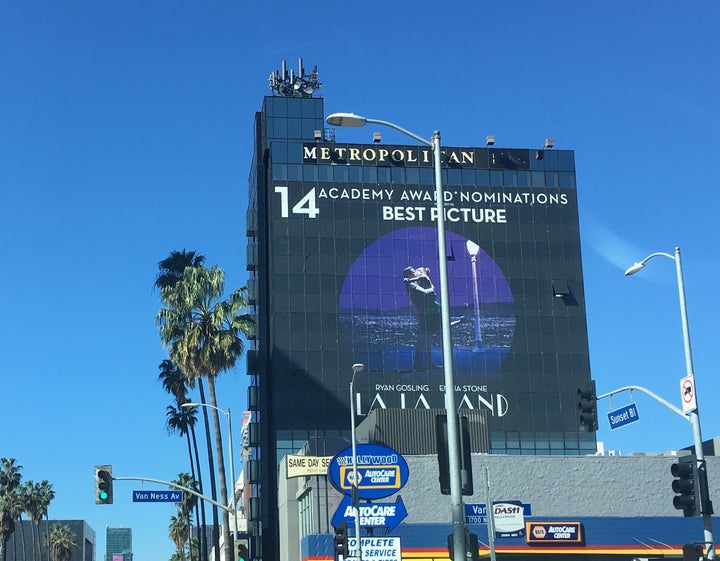 There are also criticisms of La La Land, with some pointing out its problematic treatment of race, gender and even jazz. One writer saw the film "overflowing with the nostalgia of white supremacy." In response, a Los Angeles Times op-ed asks "Will the political climate deprive 'La La Land' of the best picture Oscar?" The critic argues that La La Land may lose at the Academy Awards because of Trump (seriously). He also predicts that Moonlight will beat out La La Land because the film deals with "political" issues of racism and homophobia. By reducing such subjects to "politics," the critic seems to diminish Moonlight's merit, as this writer tweets:
The division between politics and aesthetics is a false dichotomy. A person's taste and preferences are always political—shaped by their identities, cultures, and privileges.
I did not find the story of a white male jazz singer believable or compelling—for both aesthetic and political reasons. Ryan Gosling's character as the defender of jazz lacked authenticity (particularly when the Oscar-nominated song he plays on the piano is NOT a "traditional" jazz tune). In the same vein, I did not appreciate the film's characterization of John Legend's musical talent as a threat to tradition. It took cultural appropriation of a white man defending a uniquely U.S.-Black musical genre to another level.
Casting a Black man as the lead, to me, would have solved these problems. Aesthetically, a Black male would have made the struggle for stardom more poignant and eliminate the cultural appropriation problem. Furthermore, if a Latina played the struggling actress (played by Emma Stone), she would have added depth as someone traversing the racist/sexist world of Hollywood. Given that Los Angeles is 49% Hispanic but only 28% white, such a casting would have reflected reality. The political would have enhanced the aesthetic.
The usage of "political" and "political correctness" is commonly used to exclude people of color in Hollywood. Tim Burton, when asked a question of why he did not cast people of color in Miss Peregrine's House of Peculiar Children (2016), responded that intentionally casting people of color in roles is "political correct" and offensive. Here, the political is devalued and even demonized: an attempt to deflect attention away from Hollywood's racial preference for white-centered stories no matter the genre or setting.
Hollywood is not past #OscarsSoWhite if racism continues to be dismissed as mere politics.
Popular in the Community