"War can take a serious toll, both physical and emotional, and it is shameful when our wounded warriors return home and are left to live on our streets," said former Adjutant General of the California National Guard, Maj. General Paul Monroe. "California has an incredible campus that was given to the U.S. government to permanently house our disabled vets. It's past time we stopped renting it out to private companies and started using it to house and care for those who have sacrificed so much for our country."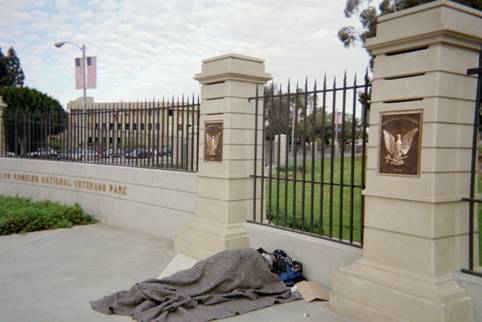 Los Angeles veterans sleep on the streets outside chained gates to this VA campus given to house them. Meanwhile, the theaters built for them are rented to private companies; the recreational fields they used for rehab are leased to private schools and their land and buildings are used by hotel chains and car rental companies. The government does not say how much these companies are paying or where the money is going.
An interesting alliance of artists and veterans results in legal action against the Veterans Administration to correct this wrong. Four homeless veterans, along with Vietnam Veterans of America, filed suit in federal court in Los Angeles against General Shinseki, Secretary of Department of Veterans Affairs, and the director VA Greater Los Angeles Healthcare System. The veterans are represented by Laurence Tribe, a Harvard law professor; Ronald Olson, of Munger, Tolles & Olson LLP; Arnold & Porter LLP; Inner City Law Center; Gary Blasi, a UCLA law professor; Massey & Gail LLP; and the ACLU Foundation of Southern California. The issue is as much a tale of a non responsive, and even obstructive, VA as it is the availability of treatment for disabled veterans and the possible misuse of very valuable land. Openness on the part of the VA may have avoided this lawsuit.
A group of actors from Metabolic Studio, working with homeless vets in a project growing strawberries, came across what appeared to be irregularities and misuse of VA land bequeathed to the government since 1888. When the Vietnam generation returned from Southeast Asia, many were scorned by older veterans and the public. Veterans suffering from PTSD and other challenges were literally discarded. Those veterans went untreated and often imprisoned. Apparently, during this period, the VA eliminated permanent Los Angeles housing for disabled veterans and began leasing out the grounds to commercial enterprises from car rental companies to laundries. Today, over 8,000 homeless veterans live in the LA area many in the shadows of the VA property.
The artists and homeless veterans discovered that the VA land was given to the government in 1888 for the express purpose of providing a veterans home. When the artists and veterans began asking the VA questions about land use and rents from commercial entities, they were greeted with 'less than candor.' In January 2011, Metabolic Studio published a position paper "Preserving a Home for Veterans" which caught the attention of the ACLU of Southern California and the Inner City Law Center. According to the ACLU, much of the research from the paper is included in the current legal action.
Using art and agriculture to acclimatize homeless veterans is a project long overlooked. A combat veteran from the closing years of the Vietnam War, now a farmer and friend, swears by agriculture and nurturing growth as a constructive path for many veterans especially the homeless. His dream is to turn his farm into a facility to bring homeless and troubled veterans home from war. Many returning veterans are attracted to the arts and agriculture both as a means to express their thoughts and exercise their demons. The growing alliance between the arts and the military veteran is on display in this legal action.
The ACLU, Inner City Law Center press release quotes John Rowan, National President, Vietnam Veterans of America:
Four presidential administrations have continued to allow the injustice of encroaching on land deeded solely for the purpose of caring for our nation's disabled veterans. This lawsuit gives us the opportunity to restore integrity to this bequest and allow homeless and disabled veterans to live out their years with dignity.
Support HuffPost
The Stakes Have Never Been Higher
Popular in the Community