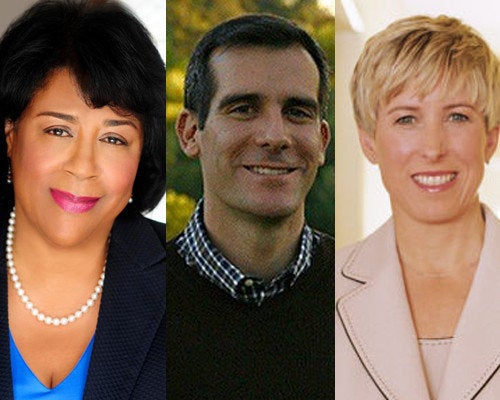 LA, it's time to elect a new mayor! The primary nominating election is Tuesday, March 5. Find your polling place here.
If no candidate gets more than 50 percent of the votes, a runoff between the top two contenders will take place May 21.
According to a Feb. poll by SurveyUSA, Garcetti is in the lead with 26 percent of those polled, followed closely by Greuel with 23 percent, James with 14 percent, Perry with 12 percent and Pleitez with six percent. Thirteen percent said they were undecided.
MEASURE A
Measure A would place a one-half cent sales tax in the City of LA in order to help fund public safety measures, including "911 emergency response services; maintaining firefighter, paramedic, and police officer staffing levels; continuing community policing, senior services, after-school gang and drug prevention programs; [and] repairing potholes and sidewalks."
Proponents, including Mayor Antonio Villaraigosa, LAPD Chief Charlie Beck and the League of Women Voters, argue the tax is needed to offset state funding cuts and the city's budget deficit. If enacted, the measure would bring the total sales tax in LA to 9.5% (with 1.25% going to the city). The sales tax is already 9.5% in several cities within LA County.
Opponents of the measure, including the Los Angeles Times and all the mayoral candidates, say the tax hike would drive business out of the city. The Times suggested that voters should give incoming leaders a chance to balance the budget without a tax that "could hurt vulnerable consumers, deter businesses from locating in the city and slow the commerce that fuels the economy."
MEASURE B
Measure B would allow Department of General Services (GSD) police personnel, who transfer to the LAPD, to transfer their retirement credit from the city's civilian plan to the generous fire and police pension plan. The measure states that such transfers would be cost neutral to the city, "with any additional costs to be paid by the police personnel who choose to switch retirement plans."
Proponents, including Garcetti and Greuel, argue it is fair and efficient for officers transferred to the LAPD to have the same benefits as other members of the plan.
Opponents, including Pleitez, argue that police pensions are a significant contributing factor to the city's budget deficit and that there is no way to guarantee that this measure will not add to the problem.
The League of Women Voters is neutral on the measure, saying the proposal seems reasonable but may cost the cash-strapped city money it doesn't have. The LA Times has not weighed in.
In a close race, Feuer has criticized Trutanich's track record, and Trutanich has claimed that Feuer does not have enough courtroom experience. Smith, who has made millions of dollars as an attorney for police officers and firefighters claiming their employer discriminated against them, has positioned himself as someone who fights for Angelenos against government corruption and injustice.
CITY CONTROLLER
The leading candidate is Councilman Dennis Zine, who has represented a district in the San Fernando Valley for 12 years. He has the backing of several large labor unions, several council colleagues and Villaraigosa. Zine's opponents have accused him of "double dipping" with a $100,000 annual pension for his 33 years with the LAPD and a nearly $180,000 council salary. He has responded by saying that he gives a large portion of his police pension to charities.
Click here to see a sample ballot. Polls will be open from 7 a.m. to 8 p.m. on Tuesday.
The deadline to register to vote for the primary was Feb. 19. The deadline to register to vote for the May runoff is May 6; register here.
CORRECTION: An earlier version of this story stated that the LA Times endorsed Zine for controller.
REAL LIFE. REAL NEWS. REAL VOICES.
Help us tell more of the stories that matter from voices that too often remain unheard.
BEFORE YOU GO
PHOTO GALLERY
Garcetti/Greuel Ads 2013