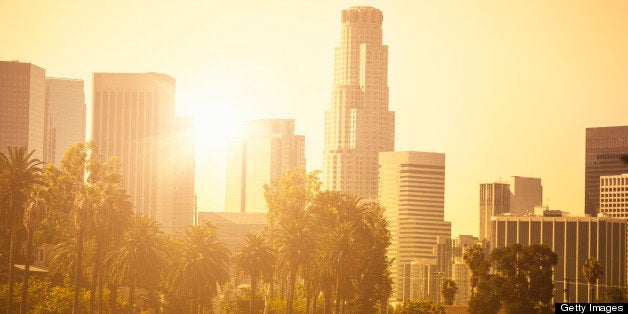 The 2013 L.A. Modernism show is a chic and curated event that hits the city and captures over sixty exhibitors showing design, decorative and art from across the 20th century. It's hosted by the same company that does a range of top level design and art events around the country, and could not be a better place to scout and shop for pieces. Cool local artists, retailers and companies were on hand this past week and did not disappoint with amazing collections.
There's also no better place to trendspot than the industry's events. Here's a look at what was trending at the show this year:
Toffee Wood Tones: While rich, dark wood has permeated the style space for some time, a new hue was dominating the decorative scene at the event. Not quite as light as a caramel, or as rich as an auburn, it's a perfect vibe for any room in the home you might be decorating this season. It was showing in particularly in kitchen and dining tables, but accent furniture and trim were equally present.
Bright, Bold Art: Dynamic color in art pieces was everywhere, and often mixed together in big statement pieces intended to spark a conversation. Whereas art has swayed from being a part of the background, the trends at the show this past week showed anything but. These items are meant to be a focal point and a perfect compliment to everything else in the room.
Speaking of art, retro prints were popular -- particularly advertisements marking eras of travel business, in large, oversized paper intended to be framed. Travel in general seemed a theme in a lot of the decorative items -- planes, trains, etc.
Creative Lighting: Perhaps one of the most interesting trends seen at the Modernism show were the plays on lighting that designers are doing currently or have done over the years. Pieces ranged from wall hangings with circle lighting to lamp bases with lighting inverted into glass where illuminated light seeped through the details. If you thought the chandelier trend has been cool and fun, this one is even more unique.
Helpful Hands: Chairs shaped into hands of all kinds were very commonly seen. It ranged from stuffed, oversized, cozy items intended to sink into, to sleek plastic chaises brought back from history. There were also styles that were intended to be used upright, at a kitchen or dining table. White dominated the collections but many bright colors were played on in some instances too.
'50s, '70s: While modern style can sometimes hinge in the 1960s in particular, or more current and sleek forms of today, a lot of the showing at the Modernism event was rooted in other eras, particularly the 1950s and later 1970s. The look is less mod and more pared down to almost a sleek, sophisticated feel. Green, which seemed to dominate in the color palettes of those eras, was everywhere in fabrics, particularly couches.