My friend Katharine Sabine Karabian recently wed Luca Giovanardi at the Grand Hotel Quisisana in Capri.
In a bold move, Katharine (who graduated from Beverly Hills High school, class of 1997) and Luca one-upped the Sultan of Brunei, who shut down his newly purchased Hotel Bel Air last year with no warning to jilted brides (Katharine found out the news from her trainer) and moved the entire wedding to Italy.
Note to Bel-Air, Los Angeles and Beverly Hills Chambers of Commerce. The next time you decide to allow a foreign operator to buy and shut down an L.A. landmark before the wedding of one of Los Angeles' oldest, largest, and well-monied families (Katharine's mother is Carole Doheny, once married to the late Edward Lawrence Doheny IV), please consider the possibility that they will simply give their money to some other country.
Luca Giovanardi was raised in Italy and attended ASU for college. Groomsmen included Brad Beck, Ben Karabian and Marco Giovanardi.
Katharine's two half-brothers, Sean Doheny and Ryan Doheny (from the marriage of Carole and Edward Lawrence Doheny IV) gave her away at the wedding. Trey & Leigh Doheny, are cousins to Katharine by marriage.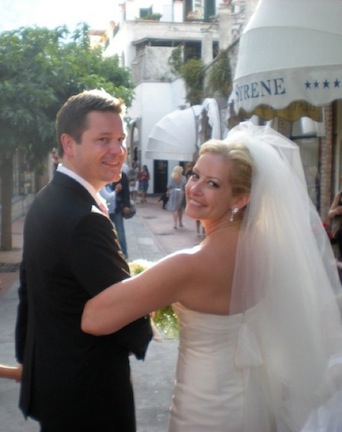 This story was re-published courtesy of The Daily Truffle. It was written by Caroline M. Roman, owner of The Daily Truffle. The Daily Truffle is a Los Angeles social diary written by a circle of high school friends who grew up together in L.A. View more society, fashion and party writing on The Daily Truffle.
REAL LIFE. REAL NEWS. REAL VOICES.
Help us tell more of the stories that matter from voices that too often remain unheard.