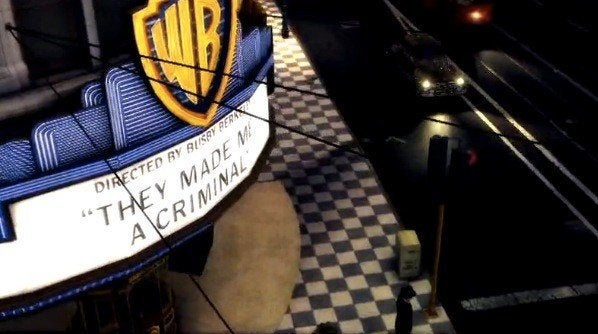 Star in your own version of "Double Indemnity" -- but this time, you're the cop, not the criminal. Rockstar Games' newest video game, L.A. Noire, captures 1940s Los Angeles in all its art deco glory with an intricately recreated virtual world (check out Popular Science's slideshow of city landmarks in the game). The game's level of detail, a signature feature of Rockstar games, has design nerds as well as video game geeks paying attention.
KCRW interviewed production designer Simon Wood about the a five-year process that went into creating the game. Woods came across hand-drawn street maps at the Huntington Library, requested a three-dimensional map of the city from the U.S. Geological Department, and found a wealth of information UCLA's archived photography -- what he described as "an Aladdin's cave for us."
John Buntin, author of LA Noir and an expert on historical Los Angeles, was able to preview the video game and told KCRW that it was, "an exquisite period reproduction, just as Mad Men is." Buntin's favorite part of the game? Being able to experience Los Angeles landmarks that have since been demolished or paved over, like the Pacific Electric train cars, Pershing Square when it was planted with baby palm trees, and the Spring Arcade.
The game's virtual world was created with the help of 1920s aerial photography by Robert Earl Spence. Popular Science notes that Spence was known for "leaning out from the cockpit with his 46-pound camera and shooting at an angle rather than straight down, as most other aerial photography was done at the time."
And while the setting precedes AMC's "Mad Men" by a few decades, players will get deja vu from all the actors making cameos in the video game. Forbes has the scoop on the over 400 character actors in L.A. Noire, including a few "Mad Men" crossovers:
The biggest name in the game is the central character – LAPD Detective Cole Phelps – who's brought to life by Aaron Staton, best known to "Mad Men" fans as Ken Cosgrove. LA Noire also features Alexa Alemanni, Ned Vaugn, Kate Connor, Randolph Adams, and Kevin Scott Allen from the popular show.
REAL LIFE. REAL NEWS. REAL VOICES.
Help us tell more of the stories that matter from voices that too often remain unheard.