NOlympics LA is a "total no campaign," said Jonny Coleman, one of the group's organizers. Its aim is clear: to add Los Angeles to the list of cities that saw Olympic bids succumb to widespread public opposition.
That will be a tall effort in Los Angeles, which has never seemed ripe for the exact sort of resistance that has felled Olympic bids from Boston to Budapest. The city has hosted the Olympics twice before ― and its last effort, in 1984, is among the most financially successful Olympics ever held.
Those games bucked budget-busting trends and turned a profit, something LA 2024, the private organization behind the current bid, has said it can make happen again. Even Olympic skeptics have deemed LA 2024's proposal, which organizers say requires no new permanent construction, financially sound.
But NOlympics LA's organizers argue that people who focus solely on the financial successes of the 1984 Olympics are missing the point. Their opposition is rooted in the view that those games ― much like the ones that followed in other cities ― led to the displacement of the poor, overzealous policing policies that targeted racial minorities, and other human rights concerns. Meanwhile, they benefited local elites, politicians and wealthy developers.
In that vein, the group is not targeting the games' financial specifics or potential costs. Instead, it warns that the 2024 Olympics will lead to similar forms of oppression, no matter how financially successful they may be.
"Even a 'good' Olympics will be bad for Los Angeles," NOlympics LA argues.
Like LA 2024, NOlympics LA is looking at the 1984 Olympics to make its case, albeit with a different brand of nostalgia.
"If you ask certain real estate developers, 'Were the 1984 Olympics successful?' they might say yes," said Anne Orchier, a NOlympics LA organizer. "But if you talk to people in South Central and other parts of L.A., they might have a different answer about whether the '84 Olympics benefited Los Angeles."
The 1984 Olympics, the group argues, criminalized homelessness and led to brutal police crackdowns that targeted the poor and especially minorities. The Los Angeles Police Department conducted "Olympic gang sweeps" that resulted in the imprisonment of thousands of black men, largely in South Central and East Los Angeles. NOlympics LA says the games led to the further militarization of the LAPD, and points out that police brutality claims against the department rose by 33 percent in the five years after they ended.
"How can we claim 1984 as a success for the city as a whole if mere years after we were looking at one of the worst periods of social unrest, violence and inequality that we've ever seen in our city?" Orchier asked.
"How can we claim 1984 as a success for the city as a whole if mere years after we were looking at one of the worst periods of social unrest, violence and inequality that we've ever seen in our city?"
Police and security issues remain a chief concern for the activists behind NOlympics LA: The LAPD, the group notes, ranks among the deadliest police departments in the country.
Los Angeles, meanwhile, is already home to the highest rate of chronic homelessness in the United States, and rising real estate prices have caused widespread gentrification and led to a shortage of available affordable housing. The 2016 Rio de Janeiro Olympics exacerbated all of those issues in Brazil ― and Coleman and Orchier, who met while working on the DSA's homelessness and housing committee, said Monday that they have heard concerns from local communities that the games will only worsen similar problems in Los Angeles.
"A lot of the communities that we are working with and looking toward on a number of other issues related to homelessness and housing are the exact communities that stand to be affected by future Olympics and were affected by the 1984 Olympics, both in terms of displacement and the uptick in police militarization and brutality," Orchier said. "People are already scared of being evicted, so the prospect of the Olympics coming within 5 feet of them worries them."
The International Olympic Committee will choose the 2024 host in September, giving NOlympics LA just months to organize a movement against the city's bid. LA 2024 has the backing of the U.S. Olympic Committee, prominent athletes and celebrities, and both Los Angeles Mayor Eric Garcetti (D) and California Gov. Jerry Brown (D). And its history with the games has helped LA 2024 position its bid as the safe choice for an IOC in turmoil, a chance to set the stage for a new cost-conscious version of the games that can fundamentally change how they are conducted in the future.
"Just like the successful 1984 Games, LA 2024 would be sustainable and fiscally responsible, with no new permanent venues to build and a balanced budget," LA 2024 spokesman Jeff Millman said in an email statement Tuesday. "That's why 88% of Angelenos support LA's privately funded and low-risk Games for 2024."
But the activists behind NOlympics LA say they are confident they can build opposition to the games. A "diverse coalition" of activists and community leaders is ready to join them, Coleman said, and they have plenty of models for successfully opposing the bid.
Los Angeles only reached the final stage of 2024 Olympic bidding because a coordinated campaign killed a bid in Boston, the USOC's initial choice to host these games. Organized efforts and high rates of public opposition also led organizers to pull 2024 bids in three cities: Budapest in Hungary, Hamburg in Germany and Rome. Three other cities ― Krakow, Poland; Stockholm, Sweden; and Oslo, Norway ― canceled bids for the 2022 Winter Olympics thanks to similar resistance.
The NOlympics organizers also say they hope that, as in Boston, the presence of a coordinated anti-Olympic campaign will lead to rising opposition as local residents learn more about the games' potential ills.
"Everyone knows what the Olympics are, and that they have a messy track record," Coleman said. "They have a general stink around them. Just getting them to process that for a few minutes, it's all it takes."
"When things turn," he added, "they can turn very quickly."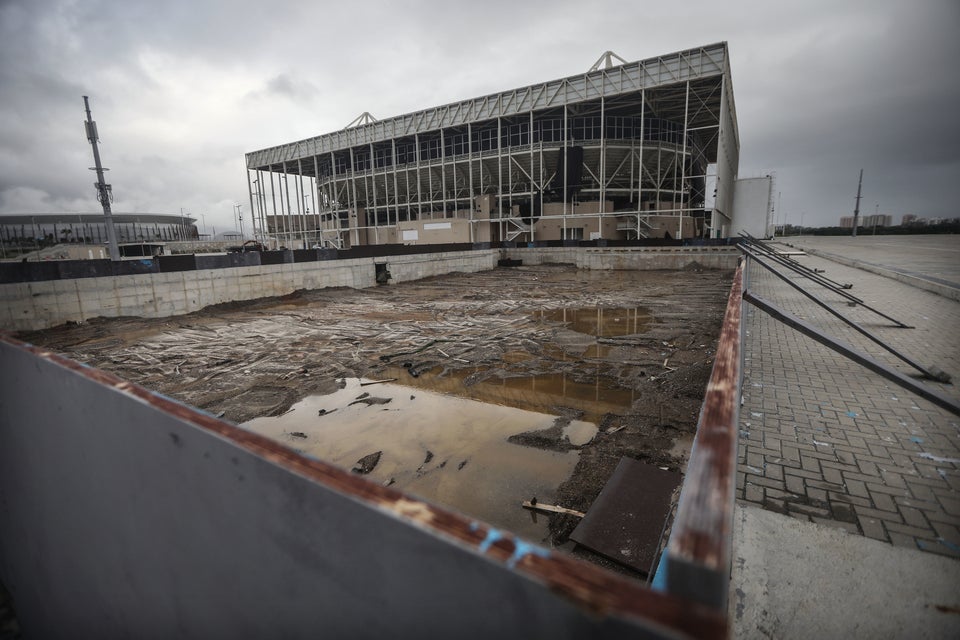 Abandoned Rio Olympics Buildings