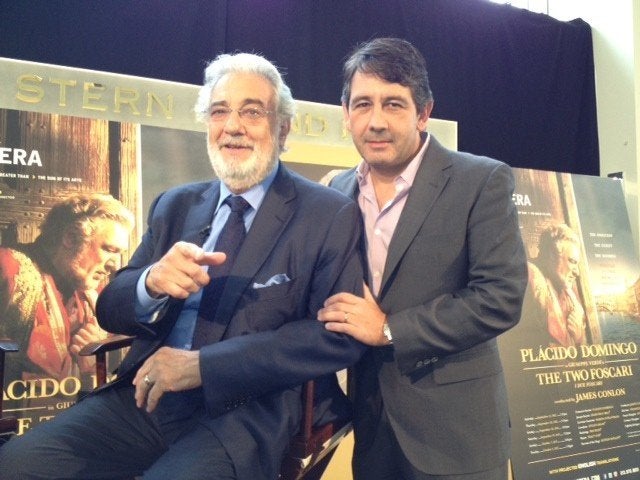 On Saturday I will be sitting in the orchestra of the Dorothy Chandler Theatre at the Music Center (135 N. Grand Avenue) watching the opening night performance of the L.A. Opera Company's 2012/2013 season. It will be a rather obscure Giuseppi Verdi opera, The Two Foscari. Starring will be the incomparable tenor Placido Domingo, while James Conlon will be conducting the orchestra. We are on the eve of the great Italian composer's bicentennial, which may explain why we are seeing this rarely-performed opera. There will be six performances through October 9th at the Music Center. Earlier this week, I had occasion to attend a luncheon hosted by the opera's charismatic PR director, Gary Murphy, celebrating many things about Placido, and had an opportunity to ask the 71-year-old singer several questions. For example, why this opera now?
"As opera companies around the world prepare for the Verdi bicentenary in 2013, we looked to the composer's earlier, less familiar works and thought it would be wonderful to revive a compelling and unfairly neglected Verdi masterpiece," he laughingly replied.
He went on to explain, "The Two Foscari combines two of Verdi's recurring themes: the abuse of political power and the bond between father and child. He noted that the same themes permeated his recent performance (as a baritone) here of Verdi's Simon Boccanegra, which I saw and loved.
At this point, the opera's Chairman, my email buddy Marc Stern, pointed out to us that this performance was the 140th role that Placido had performed in his long and illustrious career! I marveled at this achievement and asked Placido if it was harder now to memorize a role than when he was younger.
After a moment's reflection, he replied, "No, my memory is still good... but when I was a young man all I had to do was work on the role. Now I have so many other distractions that it is harder to concentrate on getting it down." At that point, Mr. Stern interjected that this was the 45th anniversary of Placido's debut in Los Angeles, where he is now General Director of the opera company. I made note of how much we all missed my friend and Domingo's partner, Edgar Baitzel, who died tragically a few years ago. Gary Murphy told me that Sony Classical Records was releasing a new Domingo CD, Songs, featuring duets with several top pop names. Placido then filled me in. "Twenty years ago my friend Milt Okun convinced me to do an album with John Denver. I enjoyed making it...and it was a huge success, a platinum album. So when Sony offered me the chance to do this album, the first since I signed exclusively with them last year, I jumped at it. Josh Groban, Susan Boyle, Harry Connick, Jr., Chris Botti, Megan Hilty, Katherine Jenkins....and my wonderful son Placido, Jr. and Zaz...such enjoyable music." I immediately placed an advance order for it on Amazon.
And I was delighted to hear that a DVD video of the wonderful opera, Il Postino, would also be available shortly. Remember my Huffington review in 2010 of that work by the Mexican composer, Daniel Catan, based on the Academy Award-winning 1994 Italian film which became a surprise hit with audiences around the world? (The story of a shy young postman in an Italian fishing village who discovers the courage to pursue his dreams through his daily mail deliveries to his only customer, the esteemed Chilean poet Pablo Neruda, played by Placido Domingo. Get the Sony Classical DVD of Placido and the LA Opera performing it when it comes out on October 16th. Glorious!)
In a recent Opera Now interview, Placido said, "Singers are like athletes. They have to be in shape physically, observe a healthy lifestyle, practice every day and limit performances to every three days or so." Marc Stern playfully called Placido 'The Doge of Los Angeles" as he marveled at the singer's 3,600+ performances in his career. "November 17th is the actual 45th anniversary of his arrival here, and we calculate he has done a total of 28 roles, while conducting 15 different operas in 87 performances." I asked Domingo if he missed doing The Three Tenors? He reminisced about how that phenomenon came about.
"Jose Carreras was recovering from a successful treatment for leukemia, and Luciano Pavarotti and I visited him in his hospital room and proposed we do a concert for the Carreras Foundation when he felt up to it. The first concert was in the Baths of Caracalla in Rome on July 7th of 1990, the time of the World Cup, with Zubin (Mehta) conducting, and it was enormously successful, so much so that we went on to do them for another decade."
I told him that I had been to the concert in Dodger Stadium here in 1994. I later learned that their recording holds the world's record for selling classical music. Who could forget Placido singing "Nessun dorma" from Puccini's opera, Turandot, and the three tenors singing "O Sole Mio?" But I was impressed when he whispered, "We brought opera to millions of people who had not experienced it before. And think of the many jobs and income we gave people all over the world."
We concluded the conversation when I asked him if he had many more roles to memorize, and he laughed as he said, "Oh, yes, another 50 or 60... four from Verdi that I know of." I must end with a note to my friends in the Hollywood community, especially those in the movie industry of which I am a long-time member. A little girl standing next to me at a recent opera rehearsal turned to me and said with tears in her eyes, "I didn't know that opera could be such fun!" Friends, it sure is, and we must do everything we can to support it!
To subscribe to Jay Weston's Restaurant Newsletter ($70 for 12 monthly issues) email him at jayweston@sbcglobal.net.
Calling all HuffPost superfans!
Sign up for membership to become a founding member and help shape HuffPost's next chapter