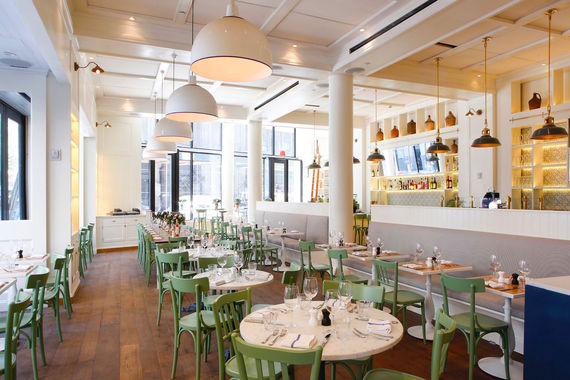 NYC certainly has no lack of great Italian ristoranti or trattorias, but I must say I am always delighted when a new one ups the ante on authenticity, which is to say La Pecora Bianca Caffé e Cucina is as close as you'll come to a trattoria in regional towns like Bergamo, Sorrento, Trento and Bari. It is in the smaller towns that the seasonal menus are most in play; in Rome, Florence and Venice tourism too often drives what's on the menu.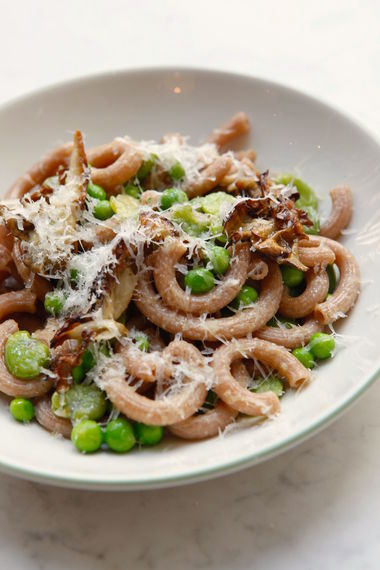 Thus, a dish like emmer grain (above) maccheroni with hen of the woods mushrooms, fava beans, peas and pecorino ($17) at Pecora Bianca is more likely to be found in trattorias in Lucca and Viareggio than in Naples or New York. The pasta for this dish, like all of them at Pecora Bianca, is handmade by Chef Simone Bonelli, who once worked with the hyper-creative Massimo Buttura at Osteria Francescana in Modena. There is spelt strozzapreti ("priest stranglers") with hot and spicy 'nduja sausage spread and equally spicy arrabiata sauce ($16); einkorn wheat goes into curly gramigna pasta with pork sausage, garlic, chili flakes and broccolini ($17); red fife, a Canadian wheat, made into ribbons of tagliatelle come with a lusty beef and pork bolognese sauce ($16). Not only do these pastas on their own have a distinct chewiness to them--perfectly al dente--but they exhibit their own particular flavors and textures. The risotto, made with Vialone rice, is vibrant green with peppery pesto and bright red with a sweet tomato reduction ($15). This is not a place to find clichés like penne alla vodka.

Owner Mark Barak, who also runs the Provençal bistro Claudette, opened La Pecora Bianca ("white sheep") Caffé e Cucina on the corner of Broadway and 26th Street, and as soon as you walk by the large windows and look in, you will feel it is a place you'd love to try: the lighting is good, the décor a mix of the rustic and the sleek, with a restored marble column and white marble espresso bar, white marble staircase, terra cotta, oak plank floors and tables, and a hand-painted wall tile behind the bar and open kitchen walls. Since this is a caffé, you can enjoy their own special blend of coffee (they also sell the beans, as well as jams and preserves and sheep and goat's milk chocolates). Outside is a 34-seat sidewalk café.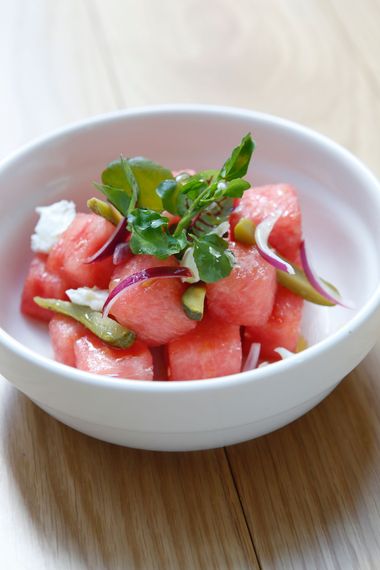 Opened just last month, Pecora Bianca teems with people who love sharing dishes, as did my party of four. The place is extremely loud, I'm sorry to say, not helped by pumping in thumping music. Barak is host here, and he's an ebullient fellow, obviously delighted that his cheery little trattoria is such an overnight hit, though I suspect it will have long legs simply because it's not the same menu people can find all over town.
You can tell a lot of guests zero in on the appetizers, perhaps the salume selection of cheeses (four for $20), but the really good stuff are the antipasti, like the charred peaches, sheep's milk ricotta, lemon zest and hazelnuts ($12); the crudi seafood of the day sparked by citrus ($14); the crostino toast with 'nduja, stracciatella and scallion ($12), and the eggplant with white nut pesto, honey capers, anchovies and breadcrumbs ($14). For some reason we received no bread at the start of our dinner.
Main courses number just four: a fish of the day with smoked eggplant, wild rice and tomato confit ($26); superb seared sea scallops with summer squash, guanciale, a touch of mint and shallots ($26); a juicy roast chicken with mushrooms, corn, pickled Serrano chili and red onions ($24); and a fine, flavorful NY strip steak with spring onions, potatoes, and cilantro-flecked chimichurri (a very reasonable $30).
The wine and beverage lists are formidable for a place of this size, amiably printed on two sides of a broadsheet, as well as another list of vini della casa you may order in 150ml, 500ml or full bottles, with plenty of the last under $50 and only one or two big trophy wines for those who must show off.
But this is not that kind of place. Pecora Bianca, from its darling name to its party-like ambiance, is true to Barak and Chef Bonelli's vision that to succeed beyond this year, they have to offer something different to an easily jaded crowd that often bounces from one new place to another. Those who have eaten here once will find that to get this kind of food, they will have to come back again and again.
Dinner nightly. Coffee/to-go 7 a.m.-5 p.m., daily
PECORA BIANCA Caffé e Cucina
1133 Broadway (at 26th Street)
212-498-9696
http://lapecorabianca.com