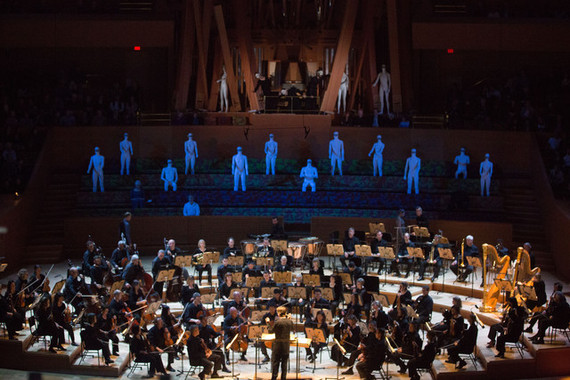 Claude Debussy's Pelléas et Mélisande has enjoyed a cult status among opera cognoscenti ever since its Paris premiere in 1902, but that has not necessarily translated to its wider appeal. Audiences tutored on the primary dramatic colors of Italian opera or the emphatic emotions of its German counterpart have puzzled over the subtle, static goings-on through most of the work, where they are compelled to eavesdrop on the subconscious ramblings of lovers unaware they are in love.

The LA Phil and its now Conductor Laureate Esa-Pekka Salonen have, over the past two decades, forged a special relationship to the work in three different formats, learning by trial and error how best to convey its delicate essence. Their first venture, a debut for both, was in a controversial 1995 staging by Peter Sellars with the LA Opera. The second had an extended suite from the work playing a supporting role in the 2004 Tristan Project. The latest, a semi-staged concert version seen at Disney Hall last weekend, was part of Salonen's current multi-concert "City of Light" survey of French music, which he is taking to many locales around the world. It proved not only a triumphant culmination of past efforts, but a validation of the work's oft-questioned dramatic viability. The audience at Disney Hall was in raptures.
Pelléas is set in a mythical, medieval never-land named Allemonde, which in French could suggest either Germany or anywhere in the world. A product of fin-de-siècle France, it ruminates for 2-1/2 hours with just a little time in conflict and lots in suppressed emotions. Its murky plot - set by the composer word for word with only a few cuts from the 1893 play by symbolist author Maurice Maeterlinck - has simplistic dialogue obscuring deeper meanings, with dense vocal lines that seem to lack character. Notable was Debussy's use of the spoken word, with his orchestra silent in a hushed confession of love. Much is made of contrasting states: light and dark, blind and sighted, wet and dry, in union or in solitude.
For the first three of five acts, the two eponymous lovers are unable to articulate what they feel. Mélisande first meets and marries the older brother of Pelléas, Golaud, whom she doesn't love. Later on she "loses" her wedding ring in a well when with Pelléas. Later, as Pelléas is enveloped in Mélisande's hair, Golaud's suspicions magnify. Only in the final two acts do things come to a head musically and dramatically as the declared but still chaste love between the two clashes tragically with Golaud's jealousy. Well-meaning bystanders close to the lovers had urged warnings but were helpless to protect. Passivity is omnipresent.
With somnambulistic non-actions on stage, Debussy's orchestra does the heavy dramatic lifting, but that is hardly the word for the astonishingly delicate instrumental magic the composer conjures. His orchestra simmers and smolders on an inexorably flowing journey of no return, engulfing all in its sway.
The innovative score owes a musical debt to the spiritual worlds of Parsifal and the love-triangled Tristan, yet Debussy resisted the seductive influence of Wagner's style in his search for another musical path. This he found from the Far East, notably Japan and Indonesia, which various Parisian expositions at the end of the 19th-century had exposed to him. The East's pentatonic scales and gamelan colorations - along with the composer's own unusual instrumental combinations and his use of whole tone scales, parallel triads, and unorthodox seventh and ninth chords - produced exotic, hot-house sounds that gave the work an original musical voice perfectly suited to the play. (One that would influence later 20th-century composers like Stravinsky and Ravel.)
Debussy's ethereal, indeterminate music, with Maeterlinck's drama of the mind, have challenged stage directors for generations since the work's Paris premiere. The 1995 Peter Sellars staging for LA Opera in the Chandler Pavilion tried to break the obscurantist mold by tailoring the drama to a modern setting of homeless lovers on a beachside Malibu. Alas, the intriguing concept had them groping on a dim stage with fluorescent lights shining in the audience's eyes. The neo-Brechtian alienation, intended or not, obliterated the delicate drama and compromised a commendable first outing for Salonen and the LA Phil in the less than ideal acoustics of the cavernous hall.
(Sellars may have taken that cautionary tale to heart in a recent, reportedly successful, German outing with Simon Rattle and the Berlin Philharmonic.)
A big positive in the second L.A. Pelléas of a decade ago was the newly opened Disney Hall, with its clear acoustics, where the excerpted suite from the work was well received, also better heard. But this was minus the dramatic impact of a complete performance and it merely whetted the appetite for more.
Which may be why this time around, Salonen and company decided that Pelléas, as their City of Light centerpiece, might best be presented in a concert format with just enough stage business to give the visual drama its due, while reserving the work's main dramatic impact for the ear. Colin Grenfell's indirect color effects subtlety exploited to advantage, in hues of blue, red and amber, the intertwining nooks and crannies of architect Frank Gehry's wood-lined hall interiors.

It was Salonen himself who suggested the insertion of a narrator between the five acts, using Maeterlink's own words to provide a more concrete guidance to the action, while allowing a few moments rest for the constantly performing orchestra. As narrator, Kate Burton's recitation was clear and her text helpful.
Director David Edwards' modest but sensitive staging resembled more that of an enhanced oratorio than an opera, and that was fine. The bench seats immediately behind the orchestra had been sequestered from the audience for a static display of fifteen stylized chalk-white mannequins, each with a blindfold suggesting the blindness of the lovers and probably also the blind jealousy of the husband, Golaud. Below them sat the evening's soloists, ready on cue to walk slowly in front of the orchestra for their deliveries. None of the cast members touched one another. When interacting, one would suggest the action as another mimicked receiving it.
The protagonists forged an ideally strong and idiomatic team. Tenor Stéphane Degout's brightly hued Pelléas was ardor itself. Camilla Tilling's clear soprano conveyed both the innocent naiveté of Mélisande and a kind of fatal purity that chimed with Debussy's unchanging musical motif employed at her every entrance. Laurent Naouri's authentic, nasal-inflected French baritone was the evening's standout performance as Golaud, Mélisande's older, insecure, ultimately violent husband.
Sir Willard White's family patriarch Arkel was embracing warmth and wisdom itself. (He had portrayed the character of Golaud in the original 1995 Los Angeles Pelléas.) Veteran mezzo Felicity Palmer's sympathetic and resonant Genevieve softened the tragedy, along with White's Arkel, even as the two were powerless to stop it. The role of the boy Yniold can pass in some productions as a humorous turn, as he is instructed by his father Golaud to report on a potential love scene. In this instance soprano Chloé Briot properly portrayed the stress of an innocent made into an accomplice coping with a father's frantic fury. Nicholas Brownlee's Physician reinforced the role of bystander to the tragedy. Grant Gershon's Master Chorale, having a cameo role, made the most of its brief appearance in the back balcony reinforcing the work's ethereal element.
The LA Phil, liberated from the confines of an opera pit, and under the touch of master colorist Salonen, was the center of the action on Disney's stage, projecting each instrumental hue in its full luminescence and every rhythm in its intended crisp or muted detail. Exquisite and subtle, the orchestra conveyed the slow build-up to love's attraction, its surrender, and its final devastation amid the imagined forests, grottos, fountains and chambers of the drama's action.
The performance succeeded at every level, revealing in its unusual format an equally valid way to present Pelléas et Mélisande. It confirmed the persistence of artistic integrity and managerial risk-taking in the pursuit of ideal circumstances for a challenging work. The performance will stand as one of the greatest ever in Disney Hall and a milestone in the history of this unique work of musical art.
---ooo---
PROGRAM
DEBUSSY: Pelléas et Mélisande (complete)
Disney Hall, Los Angeles
Sunday, February 21, 2016
MUSICIANS, CHORUS & PRODUCTION STAFF
Los Angeles Philharmonic
Esa-Pekka Salonen, conductor
Los Angeles Master Chorale,
Grant Gershon, artistic director
David Edwards, director
Colin Grenfell, lighting designer
CAST
Kate Burton, narrator
Stéphane Degout, Pelléas
Camilla Tilling, Mélisande
Laurent Naouri, Golaud
Sir Willard White, Arkel
Felicity Palmer, Genevieve
Chloé Briot, Yniold
Nicholas Brownlee, Physician
PHOTO CREDIT
Craig T. Mathew/Mathew Imaging
Calling all HuffPost superfans!
Sign up for membership to become a founding member and help shape HuffPost's next chapter