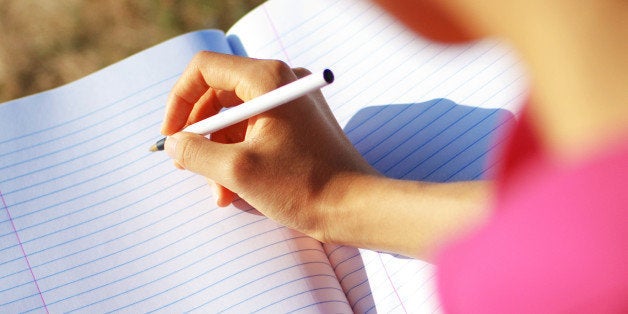 The Mayor of Los Angeles, Antonio R. Villaraigosa and the Department of Cultural Affairs are proud to announce the city's first laureate, Eloise Klein Healy. The ceremony was Friday morning at the Central Library. Mayor Villaraigosa made the announcement and I think I watched Eloise Klein Healy's heart skip a beat. Because there's not much to honor poetry in America, and here in Los Angeles, we do.
The United States has a poet laureate, Natasha Trethewey. Many states and a few cities have laureates. In celebration of Los Angeles as the Pacific Rim city which embodies the 21st century, a city that both embraces and promotes cultural tourism, the mayor of Los Angeles, Antonio R. Villaraigosa designated Dana Gioia to chair the city's first search for a laureate. The Department of Cultural Affairs under Olga Garay-English funds the laureateship at $10,000, twice the rate of the state laureate. For a city of ten million, with a diverse population that tops some states, the choice of laureate would not be easy. The mayor's task force was: Doug Kearney, William Archila, Carolyn See, Lester Lennon, Amy Uyematsu and myself, Kate Gale.
What seemed exciting, quickly became daunting. Los Angeles is home to many talented poets. There's a difference between winning a prize and receiving a job as a city's laureate. I'm on the Claremont Graduate University Kingsley Tufts Committee and there, we are looking for a winning book. The poet doesn't have to be ready for civic engagements and many levels of education and entertainment over two years. We look for a book that blows our socks off by an author with a significant body of work.
Here we had to consider not only the poet's body of work, but also his or her willingness to work for poetry over a two year period, a job that involves getting along with people. That's not an easy task for many poets who are often wildly uncensored or tragically introverted while pathologically paranoid, and although unwilling to work with others, they're convinced that not being invited to the party is everyone else's fault.
For a poet's work to matter, it has to resonate for a large group of people and be part of the cultural conversation. In other words, they've written something we can all argue about. Working at a level of excellence, being part of the critical dialogue and being someone who has given back to the literary community, that's what great poets do. And not just teaching. You get paid for teaching, and if you have tenure, you're paid well. I'm interested in people who mentor students, teach workshops, build writing programs, and give to cultural institutions that do the same. The city needs someone who writes at a level of excellence and has generosity of spirit. A dose of sanity wouldn't hurt either.
I began to re-read the poets of Los Angeles. There are the three who I read first when I came to this city 25 years ago, the lions of the Los Angeles poetry world: Wanda Coleman, Eloise Klein Healy and David St. John. I moved on to Gerald Locklin, Charles Harper Webb and Ron Koertge. I read Terry Wolverton, Laurel Ann Bogen, Suzanne Lummis and Amy Uyematsu, Percival Everett, best known for prose, now also writing amazing experimental poetry, Nigerian poet Chris Abani has been writing in Los Angeles for years, Amy Gerstler, Aleida Rodriguez and Luis Rodriguez, also better known for prose. There are poets who moved here to teach: Claudia Rankine and Harryette Mullen both of whose work dazzles me. I re-read Lisa Krueger who read last month at Poets House with David St. John and Philip Levine, Florence Weinberger from Malibu and Rex Wilder from Brentwood. Then the young Turks, the poets coming up, the next generation of laureates, of whom some are on the task force: Doug Kearney, William Archila, Lory Bedikian, Jenny Factor, and Brendan Constantine.
Going into the process, I assumed that one of the city's most esteemed poets would be honored with the position given the gravity of his or her body of work. But the conversation ranged over the entire city from young poets with a book or two to the more seasoned. There are poets like Terry Wolverton, Eloise Klein Healy, and David St. John who generations of poets have grown up with, poets for whom community is part of how they breathe in the world. There are solitary poets and crazy poets, urban poets, like Sesshu Foster and standup poets like Charles Harper Webb, experimental poets like Vanessa Place of Les Figues Press. The landscape is complicated, yet, we as moved through it, and the committee began a dialogue, I felt like I was at Disney Hall, the grandest cozy place in the world, listening to the Los Angeles Master Chorale and listening, for each individual voice and the way they rush together to make music.
We live in a city where there are enough poets to fill a room if you could get them to behave themselves long enough to be there together. In the end, with many great writers to choose from, I became less concerned with who the first laureate was and simply glad that Los Angeles is a city that will have its own poet doing public readings, celebrating the city's diversity, bringing us all back to the place where we first heard poetry and understood subconsciously that what we were hearing was special. It was heightened language; if it were food it would be manna, if it were water, we'd realize someone had turned it into wine.
Popular in the Community