On the 60th anniversary of Brown v. Board of Education, a new study by UCLA's Civil Rights Project finds that California leads the nation when it comes to segregation of Black and Latino students. What's more, the researchers indicate segregation has "grown substantially in the past two decades," erasing many gains from the civil rights movement.
Three members of the Los Angeles Unified School Board have given us a reason to be hopeful, despite this retrenchment, by introducing a resolution entitled "Equity is Justice." If adopted on June 10, it will direct hundreds of millions of dollars in new funding to the district's highest need schools, where segregated students are fighting to gain the skills for a rapidly changing economy.
In the Los Angeles Unified School District (LAUSD), where over 90 percent of the 650,000 students are children of color, and 75 percent are low-income, the UCLA researchers found "triple segregation" by race, income and language. While white students attend schools where 40 percent of the students are poor, on average, 70 percent of Black students' classmates are poor and 80 percent of a Latino student's peers are poor.
Only 1/16th of all Black students in California attend a majority-white school, the worst rate in the U.S.
For years, poor and minority students in neighborhoods like South Los Angeles have navigated the conditions documented by the researchers. Those students who seek integrated learning environments and stronger academic offerings get on busses as early as 6 a.m. and travel long distances to attend better schools. Those who stay have had to wage organizing campaigns to get basic repairs, courses for college eligibility, and ban the use of suspensions for non-serious issues in their schools.
This type of activism helped set into motion a groundbreaking set of statewide policy victories in public school funding. In 2012, a coalition of groups convinced a majority of California voters to raise taxes to fund public services, including schools, over the next eight years. Last year, activists convinced the California legislature to adopt a new "Local Control Funding Formula" (LCFF) which adds "concentration funds" for school districts with many low income students, English language learners, and youth in foster care.
For LAUSD, that translates to more than $800 million starting in July and more than $1 billion per year by 2020.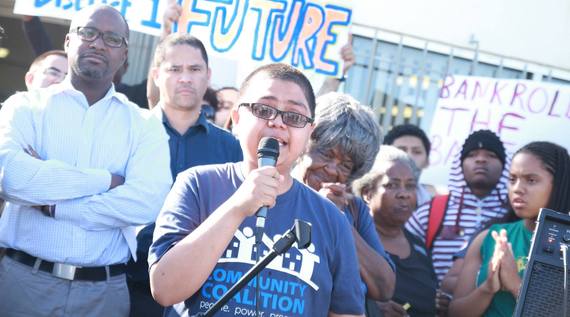 The "Equity is Justice" resolution in LA emerged from a community campaign led by hundreds of students and parents from the very neighborhoods suffering the brunt of persistent and compounded segregation. With a broad coalition of civil rights groups, we are advancing a simple, but potentially revolutionary principle: leverage the funds from LCFF to transform the schools in neighborhoods of concentrated poverty.

School Funding and Racial Segregation: A Tangled Web

In a recent article marking the six decades since Brown, entitled "The Failure of Segregation," Jelani Cobb notes that the decision to attack segregation came about only after "the civil-rights establishment had fought a fierce and futile battle for the equal distribution of resources between black and white schools." While the nation sees the Brown decision as a moral high-mark for our country's refusal to stand for separate-but-equal, the NAACP lawyers decided to challenge segregation after concluding that "the only way to secure a fair distribution of resources was to literally sit the black children in the same classrooms as the white ones."

While legalized racial segregation built the foundation for denying children of color their fundamental human right to education, inequitable school funding is the engine that keeps racial disparities alive. After Brown, school districts like LAUSD played a key role in promoting racial inequality by aligning funding formulas with racially segregated housing patterns. For example, LAUSD's formulas for campus maintenance funds were based on the square footage of school facilities to systematically favor the newer, more spread-out campuses in suburban neighborhoods, at the expense of the older, more compact schools in the central city. University of Oregon scholar Daniel Martinez HoSang notes such decisions were made in service of white flight to the suburbs.
Martinez HoSang also documents LAUSD's use of other "colorblind" methods to preserve racial segregation. This includes strategies like setting attendance boundaries, arranging elementary, middle and high school feeder patterns, and selectively choosing new school sites in ways that kept white and non-white children separated. These tactics interacted with school funding inequities to accumulate disadvantages in poor minority schools, while enhancing educational achievement in wealthier and whiter districts - for decades.
Community Organizing Challenges Schools as Vessels for Racial Inequality
Over the past several decades, students of color and advocates for racial equity have challenged racially discriminatory conditions for learning. In LA, they used cross-racial organizing to demand classes about Black and Chicano history, more teachers of color, and an end to corporal punishment for speaking Spanish.
Today, a broad coalition of grassroots and civil rights groups laid the groundwork for the "Equity is Justice" resolution by creating a "Student Need Index," that identifies precisely which schools suffer from the worst neighborhood learning environments. For example, the research-based index finds that students in the highest-need schools are nearly five times more likely to be exposed to gun violence than those in the lowest-need schools. This tool provides a measurable way to make the most of the new state funds by targeting resources intelligently and equitably.
LAUSD: Beginning a Path to Undoing Modern Day Jim Crow
Adopting the "Equity is Justice" resolution would be another step in LAUSD's path towards undoing today's expressions of our legacy of racial discrimination. Since 1980, for example, California spent billions to expand the prison system while the state plunged to the bottom five among all states in per-pupil spending. In that period, the state built one UC campus but more than 20 state prisons and juvenile detention centers.
Meanwhile, at the school level, suspensions for "willful defiance" were far more common for students of color (especially Black boys) than white students, even for the same behavior. Students pushed-out of school though zero-tolerance policies like willful defiance were more likely to end up in the very prisons and detention centers the state built.
LAUSD acted on community demands to ban such suspensions last year. By passing the "Equity is Justice" resolution to ensure that new funds go to the schools with the highest concentration of need, LAUSD can continue on a path of transforming our schools, while chipping away at a key component of structural racism and discrimination in our society.
It is time to disentangle public schools from Jim Crow and to resuscitate Brown v. Board of Education's promise of equitable educational conditions for all students.
Calling all HuffPost superfans!
Sign up for membership to become a founding member and help shape HuffPost's next chapter