 The Los Angeles Unifed School District (LAUSD) has just lost out on $40 million of free federal money because the teachers union has declined to sign the district's Race to the Top grant application.
Given the dramatic budget cuts that they have suffered, LA's K-12 schools could really use the millions in federal education dollars. Why then did the LA teachers' union, United Teachers Los Angeles (UTLA), pass up the money? Because it continues to object to student test scores or other measures of student growth as a "significant factor" in teacher evaluations, the Sacramento Bee reports.
However, that's not the reason that UTLA president, Warren Fletcher, gave for refusing to sign the application. "Race to the Top costs more than it brings in," Fletcher told the Daily News. "You're essentially setting up a system with a lot of bureaucracy, and those pieces have to stay in place after the grant period."
"There were enough issues out there that were complex enough that we could not get to the point where we could get together with the district," he continued.
However, LAUSD Superintendent John Deasy, who tried to come to an agreement with Fletcher and UTLA but failed, had a different account. He said that the teachers union was wary of the grant because of requirements that included "a new, robust teacher evaluation program."
"Some who did not want to sign it just want to simply avoid reasonable accountability," Deasy told KNX. "It just doesn't make sense that we would then use that as a reason to deny services to tens of thousands of students."
Because six of 10 LAUSD ninth-graders fail to earn enough credits to advance to 10th grade, the district's 150-page application focused on helping 25,000 students in 35 low-performing middle and high schools, the Los Angeles Times reports. The grant would have gone towards personalized learning plans aided by digital tablets, summer school, learning projects linked to careers, anti-dropout counseling and other services.
This isn't the first time that California schools have lost out on free federal money because of the union's resistance to teacher evaluations. Two years ago, in the state's first round of Race to the Top, the California Teachers Association discouraged local presidents from adding their signatures.
And it's continued since then. This is now the fourth time in the last two years that California has failed to win K-12 Race to the Top money.
Support HuffPost
The Stakes Have Never Been Higher
Related
Before You Go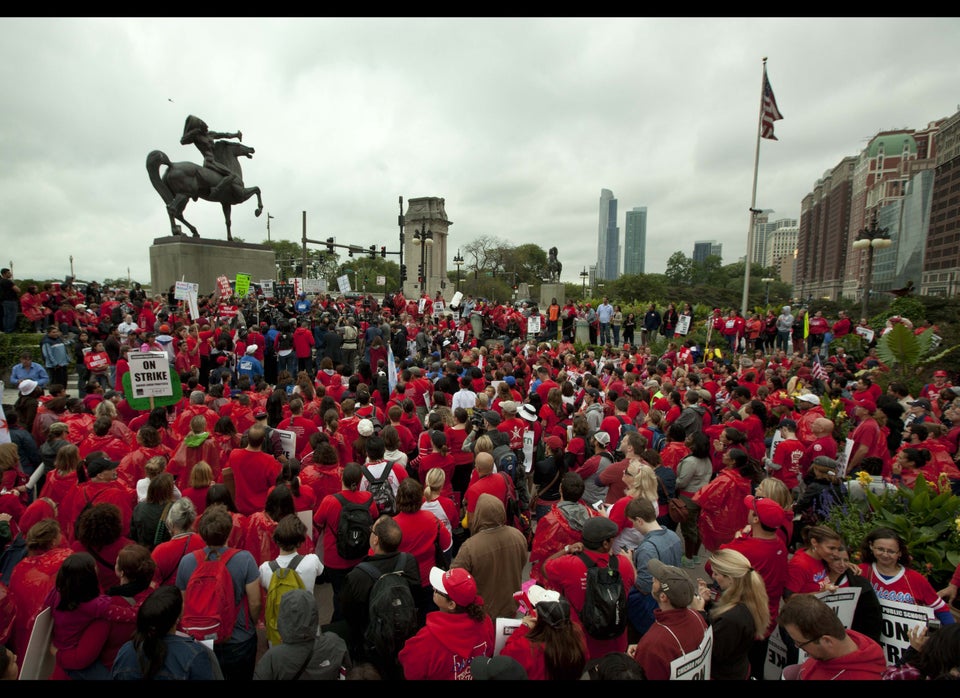 Chicago Teachers' Strike 2012
Popular in the Community