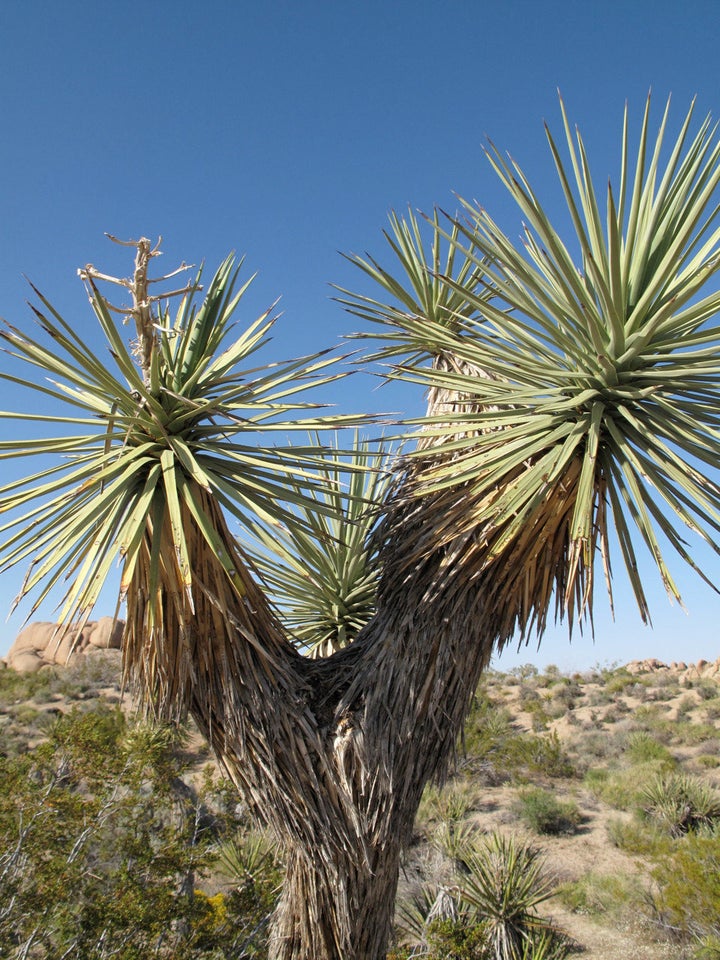 2011 marks the 75th anniversary of Joshua Tree joining the national park system. The park, known for sweeping desert vistas and eponymous vegetation, is an easy overnighter from LA. It's also at its absolute hottest in July, with temperatures rising to 110 during the day and dropping to a balmy 70 degrees at night. Despite the heat, it's totally possible to hang at Joshua Tree in the summer. Here's how:
Arrive, Already: Joshua Tree is a two-and-half-hour straight shot out of LA on the 10. Merge onto the 62 East after the massive dinosaur statues in Cabazon, and head north into the 794,000-acre park, (which out sizes Rhode Island by roughly 20,000 acres). A seven-day park pass costs $15 per vehicle, no matter the number of passengers. (story continues after slideshow)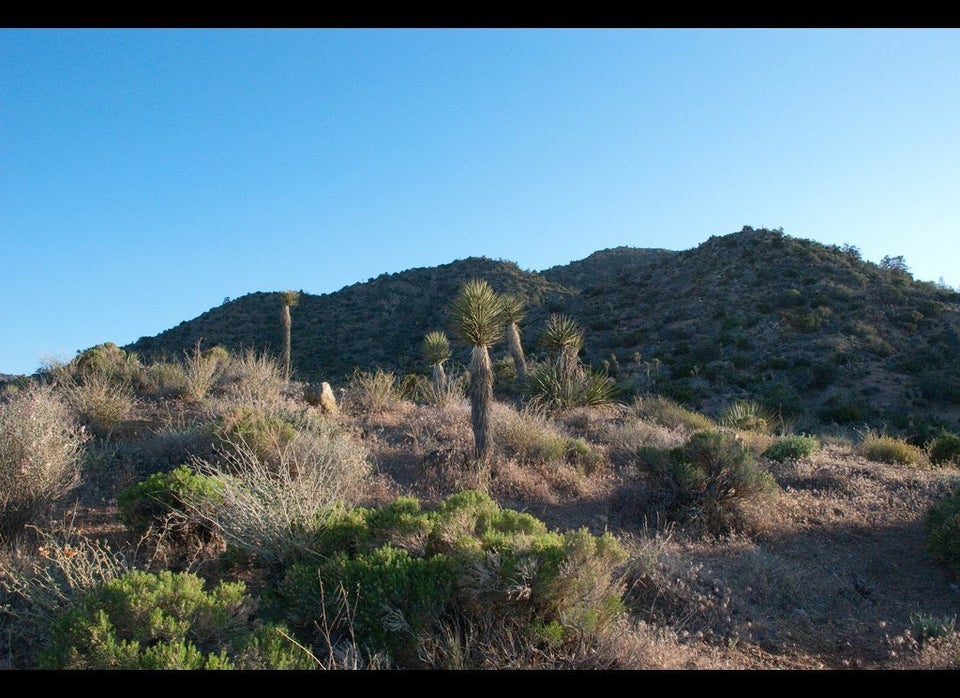 Hydrate, Obsessively: Joshua Tree got its name from Mormon pioneers who thought the tree limbs resembled the upstretched arms of the Prophet Joshua. We think they look like thirsty desert dwellers demanding H2O. Whatever your angle, it's vital to stock up on water before getting into the park and to bring more than you think you'll need. (Officials recommend a gallon per person, per day). Potable agua is available at most of the park's entrance stations.
Camp, Coolly: The park offers nine camping areas, (of these, Black Rock and Cottonwood have water on site). We like Jumbo Rock (spot #72 to be exact), which is adjacent to a vast bouldering area ideal for the beginner to intermediate set. Be sure to bring a pop up tent for shade. Toilet facilities are rustic, and there are no showers in any of the campgrounds. (Don't even think about using your drinking water to wash your hair). Site fees run between $10 and $15.
Climb, Early: Bouldering and rock climbing are two of the park's most popular activities. (Don't miss formation favorites Skull Rock and Arch Rock). Nature enthusiasts also flock to the park for mountain biking, hiking and horseback riding. Make time for these activities in the early morning and late afternoon hours, when temperatures are still reasonable.
Stargaze, Nightly: Stargazing is one of JTree's best summer activities, as it begins when the sun goes down. The park's densely starry, light pollution-free night skies are decoded by savvy rangers at the park's ongoing guided stargazing program, which includes Faces of the Moon on July 16 at the Cottonwood Canyon Amphitheatre.
Drink, Boozily: A core temperature stabilizing beer can be procured at the Joshua Tree Saloon, conveniently located in town next door to the Joshua Tree Visitor Center. This real-deal western bar opens at 8am and offers free chili dogs on Mondays, 50-cent tacos on Wednesdays, and a weekday happy hour with $1.50 drink specials. Cool. 61835 29 Palms Highway, Joshua Tree, (760-366-2250 or thejoshuatreesaloon.com)
Lounge, Luxuriously:If the heat is simply too much to bear, ditch your tent and make a reservation at Hicksville. The Joshua Tree adjacent resort is an enclave of tricked out theme trailers with names like "Fifi" and "The Sideshow." These rooms on wheels include refrigerators, televisions, actual beds and the holy grail of desert survival, air conditioning. Hicksville's amenities include free Wi-Fi, table tennis, an archery range, darts, horseshoes, and, most importantly, a pool. Hicksville, Address Provided with Reservation Confirmation, (310- 584-1086 or hicksville.com)
Joshua Tree National Park, 74485 National Park Drive. Twentynine Palms, (760-367-5500 or www.nps.gov)