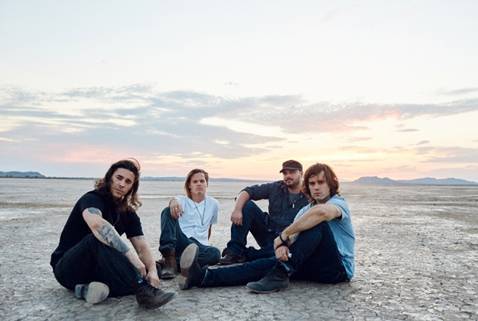 Turn on the radio today and with rare exception, you are likely to hear a packaged sound that might get you tapping your foot, but rarely inspires you to take a stand. Enter L.A. band Hudson, a soul stirring, musically genius group that combines thought provoking lyrics with legendary sound. It's only a matter of time before these guys change the music industry for the better, for good.
In the news as of late, violence on college campuses, rape, shootings and beatings seem to be more commonplace than ever before. At the same time the loudest message from industry labels is more often aligned with broken hearts than broken bones. An empowering message of positivity and strength is much needed from entertainers who deeply influence the youthful listeners who will shape the future. While many artists paint the picture of the victim and the offender, Hudson takes it a step further to look at the lessons for humanity in these happenings.
"We wrote 'Cast Out' after a very traumatic, and in the end, unfair situation that left us feeling a lot of anger towards the perpetrators," says Chris Llewellyn (guitars/harmonica).
We felt as if the justice system had let us down, and that the guys who did it felt zero remorse and got away with some terrible crimes. As a reaction, we responded from our hearts with this song rather than stooping to their level and getting revenge. We want our audience to realize that taking a negative experience and using it as fuel for something positive is the best route to take. This song has such a strong message and meaning for us that we decided it was the best title for our EP.
It's a message the entire world needs to hear right now. Combine this with killer rock and roll, and Hudson might just be the next legendary rock and roll band with the potential to change the world.
"Cast Out" captures the band's powerful sound shaped by childhood influences ranging from Led Zeppelin and Lynyrd Skynyrd, to Johnny Cash, Pink Floyd and Nirvana. Hudson's energy hits listeners with a musical concoction of no frills classic rock 'n' roll highlighted by lead singer David Hudson's unique whiskey-soaked, growling vocal style and complimented by his band mates' unflinching guitar tones, harmonies and Billy Gibbons-esque blues stomps.
If you are ready to rock like never before, Hudson will be playing a live event on October 20 at the Whiskey A Gogo in West Hollywood before releasing the five-track sophomore EP Cast Out independently Wednesday, October 21 via iTunes and the band's website.
Calling all HuffPost superfans!
Sign up for membership to become a founding member and help shape HuffPost's next chapter