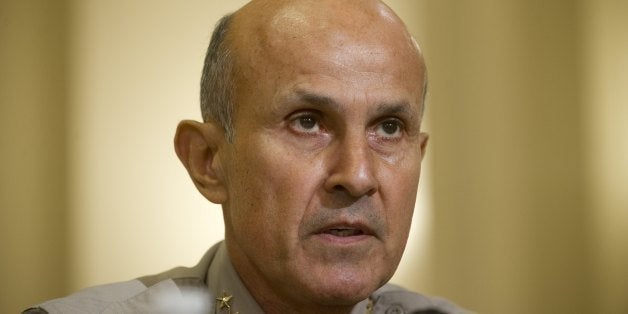 A whopper of an investigation from the L.A. Times over the weekend found that the Los Angeles County Sheriff's Department -- the largest sheriff's department in America -- is hiring cops with histories of disciplinary and abuse of force problems. Of the 280 new hires in 2010 at the department, the paper found that:
-- 188 Were rejected for jobs at law enforcement agencies before being hired by the Sheriff's Department.

-- 97 showed evidence of dishonesty.

-- 92 were disciplined previously by other police agencies for significant misconduct on duty.

-- 29 were fired or pressured to resign from a previous law enforcement job.

-- 15 were flagged by background investigators for trying to manipulate the results of a polygraph exam.
It's one thing to fail a polygraph. The tests are far from perfect. It's quite another to get caught trying to cheat on a polygraph test -- and then get hired, anyway. And we aren't talking about, say, a construction job, here. We're talking about taxpayer-supported officials who carry guns, who wear badges, who are authorized to use force, and upon whose word people arrested, convicted, and imprisoned.
But that appears to be exactly what happened. From the report:
One taped recording of a background interview suggests the department made special accommodations for the county officers.

In the recording, a sheriff's investigator tells an applicant who was caught cheating on his polygraph exam that normally that would have meant "goodbye, you're done, there's no second chances." The investigator then told the applicant that he and other suspected cheaters might not be disqualified "as a favor because, you know, it's law enforcement." The applicant was eventually hired.
Consider Dep. David McDonald. According to the paper, at a previous job, "[a] fellow deputy asked not to work with McDonald because he said McDonald harassed inmates by calling them names. Asked by a supervisor how he thought inmates should be supervised, McDonald said 'Well, like Clint Eastwood, tell them what to do and they either do it or else.'" McDonald was hired as a "jailer." Apparently, this surprised even him. He told the L.A. Times, "How can you put me back in the jails when I already had a problem there?" He then lamented that, "Whenever you're gonna jack up an inmate, you have to call a supervisor first." Damned bureaucracy! McDonald has since been disciplined for abusing an inmate.
When the department got word of the L.A. Times investigation, it immediately launched a criminal investigation . . . to find out who leaked the personnel files. (That's the real scandal, here!) The department's practice of hiring cops with records of abuse will merely get a "review." The police union then tried to sue the L.A. Times to prevent the paper from publishing the series.
The bad cops can mostly thank police unions for their jobs. Unions may be dying in the private sector, but law enforcement unions still wield an inordinate amount of power. When cash-strapped state and local governments have no wiggle room on fiscal issues like salary or benefits, they can bargain instead with transparency and accountability. This is why so many cities and states now have some version of a "police officer bill of rights" -- a set of protections given to cops accused of wrongdoing that aren't afforded to regular people, and that make it much more difficult to fire bad cops, or for journalists or attorneys for victims of police abuse to establish patterns of abuse.
California is also one of just a handful of states that doesn't permit revoking the certification of bad cops to prevent them from working elsewhere. Even in states that have this ability, it's underused. But it's obviously worse in states where decertification isn't even an option.
If history is any guide, the policy change we're most likely to see as a result of the L.A. Times investigation is tighter restrictions on police personnel files. They're already supposed to be confidential in California (and elsewhere), a policy that essentially entrusts police departments to investigate their own, free from press or public scrutiny.
The perverse irony is that this story shows exactly why letting police police themselves is such a bad idea.
REAL LIFE. REAL NEWS. REAL VOICES.
Help us tell more of the stories that matter from voices that too often remain unheard.