My photographer pal, Zane W. Levitt, and I are browsing through a dynamic slideshow of his art deco commercial and residential photographs, and chatting about the ongoing impact that art deco has on Los Angeles. With its linear and geometric shapes, symmetry and a style that expressed the vibrancy of the mid '20s through '30s, Art Deco's visual arts style also inspired many other facets including old Hollywood in both classic films and gorgeous movie palaces.
Shooting all around the city, Zane says the "deco" style continues to live on today in downtown LA, along the Wilshire Boulevard corridor, and in selected pockets in the city, like in the heart of Hollywood, and in private residences all over. Indeed, The Art Deco Society of Los Angeles continues to celebrate the architecture, design, arts, fashion and elegance of the style. In fact, the grandeur immortalized in author F. Scott Fitzgerald's classic novel, The Great Gatsby, will be celebrated at the 11th Annual Art Deco Festival (September 4-7) presented by the Queen Mary in association with the Society.
Zane and I both agree that Los Angeles gets a bum rap when it comes to cool, eye-popping and even great architectural history. Zane, who considered being an architect growing up, lists a number of renowned architects who've made an indelible design stamp on the City of Angels, from Frank Lloyd Wright, Schindler, and Neutra, to Cesar Pelli, Richard Meier and Frank Gehry.
Sure enough, when we went for a road tour of architecturally appealing and noteworthy buildings, many of which he has shot for clients and for his own portfolio, we drove by a wide, colorful spectrum of architecture, including: the Victorian era-built Bradbury Building; the beaux arts inspired Biltmore Hotel and The Central Library; a plethora of art deco delights highlighted by the Eastern Columbia Building, which he describes as the "benchmark of deco buildings in LA"; and, the instantly recognizable modern styling of the Capitol Records Tower.
Zane, who has produced over a dozen movie projects, describes his approach to photography: "I look at still photography from a cinematic perspective. I see the shot as framed for the big screen. I especially love shooting large, quiet spaces, with cool interiors."
As we drove down Vine into the heart of old Hollywood, Zane talks about photographing modern interiors high above the Walk of Fame, at The W Residences on Hollywood Blvd:
It's ground zero of the entertainment world. The loft Residences I shot come with an iconic view of Hollywood landmarks like the Hollywood sign and Capitol Records. Then there's the Pantages Theater with its stylish art deco look -- when you think that billionaire Howard Hughes had his personal offices there, and that the Oscars were held there from 1949 to 1959, you know you're overlooking history. If being up there doesn't make you feel like a rock god or movie star, nothing will!
No kidding! Zane says he got a similar sensation when he was shooting an assignment downtown at The Ritz-Carlton Residences at LA Live. He described how the large spaces and floor-to-ceiling windows offered a panorama of views, from snow-capped mountains in winter, to the ocean, and very cool city views.
But as we slid down Vine to Wilshire, we checked out the various Art Deco beauties that decorate the boulevard and which were built during a period of high activity in the '20s and early '30s. They included the Pellissier Building and adjoining Wiltern Theatre -- many consider the Wiltern "Center" one of the finest representations of Art Deco architecture in America.
We headed to the historic downtown core, and checked out two nearby loft buildings that Zane was hired to photograph in the beaux arts style -- the Higgins Building (1910) and the Rowan Building (1912). While there are modern skyscrapers and towers everywhere downtown, there are still buildings that exude a timeless elegance. Another gig he was hired for included that crown jewel, the Eastern Columbia Building, a thirteen-story building in the Broadway Theater District -- the original and striking turquoise tile fascia is still intact, and the antique clock that gracefully overlooks the rooftop pool is in working order. In a word, WOW!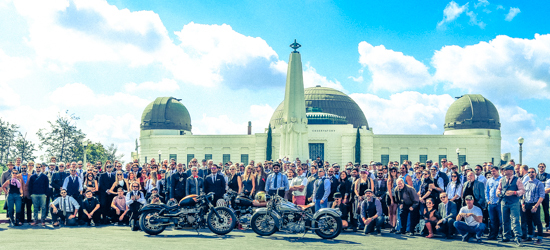 The DGR Motorcycle charity event start at Griffith Observatory - Zane W. Levitt
We then headed up north to another marvelous landmark, the Griffith Observatory, that originally opened in 1935 and still retains its distinctive art deco exterior. Near to where James Dean shot that infamous fight scene from Rebel Without a Cause, we surveyed the city's expansive basin with its diverse designs...and he looked forward to capturing more of the elegance that makes Los Angeles and its surroundings such an architectural pleasure to photograph.
Popular in the Community