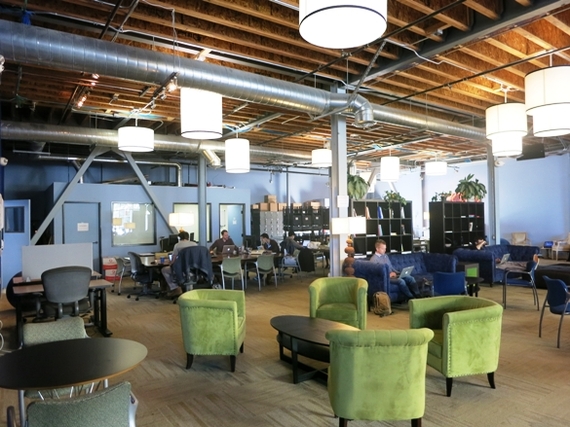 EXT. SANTA MONICA PIER - SUNRISE
The beach is busy and full of beautiful people. Joggers, dog walkers mingle, while people wearing headphones sit on benches tapping away on lap tops, all in the glow of the California sun.
In the modern age, whether we like it or not, all companies are media companies. No matter how great a product you have if the story doesn't get heard by the people who need to hear it, it doesn't get traction and off the ground. There's no better place at crafting stories in the modern media world than Los Angeles.
FADE OUT
With a mane of white gold hair and a perpetual tan, inventor and serial entrepreneur Howard J. Leonhardt epitomizes California entrepreneurship. Not surprisingly, he has a good story.
He holds 21 U.S. patents for products for treating cardiovascular disease. His Leonhardt Ventures has raised and put to work over $145 million in 28 companies to date, most of them founded by Leonhardt. He has signed a contract to co-host the upcoming CNBC TV series CrowdFund: The American Dream. And, he owns a successful vineyard.
Not surprisingly, he's bullish on the Los Angeles startup scene. "There's no better place in the entire world to start a startup than Los Angeles. There's a convergence of everything here that is needed to allow a startup to get off the ground and thrive," Leonhardt told me during the Challenge Cup stop in Los Angeles in December.
LA: The Pitch and The Mayor
Since we're talking about Los Angeles, the land of pitches, let me try my hand at one to describe the story of Los Angeles and its startup scene. It's kinda like "The Social Network" meets "Tucker" with a dash of "Citizen Kane." OK, maybe not quite.
Bad movie pitch aside, Los Angeles' startup scene is on an upward trajectory. Startup Genome, a collaborative research project that compiles data on start-ups around the world, recently ranked Los Angeles third, behind Silicon Valley and Tel Aviv, among the world's top start-up ecosystems. According to Built in Los Angeles, start-ups in the City of Angels raised $500 million in 2013, and there were 94 new start-ups and nine acquisitions -- more than any previous year.
The media and entertainment capital of the world has always attracted startups whose focus is on entertainment, media, and fashion and lifestyle -- startups like Beachmint, DailyLook, ShoeDazzle (Kim Kardashian is a partner), The Honest Company (founded by Jessica Alba) and MakersStudios.
But Los Angeles' numerous competitive advantages, including cheap real estate (compared to traditional startup hubs Silicon Valley and New York), quality of life, top notch universities providing great talent and above average broadband infrastructure, are attracting startups that don't necessarily cater to fashion or have a celebrity factor. They include Factual, an open-data platform for app developers; SurfAir, an all-you-can fly monthly subscription service; and DogVacay, which finds a place for pets while owners are away.
In May, Los Angelenos elected Mayor Eric Garcetti, a self-proclaimed geek and self-taught coder, who Mashable recently called "the most tech-focused mayor in America." Garcetti even created a smartphone app (Garcetti 311) to allow citizens to report potholes, graffiti and other problems.
Garcetti also raised eyebrows when he took on city regulators on behalf of startups attempting to solve one of L.A.'s biggest problems - traffic. Los Angeles has by far the densest road network among the nation's 14 largest metropolitan areas, providing over 50 percent more lane miles per square mile than Detroit, its nearest competitor. Yet, in June, the Los Angeles Department of Transportation Taxicab Administrator Thomas Drischler issued "cease and desist" letters to three ridesharing companies. "To shut them down I think is the wrong move," Garcetti told the media. "I think it's great that people have other options now for transport."
With its' great weather, beautiful people, and pedestrian-friendly streets lined with a generous selection of bars and restaurants (450 of them, to be exact), Santa Monica offers young entrepreneurs high livability and a supportive tech environment.
Santa Monica also has a burgeoning incubator and accelerator scene. Within a 12 block area, there are 15 different co-working spaces, accelerators, and incubators, including ROC, CrossCampus, General Assembly, and CoLoft. Demand is growing so fast that CrossCampus is moving from its 11,000-square-foot space at 820 Broadway to a 13,000 square-foot-property at 10th Street and Colorado Avenue after the first of the year.
In 2006, the city began leasing its excess dark fiber to local businesses. Although it sounds like something out of "Star Wars," ("Luke, I am your dark fiber"), it's actually unused fiber optic cable. The city leases it to local businesses for affordable broadband at 100Mbps, 1Gbps, and 10Gbps speeds. The city plans to increase that to 100Gbps. Currently, New York is the only other city offering that much leased dark fiber.
Santa Monica is about to get even more attractive to entrepreneurs who are tired of sitting in traffic on the I-10. Behold, the Exposition Light Rail Project (Expo LRT) -- a 15-mile light rail line extending from downtown Los Angeles to downtown Santa Monica. It and will be the first extension of L.A.'s Metro rail to the west side of the city. When complete in 2016, the trip from Los Angeles to Santa Monica should take just 46 minutes.
The new influx of young tech entrepreneurs is also shaping the city, according to Santa Monica Chamber of Commerce President Laurel Rosen. "Architects are building these smaller, more affordable units, focused on urban density because they know what their lifestyle is. They don't really need a lot of space. They aren't spending a lot of time at home. They're getting up, going to their coworking spaces, then they can walk to the bar and grab a beer. That's the lifestyle they want."
Startups Say 'Show Me the Money'
Another startup success story is Cornerstone on Demand, a Santa Monica-based company that helps employers manage workers via software. The firm went public in March 2011 and has a current market cap of $2.5 billion.
Cornerstone on Demand's CEO Adam Miller spoke at Santa Monica's second annual Silicon Beach Fest this past summer and summarized L.A.'s laid-back appeal: "There's a joke that Silicon Valley thinks it's the center of the world, and New York City thinks it's the center of the universe," he added. "That leads to some provincial attitudes." Being in Los Angeles can give a company the breathing room to "step back and think a little longer-term," LA Weekly reported.
To use our earlier movie pitch analogy, what's missing from the Los Angeles and Santa Monica startup scene is that Wall Street element - capital. In 2012, there were 212 venture capital investments in LA, for a total of $2.08 billion. That's compared to 1,149 deals that raised $10.86 billion from venture capitalists in Silicon Valley. 2013 is set to be another record year --venture capitalists based in Silicon Valley invested $2.66 billion across 305 deals in the second quarter of 2013, according to the National Venture Capital Association, while Los Angeles firms invested $270 million in that same quarter.
Nevertheless, angel investor Gary Vaynerchuk told Business Insider that thinks it will eventually surpass New York and Silicon Valley as the tech capital of the world. "Los Angeles understands people," he says.
And, scene. Fade out. Closing credits roll.
Popular in the Community