I went to Manual Arts High School during the fall of 2010, on a tip from some of the street artists who have done work there. It exceeded any description I'd been given or picture that I had formed in my mind. I immediately recognized the value of what Mark Ayala had accomplished at this South Central L.A. school as an art teacher, and I wanted to participate in any way that I could. Through the Do ArT Foundation, I was able to add more international artists into the project before Mark was laid off and the program was shut down. Now that he has finished his last term, I interviewed Mr. Ayala to shed light on his experience at Manual Arts High. His story of what one person's vision can accomplish amidst a crumbling education system with perseverance, dedication, respect and love is a film-worthy script that reflects the most inspiring all-American classics of our time.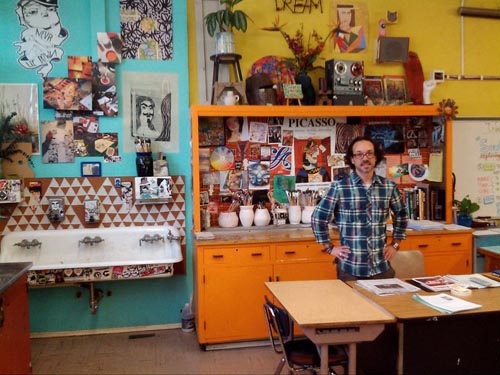 Carmen Zella: Tell me about the community that you're working in at Manual Arts High School, and how your art program has affected the students.
Mark Ayala: I feel blessed to be able to speak on it in that way. In the short four years I've seen change happen within the building itself, within the faculty, within the staff and within the students, too. The only art history that kids really have an awareness of is the art that is within their community, so it's specifically graffiti art, right? When it comes to students' interest, even within their own cultures, a lot of students do not have that self-awareness. Since I give them that kind of history at the school and bridge on some prior knowledge that they already know, there is a curiosity. I create allies within the art classes, because you're telling me about my community, which ultimately you're telling me about myself.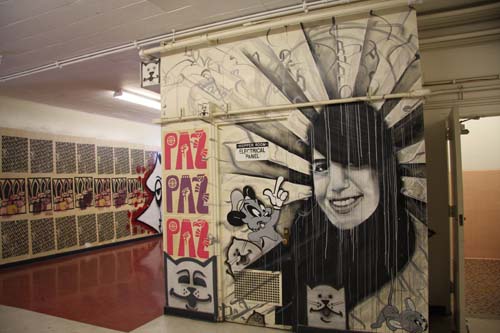 We had a kid that came through that had that kind of history. He ended up taking the art classes. He already had sketches of his own graffiti art and had picked out a name and was committed to creating this alias. He did [graffiti] with a number of kids and was fairly well-known within the community because of the people that he was associated with, as well as he was pretty good at his craft. Long story short, he took Mr. Latzko's class, then he became one of my TAs, and we kind of took him on this journey. We schooled him in not only the history, but what happens within the school is that it gives the students the best examples of something that may be seen as a eyesore within the community. It does that by opening up the boundaries of what's possible. Its not just sort of a spaghetti colorful letters and intricate patterns; it's something that literally speaks to them and, in time, teaches them many things.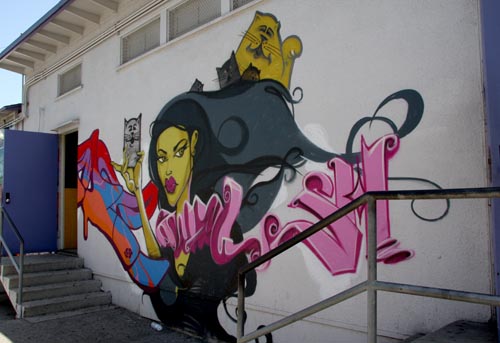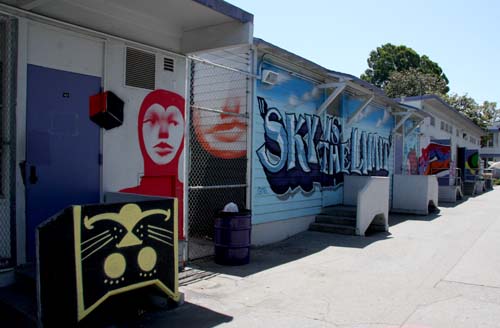 Another teacher got him an internship through the internship program with Shepard Fairey, and that blew his mind, for someone who was interested in graffiti. His goal was probably just to go "all city" after getting out of school, and ultimately that could end up causing a lot of drama for kids -- rather than going to college, he's trying to crush the city -- so this opened him up to all kinds of possibilities, and just last week he told me that he's having an art show at a local place that I'm down to support. He has pieces throughout his evolution as a student at Manual in different stages all around the campus and in the classroom.
CZ: How did you start this project at Manual Arts?
MA: At first it happened through Mr. Latzko, who started incorporating student silhouettes on the walls. They were formed for the school and the principal at the time to combat the graffiti that was happening on the walls, because custodians were complaining that they were spending too much time with that. I got hired, and I said that I could build on that with a community that I'm loosely associated with and have a lot of history with. The school said, "OK, let's see what you can do." My first people are at the MOCA show, L.A. artists, Restitution Press, Two Rabbit Studios, Branded, John Carr and the Yo Peace Collective.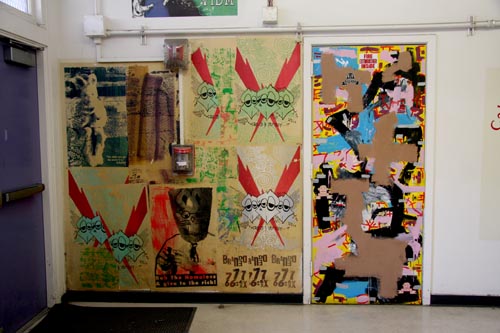 They were the first wave that I did -- it wasn't just one artist -- and started causing lots of ripples. That's what happened. Mr. Latzko kind of opened the door, by starting off something that was student-invested. Students actually did their own silhouettes to put on the walls, and so the graffiti stopped, for the most part -- not overnight, but it was a dramatic difference. It added color and pattern, but in my opinion, it was a potential, kind of, for bigger and better things to happen.
CZ: What are some responses that kids have had to some of the artists?
MA: It's awesome to see kids when they are in front the art, to just hear them casually dialoguing, having aesthetic exposure through a conversation that they would not otherwise have. I get little soundbites of these things that are heartwarming and really beautiful, about their experiences in their school, how they look at their school differently, how they look at their community differently and how they ultimately experience the world differently. I am intentionally binding local artists to national artists and, with [the Do ArT Foundation's] help, international artists. In a community that is South Central, and South L.A. that is predominantly very localized, this really opens them up -- in more ways than one. It makes them feel that people around the world, like when Freddy Sam came through and told them that they are going to school in a very unique space in the world, and that they should really feel that their footsteps are very special, and how he incorporated that in his mural, that was really important to them to hear that. For the kids in the art classes, that was, I think, transformational.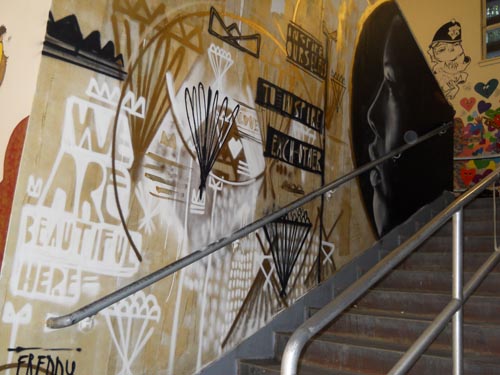 Many of the artists have touched them. The ROA mural from Belgium blew their mind; the Herakut and CASE piece across the street that [the Do ArT Foundation] helped with was a big deal, too, because it saw the project larger than the school now. I think people like Buff Monster, and some of the surprising ones, like we have a large owl, and kids want to get these things tattooed on their bodies, which shows me how much they appreciate them.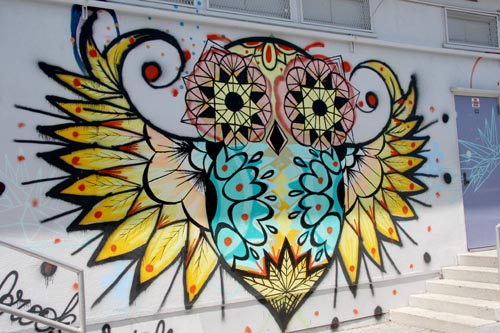 CZ: Tell me about how you have integrated programs and exhibitions outside the school with the students in your art classes.
MA: The last year that we were there, since the beginning of the school year, I knew of the possibility of the "Art in the Streets" show. So the curriculum that I focused on, specifically for the drawing and painting class, kind of changed around artists that would be exhibited in the show that were street artists or graffiti artists. After doing projects on Keith Haring and Jean-Michel Basquiat, Barbra Kruger, and Andy Warhol, they're very much aware of the historical precedents in this town. So three-quarters through the year, we worked with L.A. Free Walls' Daniel Lahoda , who does that terrific project in the Artist District downtown, bringing all these international players to make it beautiful down there. He had helped me bring ROA to the school for our auditorium piece that ironically ended up being featured in the "Art in the Streets" catalog, which is awesome for the school's history. That connection for the kids was mind-blowing, as well. A friend that I met at one of ROA's outdoor pieces in downtown was a contributor to the "Art in the Streets" catalog. I reached out to her, and she gave us a guided tour through MOCA for that show, which was really awesome for the kids to see, to see the best examples in the world, and the evolution of the whole movement. And then, after that, we took kids to little Tokyo, which many kids have been living in California their whole life and never even been across the 10 freeway, so as small of a detail, like they have lunch and have green tea ice-cream, that was a big deal for them. Then we went to the HoldUp gallery in little Tokyo, and so they got to see an exhibit of some of the same artists.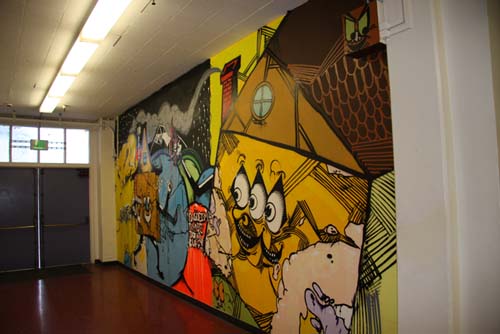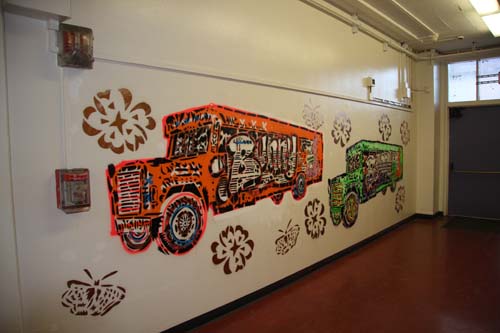 So to see artists who are at the school, in the museum, out on the streets of Los Angeles and in galleries, for them, tied together with the projects that I was doing, as well as the visual artists who were at the school, was probably one of the most dynamic teaching experiences. When I had another contributor to the MOCA show there [at Manual Arts High], I heard echoes of, "Well, this looks like MOCA" in the hallways.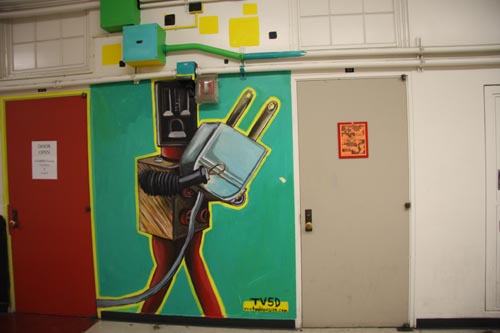 It is amazing, as I never would have thought of that. But for my kids to have that similar experience at a moment when they are defining their reality out of adolescence, for that core group of people, that was a beautiful, memorable experience. Administration, or any of the politics or drama that I had to go through to pull those strings to make it happen, could never overshadow what I see in kids when they are experiencing those moments. That may be the best, most holistic way of teaching, at least for me and my personal history within this movement that could have fell together, and came together. It was sick. Not a lot of people get to meet, let alone know, the name of an artist. For kids to be engaged in that, and get black-book drawings and have conversations, and get vibes and get stickers and t-shirts and posters, I mean, that's amazing.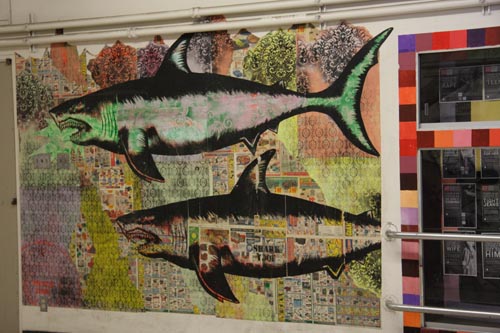 There's this one kid when I first started -- he was there probably every time I had a local Los Angeles paste-up-guy come through. He's probably got one of the sickest, earliest collections of posters in the city from just being around. Restitution Press and Buff Monster asked if he could help them out, and he said, "No problem," and then he talked to me about how he has a Zoso over his bed and how cool that is. Now the kid, while in school, owns his own silkscreen press and is making his own t-shirts and making his own posters in his junior year. It made him want to get kind of entrepreneurial, you know?
CZ: What have been your struggles to make this happen?
MA: When we first started the project, pretty much for the first three years we had unconditional support. Our school is really unstable, so we pretty much have a different principal every year, and so their relationship to the arts changes. Promise L.A., at the time called MLA, who gave us a grant to initially start doing a section of bungalows where we did 20 artists and 20 murals in one day on a Saturday, kind of pulled this coup. The attitude started to change because of maybe a little bit of slack for the ROA piece that we did. Some of the communities who didn't really look at the piece, I think they got a little bit of static from the Alumni Association saying all the animals were rats. But if you look more than five seconds at the mural, there are no rats whatsoever. The Natural History museum representative was there every single day that we painted it, and they are all animals that are native to that area and that come out at nighttime. I guess they had gotten some phone calls to the school about what the mural was about. We got really great input when we were doing the mural from the community; people would walk by and say, "This is how our community should live. We should be sort of sleeping here, playfully, at peace with one another. We are all different races and religions, just like this mural has different species," but these people don't call the school.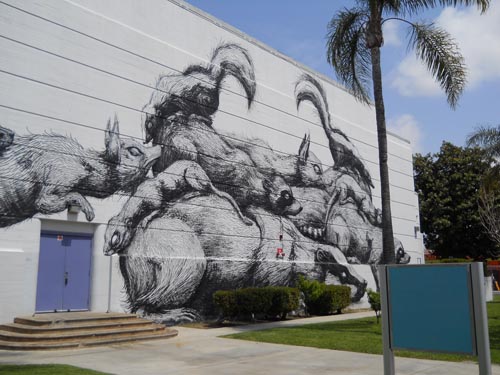 Anyway, so the reigns got a little bit tighter in our last year. So outdoor murals were rejected because of subject matter, and it was a little disheartening to know that it was only maybe a couple of people that were making the decisions for an entire community of what kind of murals should go up, and according to what subject matter. Some were assistant principals, and some of the people were the deans, I believe. And this is according to probably their subjective experience with art. I've never put anything in the school that I thought was going to be controversial where it couldn't be a learning experience to talk about an issue. Teachers were walking through the building, using the school as an outdoor classroom to discuss their lessons. So there was this conflict going back and forth: how the art spoke to the kids in a very specific way, and how it spoke to an older generation. I mean, if MOCA had difficulty having this kind of art at a museum, which has art already, what are you going to get in an academic environment with a staff that is not familiar at all with this movement, that has negative associations with anything done with spray paint, even if it's a portrait of Nancy Reagan. It's ridiculous; the medium is totally bastardized. So my mission was to kind of change that. I think I did, but I still got static, you know. I was only able to do pieces on the inside of a building where the art classes are, so I just decided to get as obnoxious as possible and just press it top to bottom.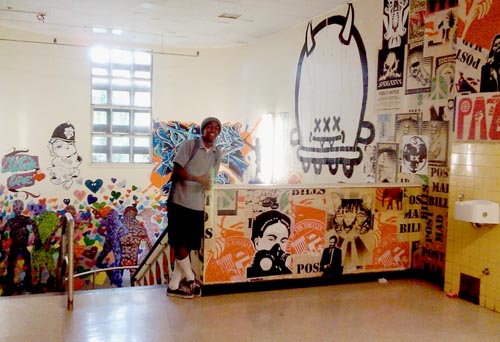 Lockers, ceilings, doors, stairways, balconies, I mean anything -- to the fact where it was literally every week, students and staff were walking around and trying to see what was new. It was kind of like walking down Clarion alley in San Francisco, a beautiful working environment. You know that your school is not dead and beige and grey, but that it is alive and peeling all these creative skins on a weekly basis. They told us, "No, you can't do it on campus." So I went elsewhere, and went across the street to some of the community members who saw the ROA mural and were like, "Hey this is amazing for our community," and, "I have a business that's getting tagged on a daily basis, whenever you want to do something, can you do something?"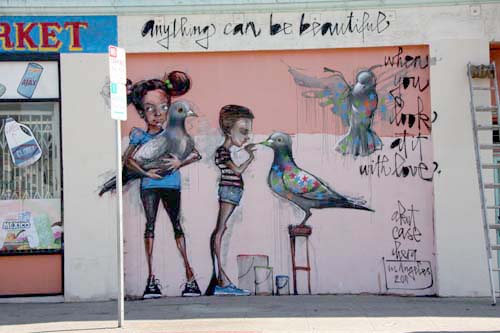 And I pulled that card, and it ended up happening when we did the Herakut and CASE piece. And so you can kind of see even when there is adversity at the school, there is still opportunity with people who aren't necessarily involved in their own agendas and aren't thinking necessarily about the student's curiosities.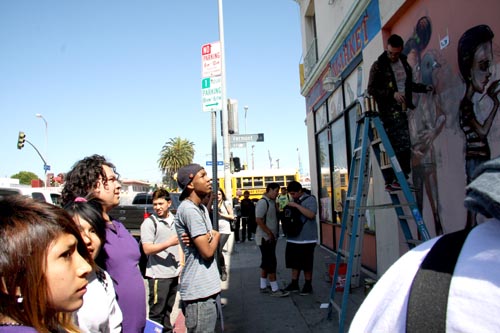 I mean, none of the murals that I had were anything that they aren't seeing in creative films in our youth culture, from "Transformers" to "Harry Potter" to things like that. They are not violent at all, but some of the imagery is kind of fantasy and surrealistic, and it incorporates art history movements. And why should that not be in school? It's got to be responsible, but I think I'm responsible when I give administration articles about the artist, sketches by the artist on the site, sometimes even photoshopped walls on the site, bring the artist in to talk to them. Sometimes, with the mural that got rejected, they didn't even give time to call the artist, and that's really, really pathetic. That mural never happened.
CZ: What are your plans now that you won't be teaching at Manual Arts?
MA: I hope to be able to maintain the art that's there. I hope that it continues to be there and the people don't decide to edit it, or paint certain ones out. I hope it all gets to stay. I could almost scientifically prove its beneficial impact on the whole culture there, because it has already been so transformational.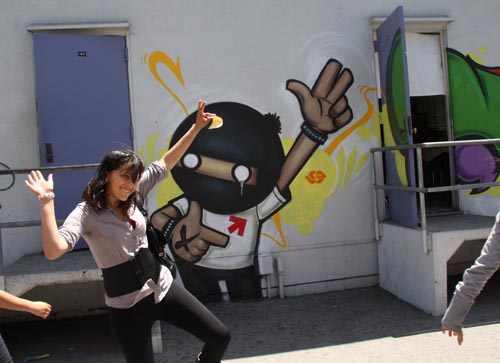 But because of budget problems and a third of our staff -- 55 members -- being cut, the arts being completely attacked, no funding for teachers, let alone a librarian at our school, I'm not going to be at Manual. We're working on a book on Manual, to talk about the whole experience. All photographed by Kirk Pederson, Zero + Publishing is going to do a book on it, so it will be time-capsuled, in that way. We are probably going to work on it this summer, so I'm not sure technically when it will be available, but probably the sooner the better. I'd like to continue doing this in other schools and other sites. So I hope I can do that more -- we'll see.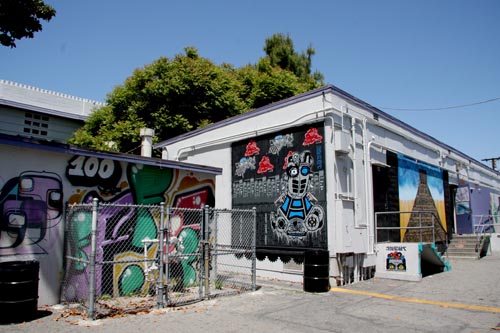 REAL LIFE. REAL NEWS. REAL VOICES.
Help us tell more of the stories that matter from voices that too often remain unheard.