"Why should Miami be the only place to show beachwear? We have better weather anyway!" says Connie Borja, executive producer of L.A. Swim Week, which returned for the second year in Los Angeles in July and which was held in the Skirball center. The day long event was a splashing success as the attendance doubled this year from last year's spectator headcount of 550.
Borja's inspiration for the swimwear fashion show was to secure a foothold for beachwear designers in the city with some of the most famous beaches in the world. Amazingly, a swimwear fashion event doesn't exist in Los Angeles and is the domain of Miami.
The one day event also had pop up shops and designers with trendy fashion selections on sale in the foyer as well as a red carpet.
Borja, who designs her own beach fashion line Amour, originally thought up the event to showcase her own line but the event has blossomed beyond her expectations. "Last year we had 10 designers, this year we have 22 with three returning." And some of those designers are heavy hitters, Leonisa, 60 years in the business, has returned as well as Beachflirt22 from Greece, Duskii from Australia and Sezuki Kenzo from Tokyo.
The evening was inspiring, exciting and at times jaw dropping. The designs were thoughtful, colorful, running from risqué to traditional, and always sensual, alluring and evocative.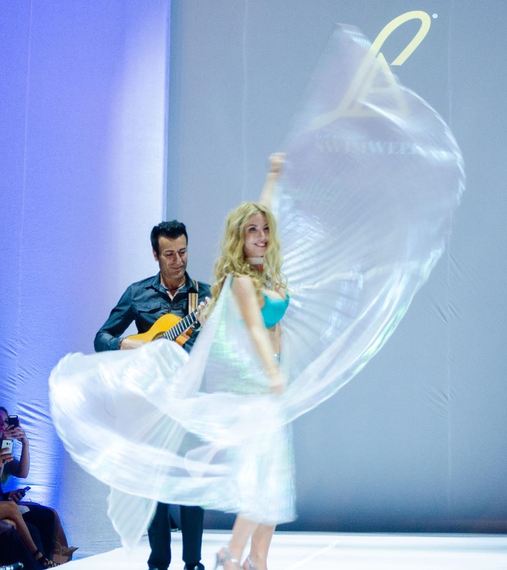 Dustin Quick and Medi EM perform at LA Swim Week open (photo: Vincente Tabora)
Vanessa Sanchez, at 15, is a new comer to the fashion scene and launched her own swimwear line last year: 'Nessy Swimwear." Keeping it simple her designs have great lines and color choices.
And Amour Swimwear, bold, athletic, exciting:
"Our dream is to add more days next year, and grow to have a full week for designers who want to be known in Los Angeles," said Borja. Pop up shops and platinum level seating sold out for her event this year, proving the demand for an event like this in Los Angeles.
We're new, and we're excited to create a platform where designers can get connected and come together.

Borja also had buyers from Macy's and Diane's swimwear in attendance so that designers could connect directly to the actual market place.
LA Swim Week is a smart and stylish addition to the LA fashion scene, one you might have thought we already had as the beach is synonymous with all things LA,. From Malibu to Zuma down to Redondo and up to Matador we have some of the most iconic beaches in the world and now it seems we have a local fashion platform to properly strut our stuff.
For more information on LA Swim Week, recap of the event and information on some of the participating designers.