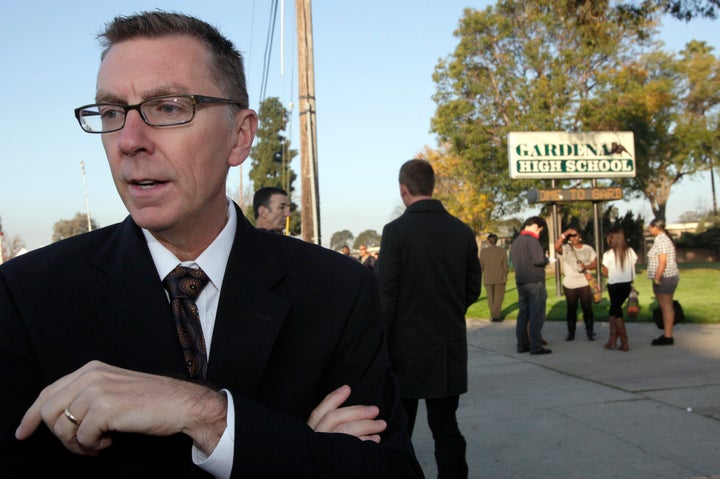 As different districts and states re-imagine the way teachers should be graded, the country's second largest school system has hit a roadblock.
Los Angeles' schools chief John Deasy wants to revamp teacher evaluations -- but the local union isn't having any of it.
Deasy's plan includes a new system that would evaluate teachers partially based on their students' standardized test scores. Though both the city's Board of Education and Mayor Antonio Villaraigosa support it, the Los Angeles teachers union filed a complaint seeking an injunction to halt the the program, claiming the school district never entered into sufficient negotiations with teachers over its terms.
"Everything I've heard about John Deasy is that he's a collaborator. This is not the John Deasy I've heard about," A.J. Duffy, the outgoing president of United Teachers Los Angeles, told the L.A. Times.
The injunction request came after years of discussion between the school district and the union, both of which agree the city's system needs a retooling after 99 percent of all teachers received positive scores from a subjective evaluation program.
Apparently, leveraging the legal system is not a new tactic used by teachers unions, said Larry Sand, who runs the California Teachers Empowerment Network. "They have a team of lawyers," said Larry Sand. "If they feel that the district acts inappropriately, they don't hesitate to take it to court."
Deasy's pilot evaluation program would launch next year, aiming for expansion in the 2012-2013 academic year. Almost 1,000 teachers agreed to partake in the voluntary pilot for a $1,250 stipend and paid days off for professional development.
The union asserts that it can't be implemented without collective bargaining approval.
Deasy told the L.A. Times he was surprised by the union's filing, particularly because the program was optional and appeared to be popular.
"I think there is a large disconnect between what the leadership has done and what the rank and file is saying to us," Deasy said. "They're not only excited about the evaluation system, but they're chomping at the bit to use it."
Imperfections aside, Sand admitted Deasy's evaluation plan was an improvement. "Almost anything is better than nothing," he said. "It's shameful that we can send a man to the moon but we can't figure out how to evaluate a good teacher from a bad teacher."
Education activist Anthony Krinsky said he never expected the pilot to go far. "No education reform has a bright future so long as the power asymmetry between unions and reformers continues to exist," Krinsky said. "The unions love a charade."
The lawsuit also seeks to stop the city's plans to hand control of South Los Angeles' schools to a charter-school network manager and opposes the school district's attempt to implement abbreviated agreements that would allegedly force teachers to work under conditions not specified or permitted in their contract.
Related
Popular in the Community