Big Night written by Paul Rudnick and directed by Walter Bobbie is currently playing at the Kirk Douglas Theatre in Culver City, Los Angeles.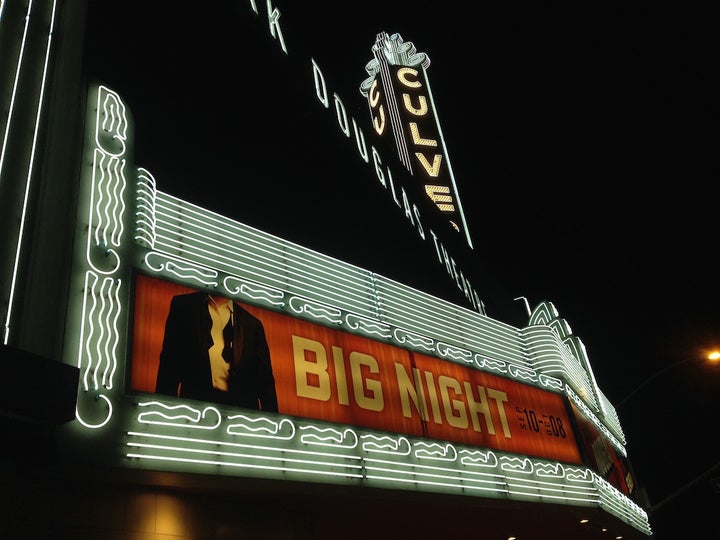 It's Oscar Night in Los Angeles, and Michael (Brian Hutchison) is up for best supporting actor. His new agent, Cary (Max Jenkins), is doing his best to usher the nervous actor out of the up-scale Beverly Hills hotel suite that the agency has acquired for the evening, and on the road to the red carpet.
Michael is concerned about his boyfriend, Austin (Luke Macfarlane), who is not answering his phone. Eddie (Tom Phelan), Michael's nephew, shows up unexpectedly and suggests that Michael use his acceptance speech as a platform to bring awareness to the LGBTQ (and so much more) community.
Enter Michael's mother, Esther (Wendie Malick), the quintessential Jewish mother, who has some exciting news of her own. On cue, the doorbell rings and in walks Eleanor (Kecia Lewis), Colombia professor and Nobel Prize-winning author. Just as Cary is directing the group out the door, Michael's phone rings with news of a mass shooting. From here, the actors confront a series of issues relevant to them as individuals, and to the wider collective.
Rudnick is the master of keeping his characters in their persona. They do not weaken to the plot—they grow with it. With the introduction of tragedy, Rudnick doesn't let go of his classic one-liners, and this isn't only heard through narrative but also in body language. A scene with Esther nudging a plate of food across a sofa toward the deeply traumatized Austin, is touching, hilarious, and completely in character.
At times, the stillness of the cast is reminiscent of a freeze-frame technique, and the only moving person is the actor presenting a monologue. The scene returns, often timed by the fluid movements of Wendie Malick and her liquid-gold William Ivey Long evening gown. The questions Rudnick asks in Big Night are timely. The subject matter brings up a platter of mixed emotions: empathy, sadness, guilt, anger, frustration, compassion. What to do as individuals with these feelings is confronted by the actors as they ask themselves, "what can we do?"
Just as in our current reality, no questions can be answered immediately and this is perhaps the beauty of this play. We are human. We want answers and results, and become frustrated when we don't receive them immediately. The layers of conflict Rudnick begins to peel off in Big Night allow the audience to see the answers played out on stage. Yes, the questions are lightened with humor, anything else would be too close to reality, too overwhelming for one Big Night.
The set, costumes, hair and make-up, props and lighting are a perfect palette, brought together by Karl Fredrik Lundeberg's sterling original music and sound design.
Big Night runs through October 8, 2017.
Related
Popular in the Community