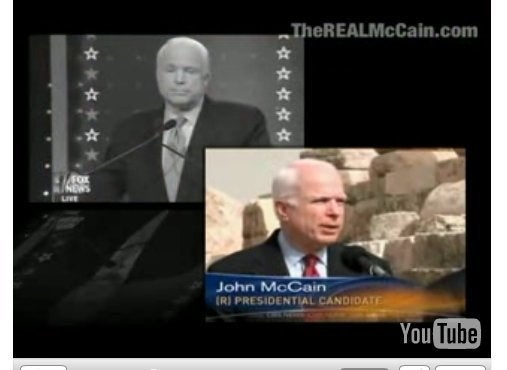 The Los Angeles Times reports on McCain's "YouTube gap":
The video lasts just more than three minutes. But that's long enough to raise some nasty doubts about John McCain's reputation as a straight talker.

There's the Arizona senator arguing both sides of President Bush's tax cuts. Here's the supposed foreign policy wizard flubbing the simple facts about which terrorists are being trained in Iran. He's even ducking his own admission that he needs to learn more about economics.

The newsreel of McCain lowlights has zoomed up the YouTube charts in the last week, with more than 1.5 million views. "John McCain's YouTube Problem Just Became a Nightmare" is the video's title, which might be dismissed as partisan hype but for one thing: It's true.

The presumed Republican presidential nominee is taking a serious drubbing on YouTube, the most popular video-sharing service on the Internet and the virtual town square for millions of new young voters. ...

Six of the top 10 videos returned by a "John McCain" YouTube search Thursday pegged the 71-year-old as inconsistent, extreme, wooden or a combination of the three. (The one clearly favorable piece came from the McCain campaign and focused on his Navy service.)
Here's the video from BraveNewFilms that's "raising nasty doubts" about McCain:
Calling all HuffPost superfans!
Sign up for membership to become a founding member and help shape HuffPost's next chapter
Read more on Los Angeles Times