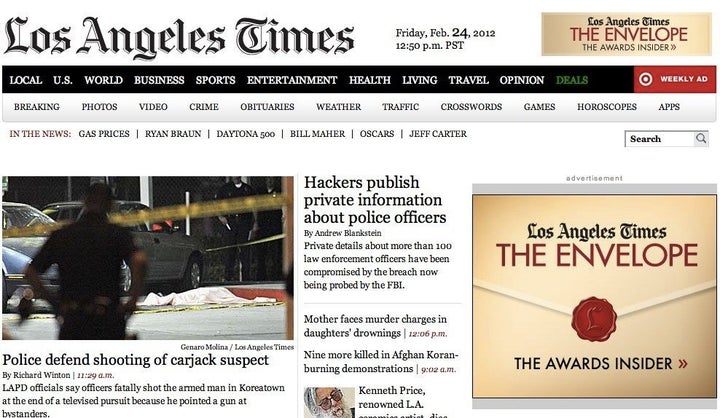 Would you pay to read the Los Angeles Times online? The paper announced Friday that it will charge for digital access starting Mar. 5.
~ 15 online articles each month: free

~ First month of online subscription: 99 cents/month

~ After first month, online subscription: $3.99/week

~ Print plus online subscription (plus Sunday paper): $1.99/week
The paper will also stop printing its Health, Food and Home sections and instead deliver a new lifestyle section on Saturdays, the Times explains. The Health, Food and Home sections will remain online. The paper also clarified that, if you are already a home deliver subscriber, you will not have to pay for online access to articles.
The move to charge for online content follows the example of other major news outlets, including The New York Times, the Wall Street Journal and the Dallas Morning, AFP reports. Just this week, Gannett, the nation's largest newspaper company, announced it will launch similar online subscription programs at 80 publications.
Popular in the Community