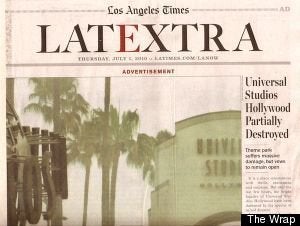 The LA Times is taking some heat from the local blogosphere this morning for running a four-page wraparound ad promoting Universal Studios' new 3D King Kong attraction, disguised to look like news items in its "LAT Extra" section.
Featuring fictional headlines like "Universal Studios Hollywood Partially Destroyed" and "Dodger Stadium Heavily Battered" the stories are labeled as advertisements, but LA Observed's Kevin Roderick notes that the Times coverage of the ride is not confined to the advertisements:
On the real Times website, though, there is a story gushing about King Kong returning to Universal -- and a travel section review that calls the new attraction "riveting," with links to a package of five other LAT blog posts or stories about...the new King Kong ride at Universal Studios. It all brings to mind the editors' expressed desire to "own Hollywood coverage"...or is it the other way around?
This is not the first time the Times has sold its front page to advertisers. In March, Disney paid $700,000 to promote "Alice In Wonderland" on the front page of the LAT Extra section. A spokesman for the Times told The Wrap:
"We worked very closely with Disney to come up with an exceptional and distinctive way to help them open 'Alice in Wonderland...It was designed to create buzz, and to extend the film's already brilliant marketing campaign. "
Similarly, the Times ran a controversial front page ad for NBC's Southland, which resulted in strong protests from the staff and the exit of executive editor John Arthur.
Support HuffPost
The Stakes Have Never Been Higher
Related
Popular in the Community